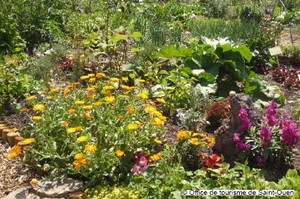 Take the time machine back to the 17th century. Meet André Le Nôtre, born into a family of gardeners to the French royals, who became a particular favourite of Louis X!V. The young Le Nôtre served his apprenticship in the Tuileries gardens which he subsequently modified between 1666 and 1672, creating the vast perspective of the Champs-Elysées. It was his work for Fouquet at Vaux-le-Vicomte in 1656-61 that brought him fame and fortune. So much so that Louis XIV, the sun king, summoned him to Versailles in 1662 while he was working on the Chantilly gardens for the Grand Condé.
Hardly surprising that Les Puces Paul Bert & Serpette, the world's largest antiques market, is showcasing, inside and out, an exhibition, in the new "Galerie des Puces", inspired by Le Nôtre's theme, "The Art of Garden Living". Since 2008 Les Puces is owned by Gerald Duke of Grosvenor, acquired for a mere 50 million euros.
The Galerie des Puces and the market's 400 stall holders (each with a fascinating tale to tell) invite you to discover this awesome space dedicated to the very old and the very comtemporary world of les puces, with a floral breezy summer theme. Thus the antique dealers of Marché Paul Bert and Serpette pay homage to Le Nôtre, the jardinier who elevated gardening to an art form.

Marche Serpette
Les Puces (flea markets) opening hours:
Sat 10am – 5.30pm
Sun 10am – 5.30pm
Mon – 11am – 5pm
Guided Tours – Tourist Office
The fabulous history of "les puces" continues its' evolution. In 1870 Paris rag-and-bone men moved outside city limits for public health reasons, settled between the fortifications and the first houses of Saint-Ouen village where, each Sunday, they spread their wares flat on the ground. Fast forward to 1908 when the "Flea Fair" became reachable by metro. To-day the dealers are "brocanteurs" and each of the markets in the area has its' own identity and style.
Philippe Starck, along with other legends in their own lifetimes (Madonna, Alain Ducasse, Catherine Deneuve, Jacques Garcia, Pierre Cardin, Chantal Thomas, Vanessa Bruno & Co.) was/is a regular visitor since childhood, but reaching the age of sophistication always wanted to create a bistro which he would call: "ma puce, mon lapin, ma biche, mon chou, ma poule, ma caille…..and then he found the name…..ma cocotte!
Located at the entrance to the market, ma cocotte launched last October and has been buzzing ever since, making the former garden space one of the hippest addresses in Paris. Starck, together with his friends Fabienne and Philippe Amzalek, with whom he created BON, have created an industrial space with wide terraces, a first floor/salon/library, reached by a handsome metal staircase with Régis-R's graffiti ball suspended in mid-air, that should be called "Club ma cocotte" and Starck's designs, plus obviously contemporary and vintage flea market finds. Below stairs it's not an operating theatre – that's the loo. Starck style!
Starck says that chez ma cocotte, "everything is a question without answer. All that counts is what's in your bowl". That "bowl" comes from the busy open kitchen where Yannick Papin (ex-Christian Constant, Michel Rostang and BON) runs an open kitchen where chickens roast and sizzle on the open spit and the menu's so delicious and basic you won't know what to choose.
Begin by sharing starters of terrine, charcuterie, salmon, sardines, crudités. Drink pitchers of cocktails, with or without alcohol, fresh sqeezed juices, Mojitos, Margaritas, have fun! Maybe you just want breakfast? Caviar Oscietre et pain de campagne grillé (145€). Well you might be a guest of Gerald Grosvenor, fourth richest man in the UK who owns the puces (see above).
Continue with Fish & Chips Portobello: Poulet fermier à la broche, pour moi tout seul 4). Le classique cheeseburger for Ashton: Croque des puces: Belle côte de boeuf à la broche pour 2 ou 3: Oeufs dur mayo: salads: a plate of chips. Wine by the glass, carafe or bottle. Desserts include Tarte Tatin: Frozen Yogurt, Acacia honey: Chocolate Tart, Ice cream and sorbets. Service is sympa. ma cocotte works, because it's run by passionate people: Read, Plage 55 – St. Trop in St. Ouen.
106 rue des Rosiers – 93400 Saint Ouen,
M: Porte de Clignancourt (Line 4)
Open 7/7
T: 01 49 51 7000
Average spend from coffee on the terrace 2.80€ to 72€ + wine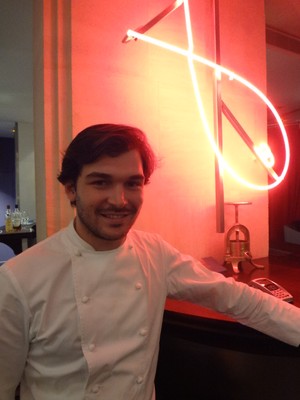 Alert readers have already enjoyed Thibault Sombardier's dishes since he got behind the pianos at Antoine on Avenue de New York. He's a young talent in the same way as his contempories, Akrame Bennallal, Pierre Meneau, Daniel Rose, Jean-Franҫois Piège, Bertrand Grébaut, James Henry etc.
"My menu evolves, depends what the fishermen catch", he says. So even though a dish is marked on the carte, it may not be "on" that day. "Frankly we'd rather close than serve anything that isn't fresh on the day", says genial restaurant director Frédéric Van den Elden. Working with an enthusiastic team in the open kitchen, Sombardier sends out dishes that sparkle like the Eiffel Tower, right opposite Table 6, at night.
10 Avenue de New York, 16th
Metro: Alma-Marceau,
T: 01 40 70 19 28
Valet Parking – Open 7/7
Open
Average Spend A La Carte 89€
Lunch formula 35€
Discovery Menu – 78€
Degustation Marine – 120€