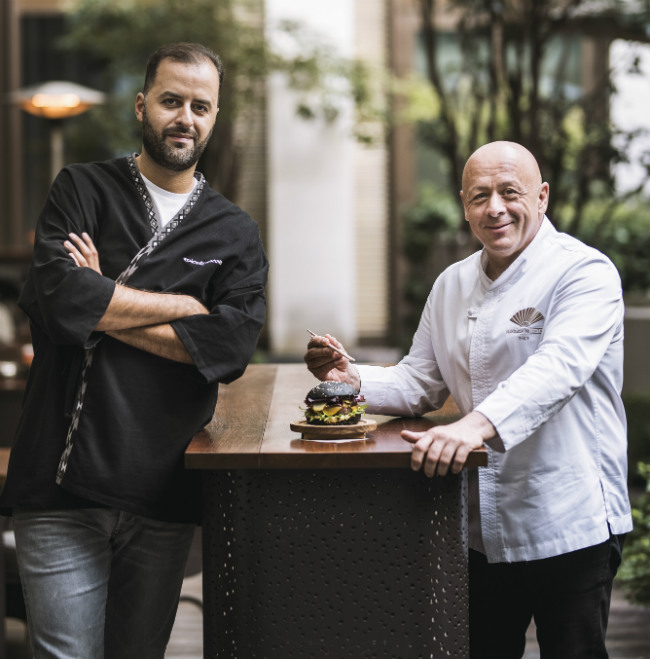 "I had a dream last night that a hamburger was eating ME!" — Jerry Seinfeld
According to a recent poll, the French scoff around 1.1 billion burgers annually and they feature on the menu of 75% of traditional restaurants. Today, from basic fast food outlets such as Five Guys (Barack's fave) on the Champs Elysées to high-end Michelin-starred restaurants, the hamburger's top of the pops – a former fad has become a way of life.
So much so it inspired Mandarin Oriental's ** Michelin star chef Thierry Marx to challenge GOKU restaurant's chef Vincent Boccara – winner of "France's Best Burger 2017"- to a Burger Battle – to be fought out at the MO's chic Patrick Jouin & Sanjit Manku designed Bar 8!
The burger competition took place last March at Porte de Versailles – during the annual Sandwich & Snack Show – and was organized by Socopa (since 1953) wholesale meat suppliers to the catering industry, 170 candidates entered throughout France, and, to find the winner, 25 were tasted at the show after eliminating rounds.
So, from 16th October- 12th November it's up to you to decide as the two chefs cook their creations from noon until 6pm: "Le Black OG" ( as in, "Original Gangster" – an homage to chef Vincent Boccara's favorite actor Takeshi Kitano), and the limited edition "White TM" (Thierry Marx) (€38 for un burger, frîtes, mesclun salad).
Burger purists should look away now.
Boccara reveals that his black charcoal and sesame bun burger is American, filled with beef, cheddar, pickled cucumbers and red onions – but – with sprinkles of Japanese spices. His sauce is a mix of BBQ and Jack Daniels – the mayo's yuzu spiked, seasoned with herbs from the land of the rising sun.
As for Marx (a black belt martial arts fanatic who teaches Judo in his spare time), he tells BP that he designed his burger to honor his guest chef. Marx's cornbread bun (don't forget he also has a boulangerie) is stuffed with slices of pastrami, romaine lettuce leaves, fried onions, a touch of piment d'Espelette and tasty honey mustard.
May the best burger win!
See you there!
251 rue Saint Honoré, 1st arrondissement. Metro: Tuileries/Concorde, Tel: 01 70 98 78 88. Website: www.mandarinoriental.com
Related article: Superchef Thierry Marx's Latest Project is at Gare du Nord