Eurostar : Terroir Parisien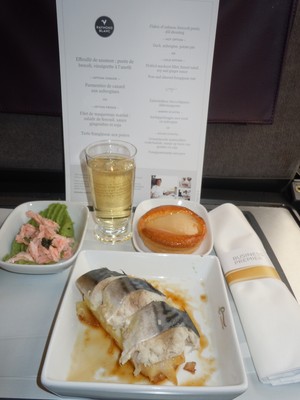 Raymond Blanc talented Michelin star chef, better known in England than his native France, is the new Culinary Director for Eurostar Business Premier Class. Each city from which Eurostar operates now boasts at least six delicious menus using locally sourced products by suppliers in France, Belgium the UK. The choices are innovative, seasonal and feature several of Mama Blanc's secret family recipes such as mackeral salad, freshly baked herb breads and her famous chocolate delice with praline custard.
Commenting on his new post, Raymond Blanc said. "It's an exciting new gastronomic partnership.  I'm always searching for the purest ingredients and try to ensure everything I use is responsibly sourced; so I'm delighted to work with Eurostar, the first transport provider to join the Sustainable Restaurant Association of which I am President; together we hope to change the perception of on-board cuisine. My menus combine rustic, traditional dishes with a fresh, modern spin".
Last week travellers leaving St. Pancras International tasted. As a starter: Fresh salmon, broccoli purée with dill dressing/Main of: Duck Aubergine and potato pie/ English cheese/Pear almond and frangipane tart for dessert, washed down with Pannier champagne. Service is as in a fine French brasserie, with the addition of the steward offering to have a taxi waiting at St. Pancras and help with your baggage, remember there's no check in. Bliss ! You won't want to get off.
With fully flexible fares, Business Premier Customers have 10-minute check-in, business lounge access, plus complementary drinks, papers and magazines, delicious dining and fine wines.  Book a breakfast/lunchtime/tea-time Premium ticket: What are you waiting for.
Terroir Parisien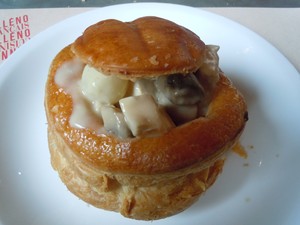 Bravo to Yannick Alleno and his equipe of locavores at the perfect left-bank addy, Terroir Parisien.
Pudlo (+ de 2500 adresses) 2013 make TP "Bistro Moderne of the Year". Décor by Wilmotte, sit at the counter for a jambon beurre or a planche de charcuterie et petit patés by Gilles Vero, a glass of red or, à table for breakfast, a 3-course lunch/dinner. During the week le plat du jour is 15€. Don't leave without tasting Brioche "Nanterre" perdue, glace vanille. Or the sensational puffed Bouchée au vent de volaille, sauce supréme. The herbs and veg come direct from above – Alleno's heaven – a rooftop potager which you can privatise for a quiet evening with Ashton. Stay tuned for news of a second TP at Palais Brogniart at La Bourse.
Terroir Parisien,
rue Saint Victor, 5th
M: Maubert-Mutualité,
T: 01 44 31 54 54
Open 7/7
Leave a reply
Your email address will not be published. Required fields are marked *