Back to the Scene: The Champs Elysees in Breathless and Beyond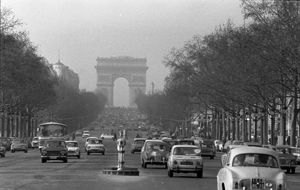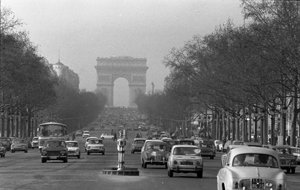 Jean Seberg's voice calls out, shrill and clear above the swelling orchestral score those lines that have been etched in the mind of cinema forever: "New York Herald Tribune, New York Herald Tribune!"
Lazily strolling down the busiest street in Paris, the Champs Elysees, Jean Seberg along with actor Jean-Paul Belmondo are being fed lines on the spot by director Jean-Luc Godard—Breathless has no official script.
Godard's unequalled vision for film has long been connected to the movement in cinema called "New Wave." Breaking traditional rules to provide a maturing audience with new and provocative material, Godard's first feature film was plotted out like guerilla warfare.
In the iconic scene of Breathless, where Seberg and Belmondo walk causally along, we—the audience—are unaware of the precarious circumstances involving this particular shot. Godard's homage to American gangster movies, he wanted Breathless to have a gritty documentary feel to it. This was cinematographer Raoul Coutard's problem to solve: how to shoot the film entirely on a hand-held camera, without the use of dollies or tracks.
The film was also not given permission to shoot on Champs Elysees and required concealment for the lengthy shot between Seberg and Belmondo. The solution for this was to hide Coutard inside of a three wheeled mail cart, which was fitted with a hole just big enough for the camera lens to stick out, and he then would be pushed alongside the chatting stars.
Who knows if the Parisian police would have arrested Godard for filming this scene?  It seems as though they would today. Historically called the "most beautiful avenue in the world," Champs Elysees was a much different place back in 1960's Paris.
Champs Elysees has always been an epicenter of activity. Even before it was an actual street—more of a field—it was a market for traders and merchants.  As time progressed kings, queens, and nobility alike extended, improved, and beautified the seam which held Paris together. Champs Elysees was the place to be and be seen for hundreds of years. This not only included the bourgeoisie but military powers as well, the most famous marches being the German troop parade down Champs Elysees after the fall of France in 1940, and the following march in 1944 of American and French troops celebrating after the city's liberation.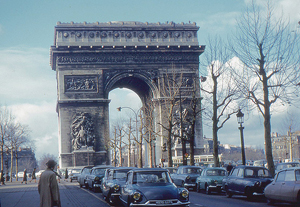 Twenty years after American soldiers marched down Champs Elysees, if you looked up you may have seen a young French cinematographer standing high above the city on the façade of the great old buildings that line the street. This was Coutard, who in order to film overhead scenes of Champs Elysees would climb out onto the ledges of buildings many stories up in order to get the shot.
With a paper-thin budget and a "make it up as we go along" attitude, Godard's willingness to capture the feel of Paris in any fashion he could was nothing short of courageous. Would Godard today make Champs Elysees such an important part of his film?
The once iconic thoroughfare where French military parades were held and young ground breaking artists worked has now morphed into an international consumer playground disconnected from the city. Some of the most expensive real estate in the world is housed along the infamous avenue. It is a ghost of a memory for some Parisians, a victim to the ever-quickening step of corporatism to others. It is certainly not the same avenue that Godard memorializes in Breathless.
If you ask a Parisian about the Champs Elysees today, they would almost certainly roll their eyes. Now the chestnut trees line wide sidewalks where tourists and suburbanites window shop for Levi's jeans and Adidas sneakers.
When thinking of the major differences between the Champs Elysees as seen through Godard's eyes in Breathless verses the one we see today, I am reminded of the avenue's namesake, the Elysian Fields—the final resting place for the blessed and heroic figures of Greek mythology.
Spilling over with name brands and fast food places, perhaps Breathless is a final resting place for the Champs Elysees void of pop culture and trademarks.  Godard froze it for us, so we may remember it simply as a beautiful street in a beautiful city.
photo 1 Bundesarchiv, B 145 Bild-F026341-0036 / Gathmann, Jens / CC-BY-SA [CC-BY-SA-3.0-de], via Wikimedia Commons
photo 2 by Roger Wollstadt, CC-BY-SA [CC-BY-SA-3.0-de], via Flick
Leave a reply
Your email address will not be published. Required fields are marked *