Alceste à Bicyclette (Alceste On a Bike) : Tandem Egos
A meeting of two monstres sacrés of French cinema is always fun, but when one is Fabrice Luchini the match seems destined to be overstacked. Not to fear: Philippe Le Guay's spiky new comedy, Alceste à Bicyclette, is an achievement on several levels. One is that Luchini, while hamming it up as always, inhabits his character more deeply and naturally than in a long time. Second is that Lambert Wilson, playing opposite Luchini, transcends bland good looks and stagy intelligence to create a character that is narcissistic yet sympathetic, vulnerable yet creepy. The third, is that this very French tête à tête is very funny in a way non-French audiences can appreciate (and even laugh along with). The story is about two actors, both accomplished but now past their prime. Serge Tanneur (Luchini) and Gauthier Valence (Wilson) are old friends who played together in movies.  Gauthier is still famous, but starring in a moronic, near-campy medical series in which he plays a neurosurgeon. Serge has become a recluse, living alone in a ramshackle house on the Ile de Ré. He's no longer working as an actor, and likes it that way. Gauthier does not like it that way, and has concocted a scheme to redeem them both: he wants to put on a touring production of Molière's The Misanthrope in which he'd play the main role of Alceste and Serge would play Philinte. It represents a return to the source for the actors, a professional and spiritual rebirth. Serge continues to resist, and the film basically recounts several days on the resort island during which Gauthier tries to convince his friend. Except there is nothing basic about this film. The director does several interesting things, any one of which would be enough for most films. He shows the actors engaging with their material, teasing it out, exploring its depths, sparring over it, growing into it. Non-French audiences might have difficulty feeling the hold Molière still has on the French (he's their Shakespeare, though his works are closer to those of Ben Jonson). The numerous scenes from The Misanthrope played out by the actors are never dull, because we see and feel what's happening on a personal level. Gradually, Serge warms to the idea of coming back to acting (especially after he gets Gauthier to agree on alternating roles, so that he too can play Alceste). What could have been a chamber piece is opened out, but not just in the traditional way of moving the characters outdoors. The action is opened as if by an emotional can-opener, when the characters meet a sultry Italian woman (Josiane Stoléru) in the middle of a bitter divorce.  Gauthier wants to buy her house, but Serge insinuates himself into her life. Another woman also enters the picture, a young would-be actress currently appearing in porn films. Although Gauthier supposedly has a companion, he agrees to give the porn ingénue professional advice—with a hint of ulterior motives. As if this isn't enough, Serge will also make a farcical (and symbolic) attempt to have a vasectomy that needless to say, doesn't go according to plan. Luchini and Wilson essentially carry the film through its various comic contortions (aided by an able supporting cast). The director (who made Les Femmes du 6ème Etage, also with Luchini) does a serviceable job, though he often tries too hard. He shoots the interior scenes with slightly jumpy cuts, as if to juice up the action, when the electricity between the two stars is already sufficient. He films the Ile de Ré exteriors over-sumptuously as if to make up for the preponderance of indoor sequences (or else, as in so many French films, the filmmaker is earning his regional subsidies). As Alceste progresses and changes registers from comedy to romance to drama, it goes a bit wobbly. The screenplay (by Le Guay and Luchini) is stronger on dialogue than the story, which sometimes seems contrived. But although the film edges close to the sentimentality of the isn't-theater-noble genre (as when the porn actress gives a moving reading from the Molière play), it's mostly tough-minded, and the public leaves with a slightly sour taste in its mouth. As with some of those noxious chemical compounds disguised as children's fizzy candy, that's not necessarily a bad feeling. Production: Pathé, Les Films des Tournelles, Apaloosa Developpement, France 2 Films Distribution: Pathé Distribution
SUBSCRIBE
ALREADY SUBSCRIBED?
BECOME A BONJOUR PARIS MEMBER

Gain full access to our collection of over 5,000 articles and bring the City of Light into your life. Just 60 USD per year.

Find out why you should become a member here.

Sign in

Fill in your credentials below.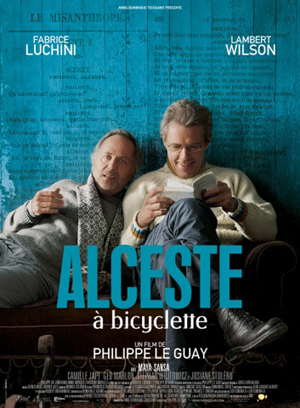 A meeting of two monstres sacrés of French cinema is always fun, but when one is Fabrice Luchini the match seems destined to be overstacked. Not to fear: Philippe Le Guay's spiky new comedy, Alceste à Bicyclette, is an achievement on several levels. One is that Luchini, while hamming it up as always, inhabits his character more deeply and naturally than in a long time. Second is that Lambert Wilson, playing opposite Luchini, transcends bland good looks and stagy intelligence to create a character that is narcissistic yet sympathetic, vulnerable yet creepy. The third, is that this very French tête à tête is very funny in a way non-French audiences can appreciate (and even laugh along with).
The story is about two actors, both accomplished but now past their prime. Serge Tanneur (Luchini) and Gauthier Valence (Wilson) are old friends who played together in movies.  Gauthier is still famous, but starring in a moronic, near-campy medical series in which he plays a neurosurgeon. Serge has become a recluse, living alone in a ramshackle house on the Ile de Ré. He's no longer working as an actor, and likes it that way. Gauthier does not like it that way, and has concocted a scheme to redeem them both: he wants to put on a touring production of Molière's The Misanthrope in which he'd play the main role of Alceste and Serge would play Philinte. It represents a return to the source for the actors, a professional and spiritual rebirth. Serge continues to resist, and the film basically recounts several days on the resort island during which Gauthier tries to convince his friend.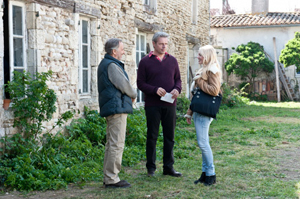 Except there is nothing basic about this film. The director does several interesting things, any one of which would be enough for most films. He shows the actors engaging with their material, teasing it out, exploring its depths, sparring over it, growing into it. Non-French audiences might have difficulty feeling the hold Molière still has on the French (he's their Shakespeare, though his works are closer to those of Ben Jonson). The numerous scenes from The Misanthrope played out by the actors are never dull, because we see and feel what's happening on a personal level. Gradually, Serge warms to the idea of coming back to acting (especially after he gets Gauthier to agree on alternating roles, so that he too can play Alceste).
What could have been a chamber piece is opened out, but not just in the traditional way of moving the characters outdoors. The action is opened as if by an emotional can-opener, when the characters meet a sultry Italian woman (Josiane Stoléru) in the middle of a bitter divorce.  Gauthier wants to buy her house, but Serge insinuates himself into her life. Another woman also enters the picture, a young would-be actress currently appearing in porn films. Although Gauthier supposedly has a companion, he agrees to give the porn ingénue professional advice—with a hint of ulterior motives. As if this isn't enough, Serge will also make a farcical (and symbolic) attempt to have a vasectomy that needless to say, doesn't go according to plan.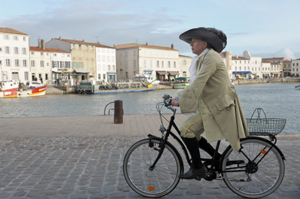 Luchini and Wilson essentially carry the film through its various comic contortions (aided by an able supporting cast). The director (who made Les Femmes du 6ème Etage, also with Luchini) does a serviceable job, though he often tries too hard. He shoots the interior scenes with slightly jumpy cuts, as if to juice up the action, when the electricity between the two stars is already sufficient. He films the Ile de Ré exteriors over-sumptuously as if to make up for the preponderance of indoor sequences (or else, as in so many French films, the filmmaker is earning his regional subsidies).
As Alceste progresses and changes registers from comedy to romance to drama, it goes a bit wobbly. The screenplay (by Le Guay and Luchini) is stronger on dialogue than the story, which sometimes seems contrived. But although the film edges close to the sentimentality of the isn't-theater-noble genre (as when the porn actress gives a moving reading from the Molière play), it's mostly tough-minded, and the public leaves with a slightly sour taste in its mouth. As with some of those noxious chemical compounds disguised as children's fizzy candy, that's not necessarily a bad feeling.
Production: Pathé, Les Films des Tournelles, Apaloosa Developpement, France 2 Films
Distribution: Pathé Distribution
More in Alceste à Bicyclette, french cinema, movie, Paris movie
---
---