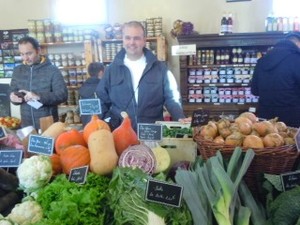 Dolce Chantilly, located in the lush heart of historic Chantilly Forest, is 40 minutes from Paris and 25 minutes from Roissy Charles de Gaulle International Airport.
200 rooms and suites, many overlooking the magnificent Robin Nelson and Thierry Huau designed 18-hole golf-course, a joy for golfers who play in any weather due to the sandy soil with flawless drainage. Two rivers run through it, stocked with carp, because they keep the water clean.
Fitness Centre, sauna, hammam, tennis court, jogging trail, indoor and outdoor pools, make Dolce Chantilly an ideal address to chill for a weekend or a few days midweek.
Visit the lively local market. Dolce Chantilly's Executive chef Dorian Wicart (ex-Tour d'Argent, La Marée, Hôtel Warwick) will lead you through the enchanted forest, take suitable boots, past Vatel's cute little cottage. François Vatel was the chef who ended his days abruptly when produce failed to arrive for a royal banquet at the château. Should have gone with Wicart, who also gives cookery lessons and demonstrations.
Get the skinny on Chantilly Cream here.
Buffet breakfasts at La Veranda: Bountiful buffet lunches at The Swing Bar/Clubhouse and romantic dinners at The Donatello restaurant.
Don't miss:  Château de Chantilly the stables the racecourse, the nearby medieval town of Senlis.
Dolce Chantilly,
English Route d'Apremont
Vineuil St. Firmin, Chantilly
T : +33 (0) 3 44 58 47 77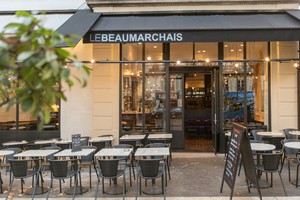 Located in the listed former coach-house/stables of the Mansart (1667-1690) designed Hôtel Particulier de Sagonne, if this two storey brasserie were a guy, it would be Jean Dujardin, eclectic, warm, sexy. Cara Delevingne, if it's a girl, her of the big eyebrows and sleb mates who'd keep the place full 24/7, so huge is her address book.
The place is impressive, wide terrace for warm days, discreet decor, by Agence NEM. Long bar L'Ilot, for ze after-work Le Beaumarchais cocktail (Cuban rum, Chambord, champagne, shake, shake, shake) Enjoy a Croque Monsieur/Madame at any hour of the day. And, breakfast from 9am.
Actually, come to think of it, Cedrik Theux, ex-actor, one of the owners, probably met Dujardin and Delavingne when he was at L'Avenue, chez Jean-Louis Costes. Theux's partner is Alexandre Kunz and, wearing the whites, is young talent Yann Devarieux (ex-L'Astor and Relais Louis X 111).
Davarieux only wants to talk food. He's skinny (« I run to work in the morning, I'm so happy to be here ») his eyes shine with inspiration.
« We change the menu every day, so it's all lovely and fresh », he insists. Last Friday, on the blackboard : Œuf Mollet Bio, mousse of goat's cheese, on a purple puddle of beetroot velouté : Avocado tartare, plump crevettes, mango vinaigrette. Fish of the Day, Grenadier, from Arctic waters,  matched with al denté white cabbage, beurre blanc au piment d'Espelette : Cinnamon poached pear drizzle of chocolat chaud dessert.
A la carte action includes a beautiful Burger au Comté, frits, fondue d'oignons, sauce Bearnaise : Sole a la Plancha : Lobster risotto et sa bisque. To finish Lemon Cheesecake : Cheese.
Well chosen wines, by the glass, or why not Margaux Baron de Brane 2009 (48€) notes of nutmeg, cinnamon, blueberries. Gorgeous ! Prefer white : Chablis Louis Latour 2013 (44€).
Here's a lovely maison, return time and time again, there'll always be a warm welcome and excellent, no nonsense, fresh food on the table.
21 Boulevard de Beaumarchais, 4th
M : Bastille/Chemin Vert
T : 01 49 96 47 00
Lunch from 15.50 Dinner average 40€
Terrace
Ciao Bella !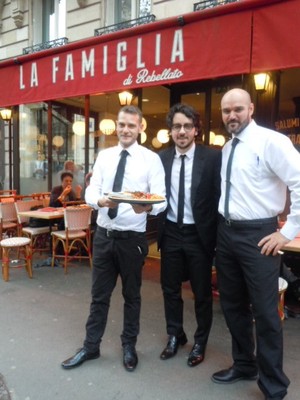 The Famiglia Rebellato (motto : « le meilleur de la cuisine Italienne a Paris ») came from Venice and opened in 1985 at 136 rue de la Pompe 16th (still standing) immediately attracting politicians, actors, artists, Johnny, Omar Sharif. Sarkozy and Carla are often papped outside the Jacques Garcia decorated trat, inside they love the classic Italian dishes. Vitello Tonnato : Carpaccio a la Veneziana, Risotto alla Milanese, spaghetti Vongole. The ex-Prez likes Rebellato so much he celebrated his 58th birthday there.
In 2011 next door, Olivier Rebellato (son of Giulio) added La Pizzeria with such success that he's added addresses at Les Halles and on Avenue Niel, 17th where :
« We serve genuine Napolitaine pizzas », says Rebellato. The pizza bakers are from Naples, Gennaro Nasti (Champion du Monde 2012) and Gennaro di Perna ex-Pizzeria Starita, Napoli http://www.pizzeriestarita.it « The pizza dough is kneaded fresh daily, and cooked in a wood-fired oven, topped with seasonal truffles, aubergines, artichokes, Rebellato Family pizzas are exceptional, they're made with love », he grins.
Famiglia Rebellato (Dal 1985)
73bis Avenue Niel, 17th
M : Pereire
T : 01 42 27 61 93
Open 7/7
Average Spend 20€
Brunch at Le Château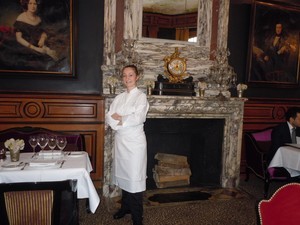 The very posh Saint James Club, the only listed Château in Paris (Guerlain Spa: Michelin star restaurant: incredible décor by Bambi Sloan) also affiliated to clubs worldwide, welcomes non-members for dinner and Sunday brunch created by Michelin * chef Virginie Basselot with desserts by chef pâtissier Mathias Alet. Post brunch read the papers on the terrace, when it's warm, then head off to the Bois de Boulogne, discover the incredible Frank Gehry designed Fondation Louis Vuitton, a ten minute walk, that'll burn off the calories. Take tea in LVF's restaurant Frank by Jean-Louis Nomicos. Bon dimanche!
Saint James Club,
43 Avenue Bugeaud, 16th
T: + 33 (1) 44 05 81 81
65-75€ Children 26€ Under 4 free