Why Paris is the Fashion capitol of the World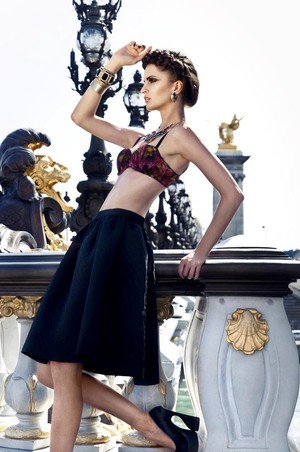 We call Paris one of the four fashion capitals, together with Milan, New York and London, but truly Paris is nothing less but the only fashion capital of the world. We aren't stating that just out of pure love for the City of Lights but merely as a fact. This magnificent city is the cradle of fashion. The beginning of fashion as we know it Until the 1850's clothing design and creation was handled by largely anonymous seamstresses and the term fashion design was still unknown. It was Charles Frederick Worth who first established a brand and sewn his label into the clothes he designed. He set up his maison couture in Paris, and enjoyed such success that he was able to dictate to his customers what they should wear, instead of following their lead as earlier dressmakers had done. The term couturier was created in order to describe him and only clothing created after 1858 are considered as fashion design. Haute Couture The art of dressmaking got its term in 1850's with first real fashion designer Charles Frederick Worth and is today crafted with a tight set of rules set by Chambre de commerce et d'industrie de Paris. Haute Couture designs are made-to-order for private clients, with one or more fittings, the design house must have an atelier in Paris that employs at least fifteen staff members full-time, and has twenty, full-time technical people in at least one atelier. Last but not least they must present a collection of at least fifty original designs to the public, both day and evening garments, in January and July of each year. There isn't a city in the world that would put such demands on dressmaking. First fashion publication Despite fashion design starting in 19th century, it was long before that that the first fashion publication was published. In 1672 Mercure Galant was the first fashion magazine that regularly offered comments on the latest clothing styles and was read throughout Europe. French also invented beautiful illustrations, called fashion plates, which showed the latest garments and served as guide books for tailors. By the end of the century, many Parisian printers began selling fashion plates, or engravings of fashionable clothes. Fashion Week Although the most important event in fashion wasn't born in Paris like many might think, but in New York City, Paris Fashion Week is today the biggest collection presenting event. It's spread over to 9 days and host presentations of more than 100 designers and designer brands each season. Not all brands are Paris-based, but many of them decide to show their collections in Paris in order to achieve more attention and gain a higher reputation. Most influential designers Putting together lists of top most influential or iconic designers seems rather subjective, but nonetheless there are many French designers who shaped our fashion future and revolutionized the way people dressed. Two of them being Coco Chanel and Christian Dior. First one brought simplicity and elegance to women's way of dressing in 1930's and the second accentuated women's figure after the World War II. Contributing to this list are Yves Saint Laurent, Pierre Cardin, Hubert de Givenchy, Louis Vuitton, and others. €16.8 billion luxury goods market France is not only the most visited country in the world, it's also the leading one in selling luxury goods. How could it not when LVMH Moët Hennessy Louis Vuitton, the world's leading luxury products group, alone recorded revenue of €29.1 billion in 2013. Luxury shopping is becoming increasingly important for the travel industry and is today a major reason for travelling for large numbers of tourists. Paris is in this view every shoppers paradise and well deserved called the fashion capital of the world.   Katja Kozlevcar
SUBSCRIBE
ALREADY SUBSCRIBED?
BECOME A BONJOUR PARIS MEMBER

Gain full access to our collection of over 5,000 articles and bring the City of Light into your life. Just 60 USD per year.

Find out why you should become a member here.

Sign in

Fill in your credentials below.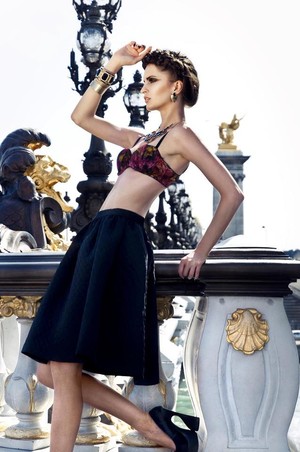 We call Paris one of the four fashion capitals, together with Milan, New York and London, but truly Paris is nothing less but the only fashion capital of the world. We aren't stating that just out of pure love for the City of Lights but merely as a fact. This magnificent city is the cradle of fashion.
The beginning of fashion as we know it
Until the 1850's clothing design and creation was handled by largely anonymous seamstresses and the term fashion design was still unknown. It was Charles Frederick Worth who first established a brand and sewn his label into the clothes he designed. He set up his maison couture in Paris, and enjoyed such success that he was able to dictate to his customers what they should wear, instead of following their lead as earlier dressmakers had done. The term couturier was created in order to describe him and only clothing created after 1858 are considered as fashion design.
Haute Couture
The art of dressmaking got its term in 1850's with first real fashion designer Charles Frederick Worth and is today crafted with a tight set of rules set by Chambre de commerce et d'industrie de Paris. Haute Couture designs are made-to-order for private clients, with one or more fittings, the design house must have an atelier in Paris that employs at least fifteen staff members full-time, and has twenty, full-time technical people in at least one atelier. Last but not least they must present a collection of at least fifty original designs to the public, both day and evening garments, in January and July of each year. There isn't a city in the world that would put such demands on dressmaking.
First fashion publication
Despite fashion design starting in 19th century, it was long before that that the first fashion publication was published. In 1672 Mercure Galant was the first fashion magazine that regularly offered comments on the latest clothing styles and was read throughout Europe. French also invented beautiful illustrations, called fashion plates, which showed the latest garments and served as guide books for tailors. By the end of the century, many Parisian printers began selling fashion plates, or engravings of fashionable clothes.
Fashion Week
Although the most important event in fashion wasn't born in Paris like many might think, but in New York City, Paris Fashion Week is today the biggest collection presenting event. It's spread over to 9 days and host presentations of more than 100 designers and designer brands each season. Not all brands are Paris-based, but many of them decide to show their collections in Paris in order to achieve more attention and gain a higher reputation.
Most influential designers
Putting together lists of top most influential or iconic designers seems rather subjective, but nonetheless there are many French designers who shaped our fashion future and revolutionized the way people dressed. Two of them being Coco Chanel and Christian Dior. First one brought simplicity and elegance to women's way of dressing in 1930's and the second accentuated women's figure after the World War II. Contributing to this list are Yves Saint Laurent, Pierre Cardin, Hubert de Givenchy, Louis Vuitton, and others.
€16.8 billion luxury goods market
France is not only the most visited country in the world, it's also the leading one in selling luxury goods. How could it not when LVMH Moët Hennessy Louis Vuitton, the world's leading luxury products group, alone recorded revenue of €29.1 billion in 2013. Luxury shopping is becoming increasingly important for the travel industry and is today a major reason for travelling for large numbers of tourists. Paris is in this view every shoppers paradise and well deserved called the fashion capital of the world.
Katja Kozlevcar
More in Chanel, Christian Dior, Coco Chanel, designer, fashion, fashion week, Hubert de Givenchy, Louis Vuitton, Paris fashion, Pierre Cardin, Yves Saint Laurent
---
---