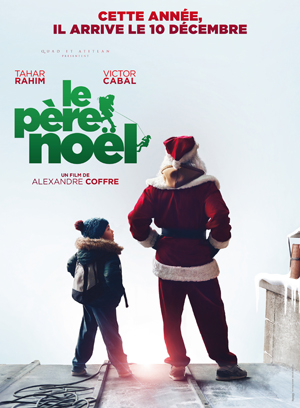 It's always interesting when French filmmakers venture into Hollywood genres, not to subvert them like the New Wave directors, but to give them a French spin (and hope for American-style box office). Luc Besson has managed this with phenomenal commercial, if not artistic, success. With Le Père Noël, literally Father Christmas (i.e. Santa Claus), Alexandre Coffre tries his hand at the seasonal Christmas movie—a sentimental, comic fairy tale. As with other attempts at American genres with le French Touch, the film's failures are often more interesting than its successes.
The story takes place on the eve of The Day. Little Antoine (Victor Cabal) not only looks forward to the usual toys, but dreams of hitching a ride on Santa's sleigh, so he can visit the star where he believes his deceased father resides. This is something of an homage to, or lift from, The Little Prince, just one of Coffre's sources. Antoine seems to get his wish when he sees someone in the traditional red-and-white costume escalading up and down the building. This someone even has a flowing white beard. In fact, it's not Santa but a cat burglar (Tahar Rahim) with a list not of toys to deliver, but of marks who have gold stashed away. We have to put our disbelief into the deep freeze, though it does make demented sense for a burglar to pose as a reveller or professional Santa in case he runs into the wrong person.
Sure that it's the real Santa, Antoine follows him, even sliding down a rope to a lower floor. Santa the Cat Burglar tries to get rid of the boy, but Antoine is stubborn. He tags along in spite of mishaps and nasty encounters with the thief's cohorts, thinking that he's accompanying Santa on his delivery run, not a burglary spree. It's a funny, if silly, concept. Antoine gradually grows on the burglar, himself an orphan. As he softens up, we see the film as a Scrooge-like redemption story, but this is complicated by the admixture of the Fagin plot from Oliver Twist.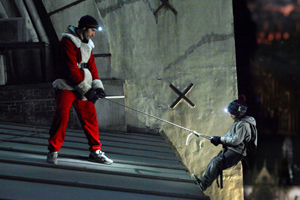 Santa tells Antoine that he's taking him on as an apprentice, a sort of junior elf. While the boy is delighted, the real reason is that the burglar sees the advantage of a team, especially with a pint-sized member who can maneuver tight spots. He gives Antoine B&E lore—breaking locks, punching holes in windows, waiting out alarms. There are hair-raising scenes atop Parisian rooftops. Here the director seems to have learned lessons from Hugo, but the "magical views" of Paris tend to repeat. This seems Scroogily chintzy given that it's all computer synthesized.
The director sprinkles funny moments adults can chuckle over—Santa giving a lesson in mildly scatological language, a scene where Antoine marvels at the treasure in a victim's apartment (not jewelry but breakfast cereal). Unfortunately, Coffre doesn't know how to set up a major comic scene, or to structure a comic plot. The movie is episodic, except for the pair being increasingly menaced by the burglary ring for vague reasons (their motivations seem to lie in having scruffy beards and unkempt hair). It might have helped if the villains were played by actors equal to the principals, but they merely do a serviceable job.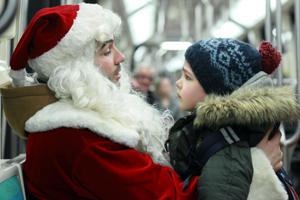 Tahar Rahim brings his presence and acting ability to the lightweight role, but he never manages to come across as a good guy—his charm remains ferrety. His smile might be brilliantly white, but the teeth look razor sharp. Comparisons could be made to a young De Niro or Widmark, even a very young Richard Gere. But Rahim has a persona that's unique—charming, erotic, volatile, melancholic—which he's put to better use in films like The Prophet and Le Passé. He certainly has some great roles ahead of him. (Hopefully this film won't be successful enough to inspire sequels.)
Ridiculous as it might sound, Rahim has genuine chemistry with his co-star. Victor Cabal is a cute little boy who looks like a miniaturized Mark Wahlberg. He can be cloying without bringing out the audience's inner W.C. Fields, and his professionalism is astounding (and slightly sick-making). He's more Shirley Temple than Tatum O'Neil, but seems assured of a real future in the movie business, if he (or his parents) wants it.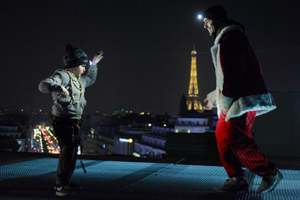 In the end, Alexandre Coffre brings off his formulaic turn and lives up to his name (the French coffre means safe or cash-box). Whatever the weaknesses of the script, Father Christmas is competently filmed and edited. It needed more magic than the corny epilogue provides. (If only he'd fully exploited the real sleigh we see in a Moulin Rouge-type theatre when Santa visits his dancer girlfriend!) Still, mixing Fagin and Scrooge was an inspired choice, and makes the film more piquant than most yuletide fare. Now pass the kuglof.
Production: Quad Productions/Mars Films/M6 Films
Distribution: Mars Distribution