Christmas 2021: The Best Bûches de Noël in Paris
Promise me anything but give me chocolate!
The city's pastry chefs have been busy dreaming up beautiful treats to dress up your holiday table this year. As creative as they are tasty, these bûches de Noël are works of art. Here's our selection of 2021's best yule logs.
The "Festive" is a fabulous, limited-edition Christmas bauble with flavors and textures inspired by the pine forests, crunchy praline and soft Madagascar chocolate mousse. This special yule log is a collaborative project from chefs Jean Imbert, Angelo Musa and Elisabeth Hot. With zero waste in mind, they used the entire cocoa pod from nibs (roasted and chopped cocoa bean) to mucilage (white pulp around the beans). Don't forget the hotel's annual ice-skating rink at La Cour Jardin. Framed with twinkling lights and illuminated trees, it's a magical setting for taking a twirl on the ice when you go to pick up the "Festive."
La Bûche "Festive" costs €115  for 6 people
Tel: 01 53 67 65 97 or  e-mail [email protected]
Collect from The Galerie at Plaza Athénée from Wednesday December 22nd-Sunday December 26th
This is Not a Bûche by Alléno & Rivoire
For their first Christmas, the exciting new chocolate brand Alléno & Rivoire presents an iconic piece, layered like a Russian doll. The first shell is shaped from 60% Peru milk chocolate sprinkled with fine golden hazelnut chips; the bean, 66% Caribbean dark chocolate, is flavored with fresh Tahitian vanilla. Once these different layers have been peeled back and shared, the heart reveals a collection of small 72% Guadalajara dark chocolate truffles, dusted with cocoa powder. Yummy!
From December 16th. The price is €95
Alléno & Rivoire, 9 rue du Champ-de-Mars, 7th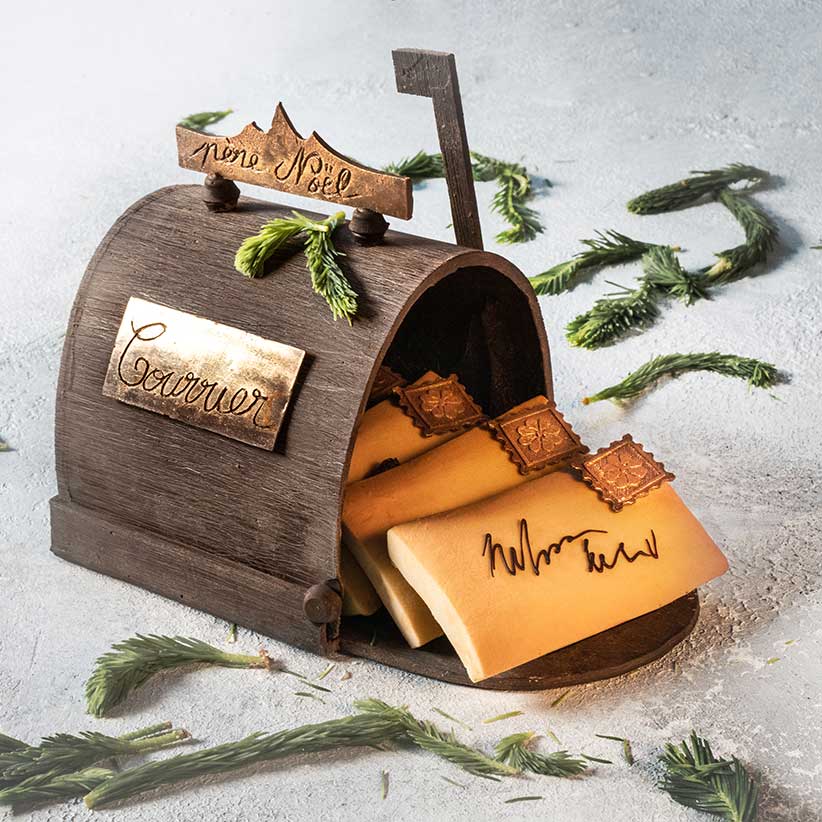 Santa Letterbox by Nina Métayer
How existential: Eat your letter to Santa and the letterbox!
The fresh, delicate fir bud mixed with light vanilla-infused mousse, pear and fir pepper confit, tiny cubes of forest honey madeleine cookies sits on Christmas spice crispy shortbread and roasted almond chunks. Nina Metayer was named GaultMillau Pastry Chef of the Year 2017.
And, with no calories, La Délicate Patisserie de Nina Métayer makes a super Xmas gift. Published by Editions La Martiniere (€35).
Priced at €8.50 – €34 – €59
Catch the Christmas collection at Printemps du Gout, located on the eighth floor of Printemps Haussmann and online at the Delicatisserie.com.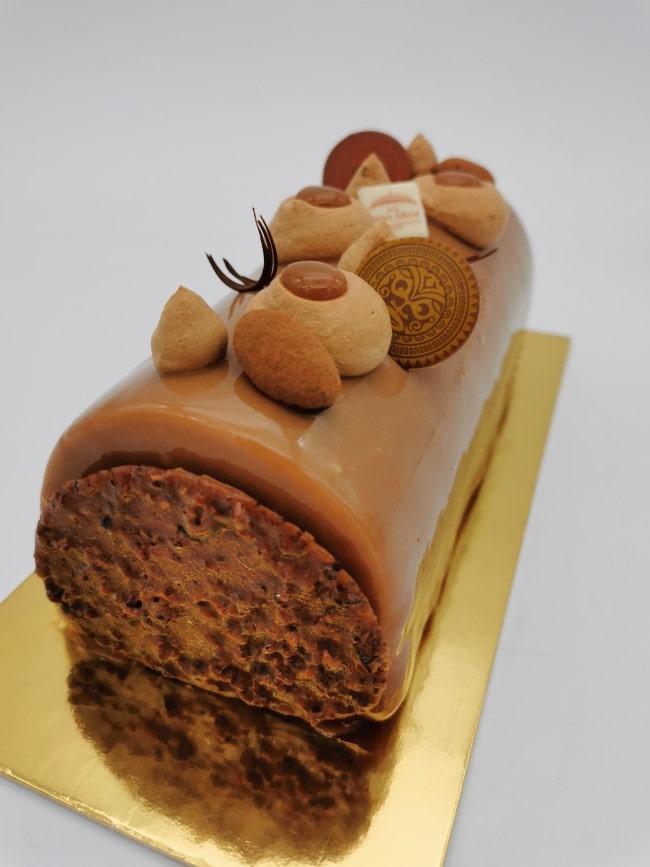 Christophe Bertrand, chocolate artisan and owner of A La Reine Astrid, has selected the bounty from a Brazilian harvest. He sends you an invitation to discover cocoa mucilage, a flavor more or less unknown in France: It's the fine, white flesh that protects the cocoa bean within the pod and has been pronounced very healthy for choco lovers. In addition to mouthwatering gourmet creations, A La Reine Astrid is committed to an ethic of respect for man and the land. Collect from December 1, 2021 at all the brand's boutiques. In Paris, discover the recently opened boutique on rue de Verneuil marking the brand's return to its original 'hood.
La Bûche Mucilage is priced at €26 for four people; €37 for six people; €50 for eight people.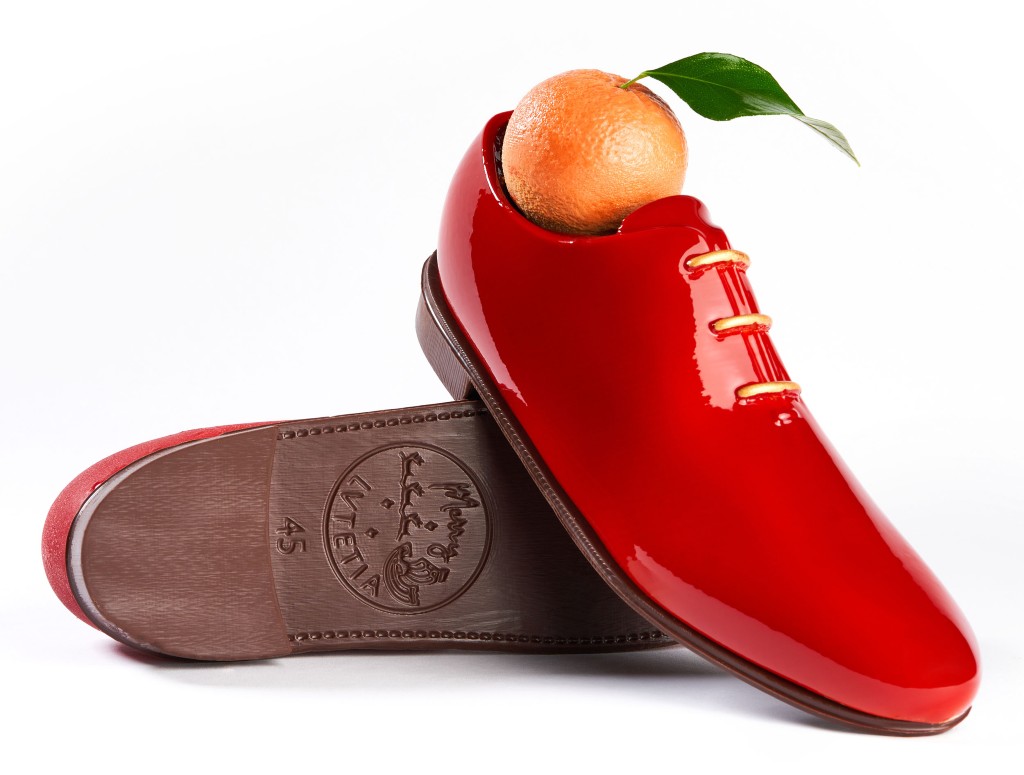 Nicolas Guercio recalls traditional tangerines stuffed into his slippers on New Year's Eve. With a nod and a wink to family tradition, Guercio's handsome shoe is surely too good to eat! For the ingredients, the chef again reverts to childhood memories combining light tangerine mousse coating a soft gluten-free chocolate biscuit with crunchy dark chocolate. A tangy tangerine crème brûlée and delicious, dark chocolate mousse (64% Valrhona), a touch of mandarin jelly – voilà, the perfect balance. Work of Art/Log for six people, priced at €95 – Merry Lutetia!
Order by calling 01 49 54 46 00 until December 22, 2021.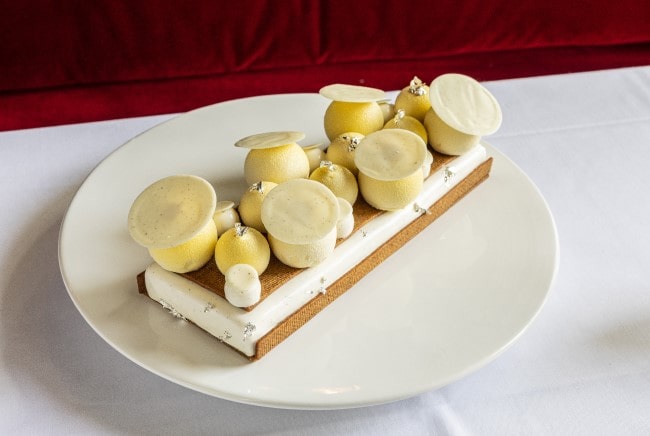 Why not begin, or end, festive meals with savory bûche foie gras from A Noste? Flavors of sweet peppers and aniseed sloe liqueur combine with the delicacy of foie gras. For this delicacy, Guy Martin mixes foie gras mousse, piquillos, prunes with Armagnac, gingerbread, redcurrant / patxaran glaze (€68). Or, for six people, the "Galette Tortilla" is totally Spanish, a spicy scoop of sweet peppers and candied lemons wrapped in golden puff pastry, spinach sprout, potato, candied lemons, guindillas. Olé! (€36) To order call 01 42 03 9191 or email [email protected]
The Grand Finalé is Grand Vefour's featherlight Vanilla, bergamot and yuzu log made with citrus fruits, delicately balanced between acidity and sweetness, blending creamy vanilla bergamot, lime madeleine cookie, vanilla praline, vanilla bergamot ganache, bergamot caramel, yuzu. Priced at €89 for six people.
To order call 01 42 96 56 27  or email: [email protected]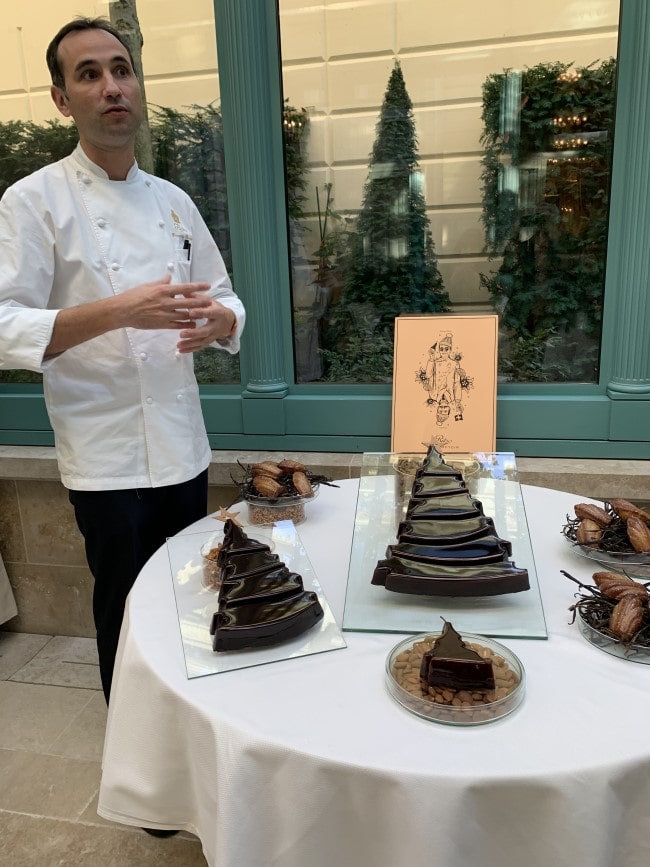 The pastry chef François Perret sculpts glossy chocolate-praline trees in different sizes for different tastes (see below). Recently in Peru, Perret discovered Grand Cru 72% cocoa beans which inspired his sleek glossy Christmas trees. Layers of airy mousse, toasted almond praline, caramelized, deliciously crunchy. A delicate chocolate star shines on top, an invitation to the magic of a Ritzy Christmas.
The individual is priced at €16; six people at €105; 10 people at €160. Available from December 4, 2021 at Ritz, Paris Le Comptoir – eat in or take away. Log for six and 10 people order from December 4, 2021 via click & collect. Collect logs at the Ritz Paris Le Comptoir at 38 rue Cambon in the 1st arrondissement.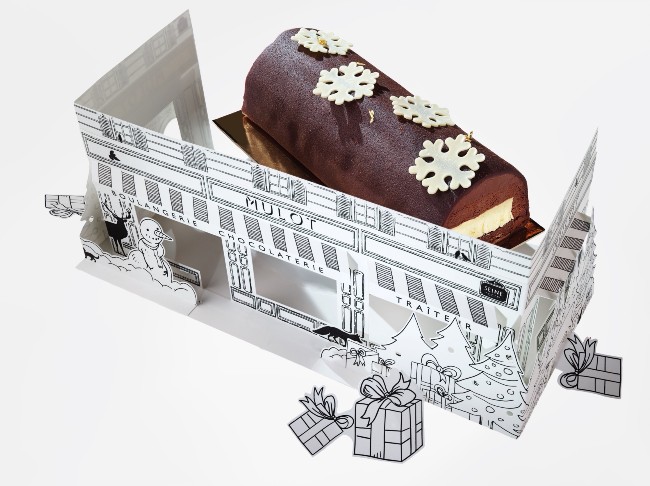 La Maison Mulot was created by Marie-Claude and Gérard Mulot in 1975 with Fabien Rouillard taking over in 2016. The talented pastry chef and entrepreneur was formerly at Fauchon, chez Pierre Gagnaire, and Lucas Carton with Alain Senderens. Rouillard's mission is committed to evolving Mulot's reputation for excellence, with his own signature. La Bûche Saint Germain (gluten free) is "made in Paris" at 76 rue de Seine. And, the delightful, recently opened Café Mulot is located in the historic Maison de Victor Hugo on the place des Vosges. The yule loge is made with 70% panama Deltora chocolate beans, creme brûlée, and almonds. The price is €90 for six people.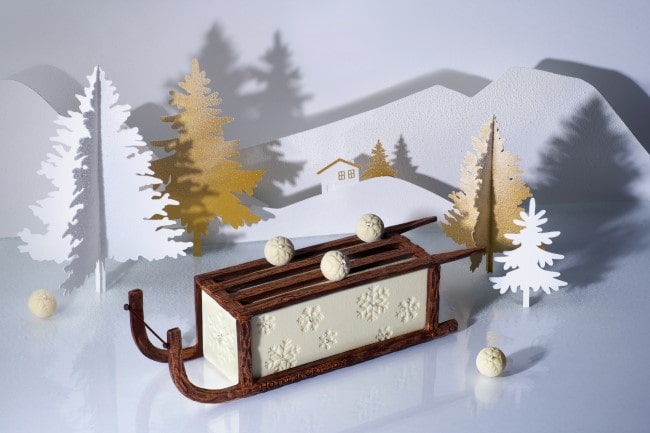 This season, it's in a traditional mountain spirit that the palace hotel on Place de la Concorde celebrates Christmas and the New Year. Pastry Chef Matthieu Carlin was inspired by a sledge that would "transport epicureans to a snowy world where the magical spirit of the holidays is everywhere." The Hôtel de Crillon's super sledge is a handsome dark chocolate structure, with confiture de lait (milk jam) in the middle. Add hazelnut dacquoise biscuit and roasted, salted Piedmont hazelnuts for a crispy touch, white cheese mousse embellished with marmalade, and cream of lemon for tangy notes. Bon Ski!
Limited Edition 100, priced at €90. Order from December 1st. Collect from 10, place de la Concorde from December 20- January 2nd.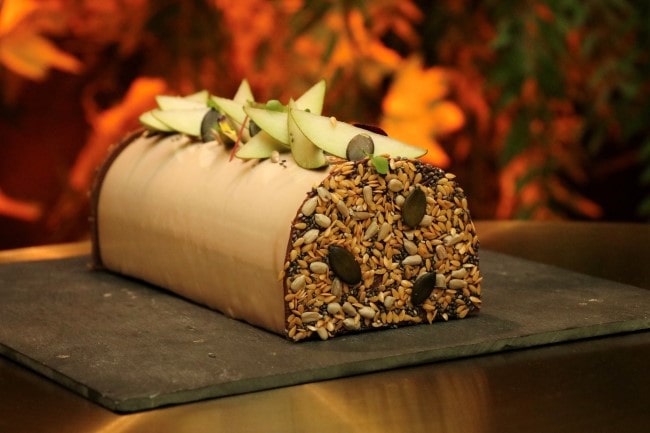 Chef Julien Delhome's yule log rocks a traditional look, but the interior is a surprising spin of modern technical textures, with variations of a theme of pears, his favorite winter fruit. Composed of crunchy shortbread with oven-roasted pears, creamy Valrhona Dulcey chocolate mousse and pear confit with tarragon. Delicious, flashy, juicy, Doyenné du Comice was chosen for its versatility, which inspired chef Delhome who cooks it in three different ways: oven slow roast, candied and raw. Delicious! Add fresh tarragon with anise notes, taste it at Officine, the hotel's lovely restaurant where plants and aromatic herbs take pride of place. Available from December 20 to 26; pre-order 72 hours in advance. Priced at €70 for six-eight people.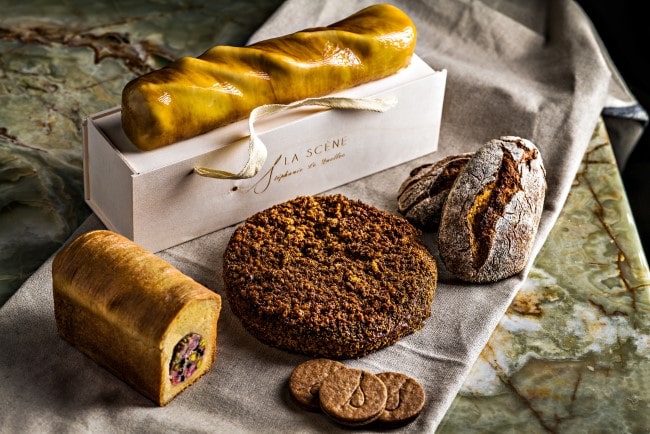 At Stephanie Le Quellec's two-Michelin-starred Restaurant La Scène, the "Winter Epi" is "a true declaration of love" for bread and ancient wheat. Pastry chef Pierre Chirac's treat consists of a crunchy caramelized crumble dough made with Roland Feuillas flour, soft bread biscuit, cream of natural rye leaven, and toasted bread mousse. Interesting! The log's then covered with a very fine glaze to give a glorious golden color. Priced at €95 for six people. And, BTW, Pierre is not related to you know who!
But what about gluten free? Head to Le Quellec's MAM restaurant. Consider the soft gluten-free cocoa biscuit soaked in light syrup, 65% Cuba dark chocolate cream, Maison Nicolas Berger and whipped ganache with 40% Madagascar milk chocolate.
Gluten-free log four-six people: €42
Gluten free log six-eight people: €58
MAM, 22 rue Fourcroy, 17th
Tel: 01 45 72 47 49
Lead photo credit : The yule log at the Hotel Plaza Athenée. Photo credit: Laurent Fau
---
---