Where's the Beef ?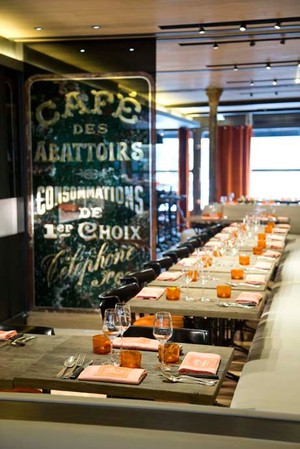 At the recently launched Café des Abattoirs, another project from Rostang Pere & Filles. Six generations of a culinary family with Caroline and Sophie continuing in the footsteps of the late great Jo Rostang, La Bonne Auberge, Antibes (3 * Michelin).
Head chef Yann Lainé says Abattoirs is for conviviality. Big tables, sharing dishes and you're supposed to snitch from your neighbour ! Don't like the name ? It's in hommage to the great-great grandfather's Café des Abattoirs in the Isére region, a copy of the sign punctuates the restaurant wall, the original, kept in precious memory, is in Michel Rostang's office at the 2-star eponymous flagship on rue Rennequin.
No set menu, everything's based around meat, veg, home made sauces, mustards, the meat's grilled on sarments de vigne and bois argentin, great wines bien sur.
A delight from the moment the terrine du jour is brought to table followed by Le Gratin de gras double comme chez Léon de Lyon.  Tartare de Veau : Le Gigot façon Kebab : The camembert de Martine Dubois and Le Pot Choc de Michel Rostang et Muffins Banane.
Wash down with a glass (from 4.50€) of Chinon « Les Clos Coquimbert » bottle 25€. Or white Bourgogne Chardonnay from Vincent Dureuil (5.50€) or 30€ bottle.
So, the 6th restaurant of the 6th generation is looking dandy and delicious.
Cafe des Abattoirs
10 rue Gomboust, 1st
M : Pyramides
T : 01 76 21 77 60
Open 7/7
Average Spend 38€ + wine
We'll walk down the Avenue 'til we're there :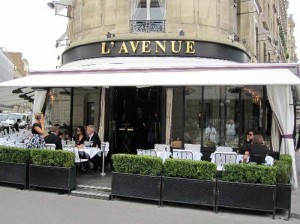 I don't know if it's true that the Costes seat all the beautiful people at the front, from where I'm sitting everyone looks beautiful and happy to be ordering at the Jacques Garcia decorated L'Avenue.
Asian inspired dishes, DJ, outside heated terrace to eyeball the great and the good passing by on their way to Dior, Pucci, Nina Ricci, Chanel, opposite.
Really, words are superflous go on this site and get with the programme.
L'Avenue,
41 avenue Montaigne, 8th
M : Franklin D Roosevelt
T : 01 40 70 14 91
Open 8am-2hrs
Valet Parking
« Imagination rules the world » (N. Bonaparte)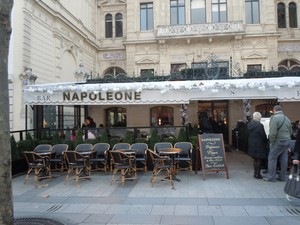 Remember Le Napoléon 111 La Paiva ? Note the change of name, since November.
Located next door to Abercrombie & Fitch, the cinema and PSG official super-store, it's an all-day excellent Art-Nouveau style meeting and eating place.
The covered heated terrace means you don't need to go inside : just « pipole watch » as you wait for chef David Gutman (ex-Relais Plaza) to send out, say:
Caviar d'aubergine, gambas, légumes frits: Carpaccio de Saint-Jacques, citron vert, oeuf d'Aranka: Oeufs mayo, carottes râpées: Couteaux à la plancha, sauce vierge: Assiette de jambon Ibaïona, affiné 24 mois, pain à la tomate:
Then mains: Saint-Jacques rôties, purée de céleri-rave, jus vert: Suprême de volaille fermier, façon poule au pot, riz pilaf: Epaule d'agneau confite, polenta aux olives: Noix d'entrecôte Salers, rôtie de chez Jean Christophe Prosper – frites maison, sauce béarnaise. Dans la tradition : côte de veau dorée au sautoir, jus au thym, gratin de macaroni.
Finish with Baba au Rhum, crème légère à la vanilla: Mont Blanc façon vacherin: Tarte chocolat Valrhona.
Napoleone – Bistro Chic
25 Avenue des Champs Elysées, 8th
M: Franklin D Roosevelt
T: 01 42 25 60 80
Average Spend 52€ + wine
Open 7/7 from 9h to 2h
No site yet.
Hotel Westminster, Duke's Bar & Le Celadon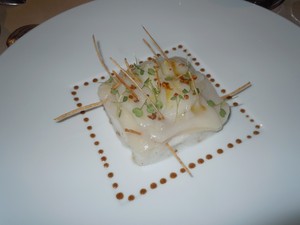 Named after The Duke of Westminster, who lived in the handsome Haussmann style building in the 19th century, which became a hotel in 1905.
"To-day the club-style bar is a favourite spot with Dukes and their Duchesses  for drinks, light lunches, the best Club Sandwich. And bien-sur Tea-Time!
At night, Le Point's gastro-critic and author, Gilles Pudlowski suggests a flute of champagne in the Duke's bar, then dinner by Christophe Moisand at the Westminster's trés confidentiel Michelin 1-star, Le Celadon.
"A great address, open for lunch and dinner 7/7", weekends it becomes "Le Petit Celadon" with seasonal menus and always the interesting wine card", he says. "And, in summer there's a menu "tout vegetables", adds Pudlowski.
Great for the ladies who do. "But make sure to reserve, it's booked all the time".
Pudlo should know his coffee table tome "Les Grandes Tables de Paris" is hot off the press from Editions de la Martiniére (45€)
And, if you don't want to leave, get a room, there are 80, and 22 suites, recently redecorated, in the best possible taste, by Pierre Yves Rochon, all with free wi-fi.
His Grace would definitely approve.
Westminster Hotel & Duke's Bar,
13 rue de la Paix, 2nd
M: Pyramides/Opera
Lunch 37€ with glass of wine/coffee
Le Celadon – Average spend about 60€ + wine
Entrance on rue Danou
T: 01 42 61 55 11