Alain Pegouret Shines at Laurent : News from the Ritz & Michelin Bonnes Petites Tables Bib Gourmand 2015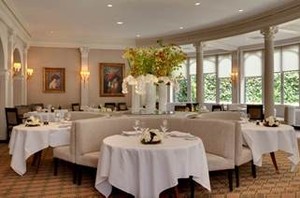 It's noon chez Laurent, Michelin star restaurant/club to rock and movie stars, politicians, captains of industry, Le CAC 40, ladies who lunch etc.  A line of designer handbags and bespoke suits (a few wear jeans, probably Armani) wait to be seated by über Maître d'hotel/director MOF Philippe Bourguignon. Does Monsieur B seat politicians from diffferent parties in discreet corners ? No point in asking, Bouguignon's lips are discreetly sealed with a Jeeves like smile.
The beautiful room, overlooking the terrace garden, for warmer days, has been given a bright nip and tuck. Tables are discreetly spaced, walls punctuated with important paintings belonging to Monsieur Partouche, the owner. The ballet of the salle commences with a glass of Laurent Perrier rosé.
In the kitchen since 2001 superchef Alain Pegouret, who took over from Philippe Braun. A tall handsome 40-something, if he were a brand it would be Lacoste/a voiture, Aston Martin/a dish : well he's the dish darling.
Born in Cannes, Pegouret's earliest foodie memories are of delicious and exciting visits, with his father, to Michelin star restaurants in the South of France : Louis Outhier's legendary  L'Oasis, Mandelieu. Chez Jacques Chibois at Le Royal Gray and Roger Verge's Le Moulin de Mougins. « Always tasting, tasting, tasting, I loved it, what a magical world », says Pegouret.
« There was never any doubt I would choose a culinary career which began, after graduating from Hotel School, in Paris with Christian Constant (Crillon & Violon d'Ingres) and Joël Robuchon at Jamin ».
But what about the food ?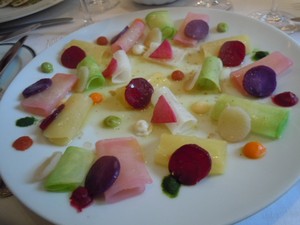 From a choice of ten starters begin with Pegouret's bright signature Palette de Légumes (by Joël Thiébault) inspired from the painting by Louis Pastour which hangs on the wall of the family home. Radish, carrot, beetroot, root vegetables, potatoes, drizzled with aromatic oils, matched with a flute of beetroot sorbet topped with celery cream. Drink crisp Pouilly Fuisée Domaine Jeandeau (75€).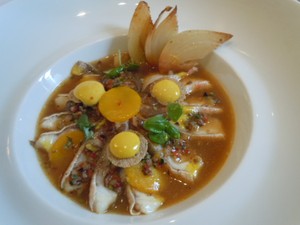 Market driven mains include the southern inspired roasted Rouget Grondin, consommé de bouillabaisse : Plump Saint-Jacques, truffled and grilled, cauliflower chips. Or, a real beefeater's banquet, the beef, perfectly pink, sliced, jus and pommes soufflées. Try  red Château Ame de Musset, Lalande de Pomerol (65€) The dishes have a classical base, are revised and beautifully corrected by Pegouret in his unique contemporary style.
The handsome Christofle cheese wagon is the perfect showase for Madame Quatrehomme's fromage. Desserts by Rémi Sendin, include a generous plate of warm flaky palmiers, suggestion : « file » in the Goyard for later.
It's 3pm, the line's around the other way now. Restaurant Laurent's USP is that it can feed the likes of Nicolas & Carla/ Dominique de Villepin/Johnny Hallyday so they can get back to business/the studio ASAP.
Often clients pop in to see Monsieur Michel at his cosy bar for a little digestif, whisky or a delicious Cocktail Gabriel to see them on their way.
Whatever, it's a unique maison.
Restaurant Laurent,
41, avenue Gabriel 8th
T : 01 42 25 00 39
Metro: Champs-Elysées, Clemenceau,
Shut Saturday lunch/Sunday
Valet parking
Terrace
Menu du Pavillon 95€ A La Carte average spend 170€
Or A La Carte
Putting on the Ritz
This week The Ritz Paris announced that talented, Paris born, Chef Nicolas Sale will replace Michel Roth as Executive Chef at the ** L'Espadon restaurant, scheduled to reopen Autumn 2015 after major transformations: not only to the restaurant but the entire hotel.
The landmark hotel on Place Vendome, owned by Mohammed Al Fayed, the Egyptian business magnate, will continue the tradition of culinary excellence created by Cesar Ritz and his friend and partner Auguste Escoffier (1846-1935) father of modern gastronomy.
Chef Sale, has four Michelin stars for restaurants in Courchevel, is described by Guide Michelin as a "transmitter of emotion." He joins the Ritz, following in the culinary footsteps of chefs Escoffier, Guy Legay and Michel Roth.
"I'll stay in Courchevel (on top of the world at restaurants La Table du Kilimandjaro and Le Kintessance located in Hôtel K2) until the end of the season", says the 40 something Sale.
Sale's CV takes in Lucas Carton with Alain Senderens, Pierre Gagnaire, Philippe Legendre at George V, Le Meurice with Marc Marchand, Park Hyatt, Madeleine. In 2006, Chef Sale snagged his first Michelin * at Le Monte Cristo, Hotel du Castellet,  Var. The second, at Le Beach Hotel's Les Pecheurs restaurant, Cap d'Antibes, located next to the tiny port where Sale could be found, before breakfast, waiting for the fishermen like a small child at Christmas.
"For Nicolas Sale, expressing the quintessence of the best products seems to be a calling. Quality of ingredients, harmony and creativity of recipes, technique and beauty of presentations: totally seductive," raved Michelin. "His sources of inspiration: nature, a place, an odeur, a moment, travel. And, above all listening to clients."
"For 117 years, the glamourous Ritz Paris legend has evolved, celebrating the past as it has embraced the future. With this appointment, a young and passionate Chef, a rising star of French gastronomy, will help The Ritz continue to build a brilliant future", say the hotel. Can't wait !
Michelin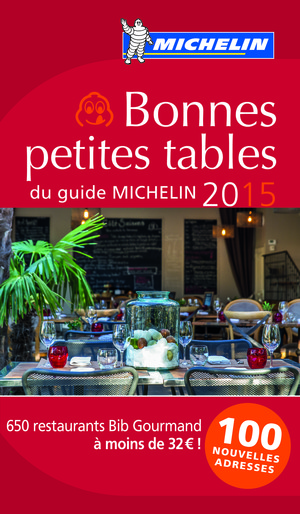 It's all happening at Michelin: France 2015 publishes 2nd February (no leaks yet!). Then Brazil follows in March. While waiting there's a precious little bible featuring 650 restaurants (100 new) and, to be included in this guide, each restaurant must post a prix-fixe menu (starter, main, dessert) for under 32€ (36€ in Paris).
Bonnes Petites Tables du Guide Michelin 2015
Price: 17€90
Leave a reply
Your email address will not be published. Required fields are marked *