Alain Ducasse @ Le Plaza Athenee : Guy Martin Le 68 Chez Guerlain : « Cheese » Tous Au Restaurant & Mickey on the Left Bank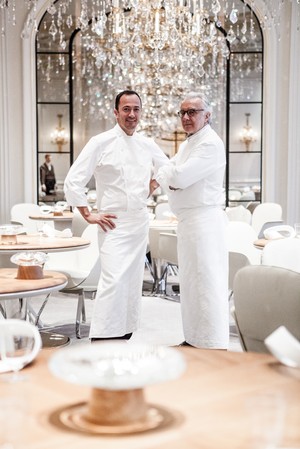 « In cooking to go far one must never forget ones roots ». At the newly transformed Restaurant Alain Ducasse Au Plaza Athénée beef takes a back-seat, replaced with « a healthy trilogy » of poissons-légumes-céréales.
"Our planet has limited resources, we need to consume more ethically, more fairly, tackle climate change," says Monsieur Ducasse.  On the menu, vegetables are from organic suppliers and from the Gardens of the Queen, Versailles, following the locavore trend».
There are also dishes influenced by Toshio Tanahashi, Japanese Shojin specialist, invited to Paris by Monsieur Ducasse, his dishes use only vegetables and cereals.  « It's important to listen to the vegetables, they'll tell you how they want to be prepared », insists Mr. Tanahashi.
Jouin & Manku's bold old/new decor features shiny steel domes/wood/diamanté mixed with a fascinating Cabinet de Curiosités.  Out go tablecloths, diners sit at sleek hand carved natural oak tables, fine leather chairs. Class !
Ironic touch, fish knives replaced (thank heaven) by steak knives. « They don't bruise the fish », explains Monsieur Ducasse.
Stay tuned for more news.
Best Table. La Table Cabane
Alain Ducasse Au Plaza Athénée,
25 avenue Montaigne, 8th
M : Franklin D Roosevelt,
T : 01 53 67 65 00
Lunch Thursday-Friday
Dinner Monday-Friday
Menu Jardin-Marin 380€
A La Carte : 250€ euros excluding drink
The sweet smell of success :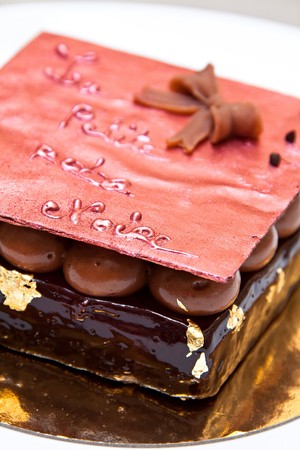 Guerlain : « L'Heure Bleu » for Catherine Deneuve, Audrey Hepburn loved « Chamade », Arnold Schwartznegger and Tom Cruise are very « Vetiver », as is Elle MacPherson. Which is your favourite ? Perhaps you've fallen for « La Petite Robe Noir » ?
New York architect Peter Marino recently transformed the listed super-store (circa 1914) on the Champs Elysées, making the 1,600 square meter/4 story building more elegant and user-friendly.
Alert readers will recall now, after six months, this is what's happening in the restaurant where super-chef Guy Martin with chef Fabrice Capdepont, and in-put from Guerlain nose Thierry Wasseur, create light and lovely dishes inspired by Guerlain's history and the perfumes.
Be prepared for a multi-sensorial experience, such as the main of Monkfish "Habit Rouge" with delicate Indian spices, fennel, peppers and sauce vierge. Finish with La Petite Robe Noire chocolate dessert. And take one home from the pastry counter.
"I believe in crossing paths", says Guy Martin, 2-star Michelin chef at Le Grand Véfour, Paris.  "My mother wore Shalimar and I was intrigued when Guerlain and Thierry Wasser invited me to collaborate with them". And, does the chef spritz the just launched L'Homme Idéal? "Of course", he smiles.
Le 68 is a unique and original concept for all:
"L'Homme Idéal is a myth", says Thierry Wasser. "His fragrance is a reality!"
Mmmm….I'll take L'Heure Bleu.
Le 68 Guy Martin,
68 Avenue des Champs Elysées, 8th
M: Franklin D Roosevelt,
T: 01 45 62 54 10
Open 7/7
Breakfast 10-11.30
Sunday Brunch 55€
Say ! CHEESE !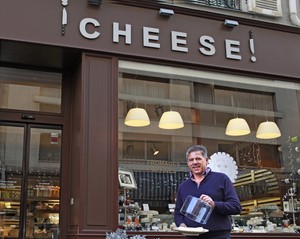 Remember La Ferme du Champs de Mars? It's now a chic and exciting concept fromagerie/epicerie by Gilles Clayeux featuring Burgundy, Italian and English cheese.
The boutique counter tells a tale of old Dutch cheese, packaged like bonbons, chutneys, white powder !  Not cocaine darling, read, powdered goats cheese, made by cheese maven Clayeux to sprinkle on everything. I suppose you could roll it in a Rizla, with a bit of herb, it's street legal ! Up to you really, I'll have mine on an oven baked jacket potato.
On the Cheese wine wall, bottles to match Joe Schneider's Stichelton, Le Formidable (made to Clayeux's recipe, "Brillat Savarin, tea-infused raisins, marc de bourgogne").
Clayeux, or assistant François, will make you a sandwich with bread by Poujauran, butter by Monsieur Bordier. Add home-made yogurt, honey, Piambino Tuscan Olive Oil, Cheesecake, Stilton and jams by Delphine Alaguette.  "The best chocolate in the world", by Burgundy choco-wiz Monsieur Bernard Dufoux.
"I prefer white wine with cheese", admits "Chezza" Clayeux. "One Saturday per month I schedule a cheese & wine tasting, look on Facebook for details, the next one is 11th October.
As I leave with my bounty Chezza remarks. "My dear, age doesn't matter, unless you're a cheese". What a nice bloke, giving new life and meaning to the humble cheese sandwich.
1 rue Desaix, 15th
M: Dupleix /Bir Hakeim
Tues –Fri: 10h00-13h00 / 16h00-20h0
Sat : 10h00-13h00 / 16h00-19h30
Shut Sat:Sun
T : 01 47 83 81 26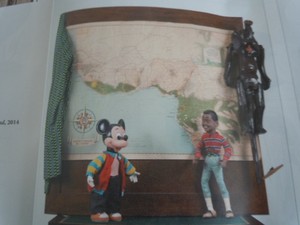 Mickey Au Bénin @ Galerie Vallois
You're on rue de Seine, going to Juan Sanchez and Drew Harrie's Semilla (note their new canteen opening soon next door in the ex-Mimi La Sardine) or Fish La Boissonerie. So, don't miss Galerie Vallois, at No. 35, super-cool expo, featuring works by 9 hip and talented Bénin artists, featuring Disney's iconic mouse.
Diary Date: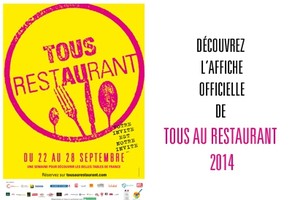 The 5th Edition of "Tous Au Restaurant" – 22-28 September:
The twofer concept means two eat as one.  Participating chefs include: Guy Savoy, George Blanc, Thierry Marx, Frédéric Anton,  Cyril Lignac, Hélène Darroze, Gilles Goujon, Les Frères Pourcel, Christian Tetedoie, Reine Sammut, Gérald Passédat, Christophe Saintagne, Olivier Nasti, Jean-Louis Nomicos, Michel Rostang etc.
Average spend for two? 36€ at lunch – 46€ dinner + wine.
Book on line from 17th September 2014
Photo credits:
Hotel Plaza Athenee:  Pierre Monetta
Cheese:  credit photo J.defontenay
Leave a reply
Your email address will not be published. Required fields are marked *