Yannick Alleno's Terroir Parisien, Bauhinia Brunch & Macaron Day Buzz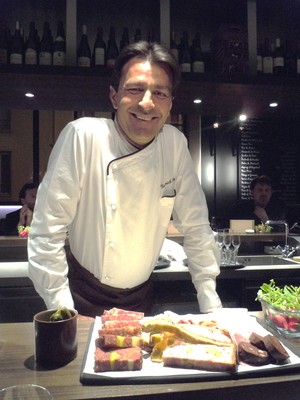 Terroir Parisien is located on the left-bank in the newly transformed, listed, Maison de la Mutualité.  It's 3-star Michelin chef Alleno's tribute to the city he loves. "Of course I'm still at Le Meurice, but it's to present and research a different type of cuisine that I've researched this project for four years," he explains.
TP's "locavore" menus bring products from farm to table, using 90% local ingredients and showcase, "Terroir Parisien", the book Alleno worked on with Le Monde newspaper's uber food-critic, Jean-Claude Ribaud.
"I am obsessed with the idea of re-awakening forgotten Parisian recipes", Alleno admits. All suppliers are name-checked on the bistrot walls, their products proudly displayed on shelves. La menthe poivrée from Milly-La-Fôret. Montreuil peaches, Argenteuil asparagus, champignons and artichauts de Paris, les choux de Pontoise etc.
Begin with a selections of pâtés Pantin, a magnificent "Berkel" sliced ham, taste le veau chaud, sauce gribiche (Alleno's signature spin on hot-dog Parisien) charcuteries and terrine de foies de volailles or fromage de tête de veau by Gilles Verot www.verot-charcuterie.fr and Onion soup gratinée des Halles.
Heading the open kitchen is Eric Castandet, until recently second to Alleno at Le Meurice, Paris. Jamie Cameron directs the salle, he has roots in France, UK and New Zealand, ask him about the unique selection of wines starting at 17€, glasses about 8€. There are 74 covers with 14 around the bar.
Mains include Eel Tart Parisian Style, herb coulis and watercress from Serge Barberon "cressi-culteur" at Méreville. Or slow-cooked navarin d'agneau de chez Morisseau served in a cocotte with baby vegetables. Beef is aged by hip Paris butcher Yves-Marie le Bourdonnec, who's slogan is, "love me tender". Merlan de Bercy, Brie de Meaux cheese, each dish and product has a back-story.
Poached Pear and "Miel Béton" honey with a side of rice pudding and parisian butter ice cream, or maybe Pomme d'Amour. Niflette is a twist on the traditional Seine & Marne dessert, a pâte feuillette base is topped with crême patissiere blow torched like crème brūlée. Take home artisan jams from Les Vergers des Epinettes-Surgis, they'll be the best you've ever tasted.
Alleno and the team are excited. "People don't realise that there's an authentic terroir parisien, for me French gastronomy begins and ends in this region", he reflects.
Terroir Parisien is an exciting experience of artisan culinary craftsmanship. I left understanding why UNESCO added French cuisine to its' Heritage list.
Terroir Parisien,
La Maison de la Mutualité,
20 rue Saint Victor, 5
Email
T: 01 44 31 54 54
Average Spend 25€ + wine
Coming soon: Sunday Brunch
Open 7/7 from petit déjeuner-dinner
Brunch Sundays
Note: YAM Yannick Alleno Magazine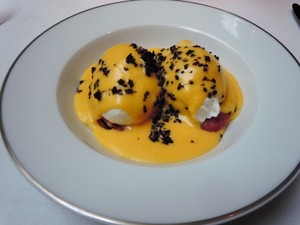 The recently opened Shangri-La snagged two stars in Michelin's Guide 2012. One for Shang Palace and two for L'Abeille. The achingly chic brasserie, La Bauhinia, should not be ignored and will no doubt be rewarded next year. Chef Philippe Labbé is delighted, praises his equipe and now announces: "The ladies who do will adore La Bauhinia because we recently added Brunch to the menu". They'll have their man book ahead so as not to be disappointed. Bauhinia restaurant manager Nicholas Bourgeois was turning away the Kelly and Birkin brigade big time last weekend.
On the menu brunch favourites include truffle studded Oeufs Benédict. Les oeufs extra-roux de Marans any style, egg-white omelettes. Bauhinia Brunch is also a nod and a wink to Asian cuisine. Young chef Baptiste Peupian (ex-Ducasse) working with Philippe Labbé has proudly created an East meets West carte.
Served under the glass 'cupola' and magnificent Murano chandelier, there's a nod and a wink, in the décor, to Gustave Eiffel's tower just across the river from the hotel.
"It's a signature Shangri-La Brunch", explains Monsieur Bourgeois. Fresh juices, large baskets of croissants and multitudes of home-baked breads, scones and viennoiseries. Verrines of cold seasonal soups, gaspacho de betterave. "We've also included Bauhinia signature dishes alongside makis and spring-rolls. Salade de pamplemousse thai. Boeuf marineé, crevettes and green papaya, pad thai, linguine de Saint-Jacques. Isigny oysters and Black Angus sandwich, all go down well with a flute of champagne Deutz or Bollinger rosé. There's also a selection of wines by the glass and hot chocolate for kids of all ages.
Finish by raiding the cheese trolley, showcasing Monsieur Lefèbvre's perfectly ripe Camembert, Saint Nectaire, Beaufort, Brie de Melun, Fourme d'Ambert, Cantal etc. with classic French desserts or oriental style fruit salads and sorbets, revised and corrected by chef pâtissier Franҫois Perret. Wicked!
Le Bauhinia, au Shangri La
10 Avenue d'Iena, 16th
T: 01 53 67 19 91
Open 7/7
Brunch Sat-Sun 92€ – children 38€
Diary Date:
Tuesday 20th March 2012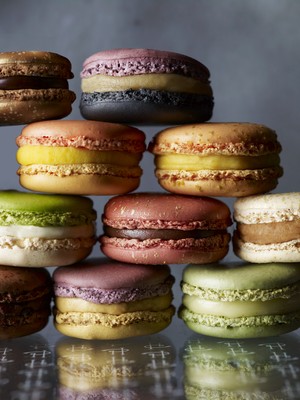 In Paris and London, Pierre Hermé's 7th Macaron Day is dedicated to his signature multi-flavoured macarons which PH offers in return for a small, or large, donation to this year's charity, Autism.
On Macaron Day, Pierre Hermé macaroniacs can overdoes on flavours created by the Picasso of Patisserie over the years. And while you're there check out "8 weeks 8 babas" thru 29 April. Hermé intends to do for the baba what he did for the macaron.
Photo credit: Jean-Francois Mallet

Subscribe for
FREE

weekly newsletters.
BonjourParis has been a leading France travel and French lifestyle site since 1995.
Readers' Favorites: Top 100 Books, imports & more at our Amazon store
We update our daily selections, including the newest available with an Amazon.com pre-release discount of 30% or more. Find them by starting here at the back of the Travel section, then work backwards page by page in sections that interest you.
Current favorites, including bestselling Roger&Gallet unisex fragrance Extra Vieielle Jean-Marie Farina….please click on an image for details.
Click on this banner to link to Amazon.com & your purchases support our site….merci!
Leave a reply
Your email address will not be published. Required fields are marked *