Septime, Villa Corse, Chez Georges, Zinc & Goutu Buzz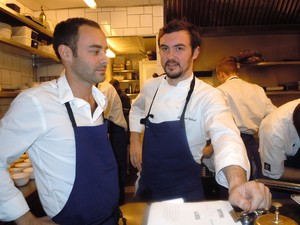 If you're lucky enough to snag a table at Bertrand Grébaut's Septime you'll say, "his cuisine reminds me of someone", now who is it? Alain Passard, bien sur darling. BG says that although he's cheffed at some belles maisons, Passard's King, full stop.
I'm passing by for an odd reason. Grébaut's got two La Cornue stoves in his hip bistro, rue de Charonne; I'm going to the opening of an oven!
The suits from La Cornue are there, starting price about 7,500€ waiting list longer than the Birkin. It's almost a religious ceremony, the cult of La Cornue.
There's delicate offerings, made in and on Grebaut's Bonnet stove: Feuilleté/Parmesan/Pavot: Potimarron/Mozza fumée/Sarasin: Céleri en croûte de sel/foir gras/foin (hay!): Saint Jacques/Roquette/Romanesco: Epaule d'agneau? Racine? Carotte pourpre/Agrumes/Fromage blanc/Crumble and good wine, St. Emilion Grand Cru, Château Larguet, from Grébaut's family vines.
"So what's the skinny", I ask Grébaut, "why aren't you using the La Cornue? How long's it staying here"?
Enter tall bearded suit:
"He's not using the ovens because La Cornue only sell made to measure for private customers, they take two months to construct", explains the suit, LC's President, Xavier Dupuy www.lacornue.com "The ovens are here for a day to be admired". And then? "La Cornue have a very close relationship with top chefs, we like them to use La Cornue in their homes, to feed their families, their mistresses, whatever", he says airily.
La Cornue, founded in 1908 by Albert Dupuy, is now run by Xavier Dupuy (grandson and head suit). Cornuephobes include Brad Pitt, Sandra Bullock, Celine Dion, Robin Williams, French presidents Jacques Chirac and Valery Giscard D'Estaing no one's divulging Sarko's choice. "La Cornue are the Rolls Royce of cooking", says the grandson. "The tool of a true chef". So that rules out Sarko, more a Ferrari man I'd say.
Grébaut tells me (after the grandson has turned his back). "I haven't got mine yet, it should be coming any day now. Cool, I'm in the wrong buisness, maybe I'll open a restaurant. Do you hear me Monsieur Dupuy? Put me on the wish list please.
Not a lot of people know that Grebaut's excellent resto's named after Monsieur Septime, odious restaurant owner in the classic movie, Le Grand Restaurant, starring the late great Louis de Funès.  He'd have loved the scene there today.

Septime,
Prix Fooding d'Honneur 2012
80 rue de Charonne, 11th
Metro: Charonne,
T: 01 43 67 38 29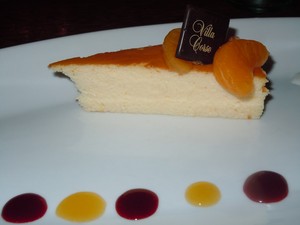 Napoleon, Laetitia Casta and Christopher Columbus were born on Corsica I mused, walking into Villa Corse, Rive Gauche, one rainy day last week. Club atmosphere, leather armchairs, vintage tomes packed into bookcases that go up to the ceiling, they could call it Club Corse. Lots of paintings and black and white framed photos of what could be Bonaparte's gradmère sitting around looking cross.  Maybe the stove needed more wood and Chris had gone off discovering far lands, without a thought for poor old woodless mammy. Kids huh!
Behind the open kitchen chef Vincent Deyres and his equipe are ready to send lunch out to a happy crowd of customers, obviously regulars. "I'm Corsican by adoption", volunteers Deyres, as I stop and admire the Millefeuilles de boudin fermier de chez Parra à la polenta de châtaigne and Artichaut farci au brocciu à l'usu paisanu. "Judge a chef by the colour of the food he sends out", advises Deyres (ex-Emile's, Calvi, Jean Darroze (Hélène's grandfather), Grand Hôtel de Cala Rossa etc). "Mine's bright and cheerful, like a Spring day on the Ille de Beauté", he chuckles.
The beautiful island's cuisine combines French, Italian and Corsican recipes using natural rich flavoured local meats, fish, vegetables, herbs, olive oils and cheese, washed down without moderation with Corsican wines: it's a locavore cuisine. This is what Deyres is doing, his lunch menu changes daily, always a suggestion du jour: "Risotto safrané aux fine coquillages et langoustine d'Erbalunga. Terrific wines from each corner of the island: Ajaccio, Calvi, Figari, Sartène.
"I like people with big appetites", chef says. Days off see him chez Dutournier, Piège, Rech and at Os à Moelle. "Nice to see what the others are doing, n'est pas?"
Villa Corse Rive Gauche,
164 Boulevard de Grenelle 15th
Metro: Grenelle
T: 01 53 86 70 81
Average Spend A La Carte: 55€
Lunch formula 29€ Starter + Main or Main & Dessert with glass of wine or coffee
Shut Sunday
Valet Parking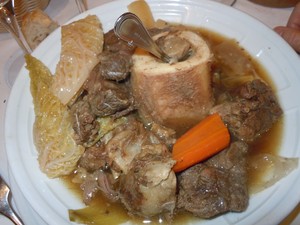 Chez Georges is the perfect addy if you want to tap into the zeitgeist of a genuine Parisian bistro, buzzing with the French (Sunday lunch is a great time). Plump beef cheeks in red wine (Mon), Roast beef (Tues) Liver and onions (Wed) Pot-Au-Feu(Thurs) Haddock poached a l'anglaise (Fri) Osso-Buco (Sat) Roast chicken (Sun) There's also tartare of beef, AAAAA sausage from chez Duval with moutarde à l'ancienne, casserole of kidneys. Or just pop by for a platter of Oysters or dish of steamed vegetables followed by Quatrehomme cheeses, mille feuille à la graine de vanilla, baba au rhum or the finest Oeufs à la neige you'll ever taste, wash down with Lacoste Borie Pauillac 2003 (35€).
Chez Georges,
273 Boulevard Péreire, 17th
Open 7/7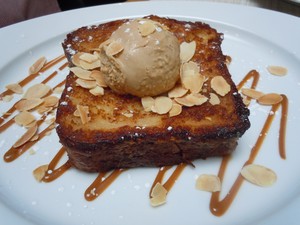 Ex-Ducasse chef Fréderic Vardon snags a Michelin star for his rooftop 39V and launches Zinc a chic neo-brasserie near the Opera. Stand up, like a true Frenchman, at the genuine Zinc bar for a planche de charcuterie and Dubois cheeses. Decor's Starck style, the menu's traditional brasserie, revised and corrected by Vardon and his cheery team. While waiting for, say Gratin de Macaroni: Seared scallops, with prawns, wilted spinach and sauce dieppoise, followed by Romertopf baked apples or pain perdu and ice cream, there's free wi-fi. Champagne's served in carafes, glasses or bottles. Nice wine list includes Crozes Hermitage Les Fees Bruns (41€) and the white Viré Clessé Quintaine – Domaine E. Gillet (37€)
Zinc: 8 rue Hanovre, 2nd
T:+33 (1) 42 65 58 95
Need to know:
Sandwiches from 1€ – fresh salads and soups, service with a smile!
Look out for www.ilovegoutu.com you'll be hearing a lot more about them.

Subscribe for
FREE

weekly newsletters.
BonjourParis has been a leading France travel and French lifestyle site since 1995.
Readers' Favorites: Top 100 Books, imports & more at our Amazon store
We update our daily selections, including the newest available with an Amazon.com pre-release discount of 30% or more. Find them by starting here at the back of the Travel section, then work backwards page by page in sections that interest you.
Current favorites, including bestselling Roger&Gallet unisex fragrance Extra Vieielle Jean-Marie Farina….please click on an image for details.
Click on this banner to link to Amazon.com & your purchases support our site….merci!