Expert Picks: Paris Restaurants We Can't Wait to Support After Quarantine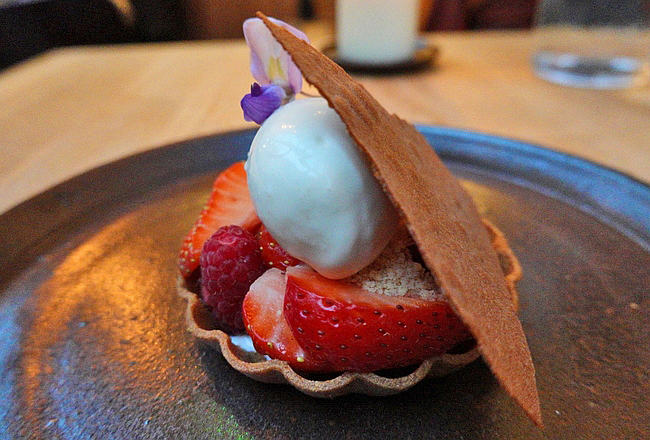 Paris is not Paris without its cafés and restaurants. Part of the city's social fabric, these venues don't just offer memorable cuisine, but also an opportunity to people watch, laugh with friends over a cup of coffee or glass of wine, and partake in Parisian life. Needless to say, we're counting down the days until the capital's restaurants can open again after the Covid-19 crisis.
As the lockdown is lifted, social distancing measures are still in place and the official date has not been announced– most likely in June. When restaurants finally do reopen, we will rush to support our beloved hang-outs which desperately need our support in this time of economic crisis. We asked our expert contributors: Where will you eat first? Which restaurant are you most eagerly anticipating? Here are some of their recommendations. Any favorites that we missed? Share in the comments section below.
 

 

View this post on Instagram

 
"The first restaurant I'll visit in Paris after the lockdown is lifted is a neighborhood favorite: Chez Lillo in the 20th arrondissement. This family-owned restaurant serves up Sicilian-style pizzas, pasta, and antipasti. Hungry locals are greeted by Lillo or his charming daughter, and on Friday nights, the kid-friendly restaurant is packed with boisterous eaters or those waiting for their carry-out orders."
— Allison Zinder is a professional chef, market tour guide, and writer.
"I dream of a flat white from O'Coffee Shop in the 15th. They have the best pastries, an interesting mix of European and Down Under recipes as the lovely co-owners, Tim and Matt, hail from France and Australia, and their coffee is one of the best in Paris, true to the barista culture Matt brought with him when he moved to Europe. Their lunch menu packs a punch too, but their greatest asset is the big smile they welcome you with, whether you are a regular or it's your first time."
—Sarah Bartesaghi Truong is the founder of VeniVidiParis and a frequent contributor to Bonjour Paris.
 

 

View this post on Instagram

 
"Tucked onto a little street just steps from the Musée d'Orsay, La Bonne Excuse is a gem of a Parisian restaurant. Owner and hostess Farida Cabado makes you feel welcome the minute you walk in, while husband and chef José works wonders in the kitchen. For vegetarians or those who must eat gluten-free, have no fear: you will find plenty of delicious and safe dishes to eat here."
— Keith Van Sickle is the author of the bestselling books "One Sip at a Time" and "Are We French Yet?
"Where will I go after the post-quarantine? This little piggy plans to hoof it back to À la Mère de Famille— the oldest confectioner-chocolaterie in Paris. Open since 1761, fellow big wigged Francophile Benjamin Franklin was also a super fan.
Flashback: During my final pre-lockdown visit on a rainy Sunday afternoon back in early March, the staff was busy filling the floor-to-ceiling old-fashioned cubbies with chocolate chickens, bunnies, and flying bells for the approaching the Easter holiday. I'm not going to lie to you: I might have lost my head, most definitely. But how could I not?
After seeing the towering display of ganache and praline-filled cameos, I couldn't resist, because sometimes life is all about chocolate—especially when it comes dressed in orange velvet and golden foil. Completely nutty about their caramelized hazelnut and almond balls, too, I added nearly a half dozen boxes of the shop's signature Folies de l'écureuil before sallying forth, all bright-eyed and bushy-tailed.
Simple madness or presciently forward-thinking? Perhaps both? I will say this. Today, as I pen this note of anticipation, although I've got zero power brownie balls left, nine chocolate cameos still linger in my personal lockdown pantry stash. Wish me luck. #Makingeverybitecount #Makeeverybitecount #Besafe"
— Theadora Brack is a Paris-based writer who has a regular column, called "My Life in Paris," in France Today magazine.
"There are so many tempting culinary treasures in Paris, it is difficult to play favorites. That being said, I'm really looking forward to a meal at Le Coupe-Chou, a cozy and romantic restaurant hidden in a medieval building in the 5th arrondissement – across the street from the Collège de France. I'd opt for their hearty beef bourguignon, or maybe the classic ratatouille with herbes de Provence, burrata, pesto, and walnut oil. All enjoyed in a quiet, candle-lit corner of their plush dining room, with a friend and a bottle of red, of course."
— Renata Haidle is a Billings, Montana-based travel, architecture, and fine art photographer.
"When the quarantine is over I would love to go to the restaurant atop the Eiffel Tower, the Jules Verne, newly redesigned by architect and interior designer Aline Asmar d'Amman. The glimmer of light at the end of the lockdown triggers an increasing desire to splurge on a true gastronomic experience. Where better than inside the iconic landmark in the sky at 410 feet above the City of Light? This legendary restaurant is now overseen by three-Michelin-starred chef Frédéric Anton. I can't wait to indulge in culinary excellence while toasting to liberty with a glass of champagne at the top of the Iron Lady."
— Sarah Fauvel hails from Rouen, Normandy and has developed communication and writing expertise in different fields over the course of her career.
 

 

View this post on Instagram

 
"I can't wait to try a sweet little gastronomic restaurant called Sadarnac, helmed by a young chef named Lise Deveix, on a little cobbled street in the 20th, that I discovered during my Fodor's research just before lockdown. The other place I've been meaning to get to is a cave à manger called Early June, near the Canal St-Martin. It's going to be a crucial time to support these restaurants, especially with the depressing predictions that up to 40 percent of France's restaurants and cafés may not reopen. Most of all I'm looking forward to dining there with friends."
— Jennifer Ladonne is a regular contributor to France Today magazine and Fodor's.
"From the seasonal farm-to-table cuisine to the wicker-filled space dominated by plants, every detail at Les Résistants speaks to its organic nature. Opened in January 2017 in the trendy tenth district, this artisanal eatery serves daily changing 2- to 3-course menus for both lunch and dinner. Until they can welcome guests again, myself included, the founders of Les Résistants are serving crates of vegetables to those in need of fresh produce, directly from their farmers. Note that they recently opened a second resto in the 10eme which I love, too: L'Avant-Poste.
Whether it's for lunch, brunch, or a slice of heavenly homemade cake, I'll happily cross the river to Treize au Jardin any time of the day. Located a stone's throw from the Luxembourg Gardens in the heart of the Rive Gauche, this oasis of bliss serving American comfort foods with an organic French twist has become a second home to Parisians and expats alike. Anyone who dines at the helm of welcoming owners Laurel and Kajsa will leave Treize both satiated and smiling. I'm counting the days until the return of their Friday evening apéro featuring live music!"
— Kasia Dietz is a handbag designer and freelance writer from New York, with a passion for art, fashion and travel, who followed her heart to Paris. 
"After the lockdown, I will return to Les Foodies. It's one of the few restaurants in the Marais that has a highly creative menu, not the usual standard items. Chef David Galloni prepares an eclectic fusion menu, mixing French, Italian, and Thai cuisine. They also have a bargain lunch special, two courses for 20€. It's located at 6 – 8 Square Sainte-Croix de la Bretonnerie, 75004. Open everyday except Monday."
—Richard Nahem is a writer, tour guide, and founder of the Eye Prefer Paris blog.
"I dream of the day that I can be back at L'Avant Comptoir de la Terre. The Odeon landmark and temple to the pig is so much more than that. The food of Yves Camdeborde and the wide selection of natural wine is fantastic, but it is the people that make it truly the best. I can't wait for the day standing at the zinc bar eating a tasty dish by Oscar Arvide and lots of wine from Sylvain Orel and Filippo Coulomb. My mouth waters just thinking about it."
— Claudine Hemingway is a frequent contributor to Bonjour Paris.
"I wait with anticipation for the day when I can return to Paris and dine in one of my favorite restaurants. Located in mon quartier (33 Rue de l'Abbé Grégoire in the 6th arrondissement), Quinsou serves an innovative and delicious tasting menu. I love it for its unpretentiousness, as well as its friendly staff who recognize and welcome me every time I go. While Quinsou has earned a coveted star by Michelin, it has definitely earned une étoile in my book, too!"
— Dawn Dailey, author and photographer, is passionate about travel and seeing the world through her camera lens.
 

 

View this post on Instagram

 
"I usually spend time in Paris alone, meeting with colleagues (who are really friends) and enjoying their generous hospitality.  I stay near the Boulevard Saint-Michel and savor my morning coffee at the Prêt-à-Manger Sorbonne with its second floor (premier étage) overlooking the university's square. The view of students meeting, kissing hello, lounging in cafés, and then running off to class warms my heart with a large café au lait. Will this Covid-19 crisis crush the bon esprit of beautiful youth, collegiate fellowship and ordinary café routines in Paris?  I hope not."
— Beth S. Gersh-Nešić, Ph.D. is an art historian and the director of the New York Arts Exchange, an arts education service that offers tours and lectures in the New York tristate area. 
"Le Reminet has been my go-to restaurant now for 20 years. It's rare in Paris to find a consistently good three-course lunch for 20 euros, set amidst gilded mirrors, candelabras, and starched white tablecloths. The intimate elegance is complemented by friendly, personal service (which isn't always true in elegant restaurants). I try new restaurants all the time–a luxury of living in Paris.  But I always return to Le Reminet as "home."
— Meredith Mullins is a Paris-based travel writer, fine art photographer, and photography instructor.
"If I have a train to catch, I'll always be tempted to head to Le Train Bleu on the way – a visual feast of opulently decorated ceilings and sparkling chandeliers which is accessible without so much as leaving the Gare de Lyon rail station. French in flavor but almost Russian in style, the glitz here is about as subtle as a Swarovski-clad Moulin Rouge dancer riding an elephant through the ticket office – but all the better for it. A breath of fresh air amid the whirlwind of commuters outside, naturally its menus are equally appealing. Not just great for lunch and dinner – a spot of breakfast here will raise your mood for the rest of the day. My mouth waters in anticipation of the post-lockdown gastronomic freedom."
— Chloe Govan is a regular contributor to Bonjour Paris and France Today magazine.
"The minute it reopens, I will be dashing back to A. Lacroix Patissier at 11 Quai de Montebello in the 5th, located just across the Seine from Notre Dame's south rose window. It was my go-to food source for the creations of master pâtissier and chocolatier Arnaud Lacroix. I was always tempted to eat dessert first – they are marvels of creativity and art – but the shop also serves quiche, salads, sandwiches, and feuilletté (puff pastry) with a variety of toppings, all home-made, of course. Oh – and did I mention the croissant, pain au chocolat, and pain au chocolat amande? And it was a joy to check in with Arnaud's other half, Jackie Gibson, who manages the business side and who provides a warm welcome. But the pastries – they tempt the eye with their beauty, and they do not disappoint with their taste. As soon as the city gives them the green light, they will be opening with carryout to start, as they ease into full operations as the city allows. They are also growing their special-order cake business. Their website is being revamped to reflect life as we now know it, so check out the new version coming soon."
— Diane Stamm is a long-time contributor to Bonjour Paris.
"When I spend my annual month in Paris, I live like a very old student (although I do pick up wet towels from the bathroom floor) and so restaurants are cheap and cheerful and wine comes in a carafe. A very big carafe.
Just off the rue de Buci, the rue Grégoire-de-Tours runs up to Boulevard Saint-Germain in a short straight line. At no 17, Zorba (yes you guessed it, no marks for originality) is a small, friendly Greek restaurant. Its specialities are from the Cyclades Islands, and the menu costing 18 euros consists of a three course mezze assortment (keftedes). Other speciality dishes include Greek style lamb and bream and pork. The food is good, the staff are friendly and the ambience sympathetic. Zorba's in a street of many restaurants, is painted the bright blue of the Cyclades seas and as such, hard to miss."
— Marilyn Brouwer is a regular contributor to Bonjour Paris.
"I hope Honoré de Balzac doesn't mind I want to sit in his place at Le Grand Vefour for lunch/dinner. A plush crimson velvet banquette, with views through Valencienne lace curtains of the Palais Royal gardens and Daniel Buren's black and white columns. Every writer dreams of having a dish/street/perfume named after them. Imagine sitting down to a glass of Taittinger and a plate of Pigeon Prince Rainier 111, your name in gold letters discreetly nailed to the back of the banquette. Can it get any better?
Impossible not to discuss décor. It's extraordinary, and sorry to go on, but nearly every place setting bears a plaque honoring and remembering things past. Not so the cuisine of Guy Martin who balances the history of the maison, founded circa 1784 as Le Café de Chartres, with dishes that are edgy and traditional at the same time. "The basis of my dishes remains the same, I just think lighter and healthier and know I am playing my part in the evolution of modern French cuisine," explains Martin, awarded the Legion d'Honneur in 2003.
Where else can you eat a meal that takes in 200 years of French history? It's expensive, but you won't begrudge a penny. You'll be booking up for next time – because you're worth it. And don't forget, lunch is €115 and Martin's unifying notes are very generous portions, daring flavors, and the possibility to discover his exciting new dishes. After all, when did you last have Jus de topinambours, crosnes acidulés, fine purée de pois chiche, menthe et coriander, chip de vitelotte? And that's just a starter, darling."
"When the quarantine is lifted, you will find me dining at Le Voltaire, the quintessential traditional French restaurant that exemplifies old-school Parisian chic. I can already envision the warm welcome, and the cozy, romantic atmosphere as I am seated in the plush red velvet banquette covered with a crisp white tablecloth. After finishing a delicious meal of classic cuisine, I will relish the Profiteroles with the chocolate sauce poured from a silver saucière. I will appreciate and enjoy it as never before!"
— Barbara Gerber is the Los Angeles Ambassador for France Today magazine, and she travels frequently to Paris.
"If I were in Paris I'd go to the Auberge de Venise, in the Bastille for some of the best Italian food, Venetian style, I've ever eaten outside of Italy. Just thinking about their Eggplant Parmigiana is making my mouth water!"
— Sue Aran is a freelance writer and owner of French Country Adventures.
"At the end of Rue des Ursins, one of the oldest streets in Paris, and just two blocks from Notre Dame is a newish restaurant. A team of young entrepreneurs reworked an old-style restaurant that had run out of steam and opened up a fresh, charming bar/restaurant with a creative take on a traditional menu. A couple months after opening, Notre Dame caught fire.
The second wave of bad luck for these entrepreneurs who built their dream was the coronavirus.
When Les Deux Colombes first opened, it was a bright change to a sad corner. The previous restaurant had sat empty for over a year and the graffiti artists had taken over with lots of tags on the walls. Now, it's been freshened up with plants around the windows, elegant blue and red outside walls and a redone interior allowing a mosaic of eating areas.
But business was slow as the visitors to Notre Dame and the island were diminished, so my husband and I would sit at a window table and wave walkers-by in, or at least to have them take a look at the menu board outside the door. We were successful a few times and we made the owners laugh. I received an extra pour of champagne once for my efforts.
The menu was simple – grilled meat and fish, starters from a saumon gravelax to a soupe de legumes, plus some pasta dishes and classic desserts – but the presentations and flavors were fresh and modern. It was the view of the golden-lit stone walls, the intimate bar area, the open cooking area where the chef prepared your meal, and the wonderful owners who made you feel welcome that was the real treat. The owners had captured the location's ambiance so diners could enjoy not only their food but also the beauty of the building, the view of the Seine and the slow passing of people exploring an ancient corner of Paris.
When Paris and Les Deux Colombes reopen, I will retake my window seat and enjoy reconnecting with the chefs, eating fresh and tasteful food while waving at passers-by to come join us."
— Martha Sessums is the San Francisco Ambassador for France Today magazine, and she travels frequently to Paris.
Want to be inspired by more French foodie experiences and enjoy classic French food, wine and recipes? Head to our sister website, Taste of France, here.
Lead photo credit : Strawberry raspberry tart, Quinsou. Photo: Dawn Dailey
---
---
Comments