Paris Macarons by Laduree, Pierre Herme and Gerard Mulot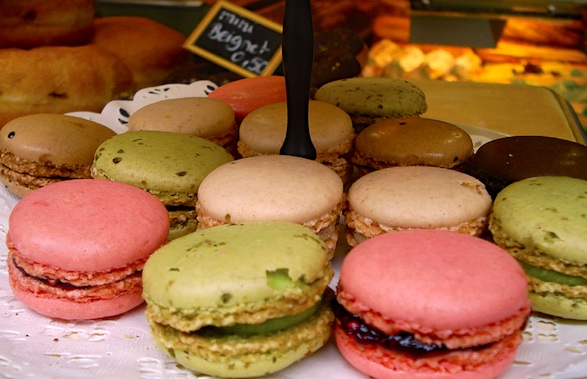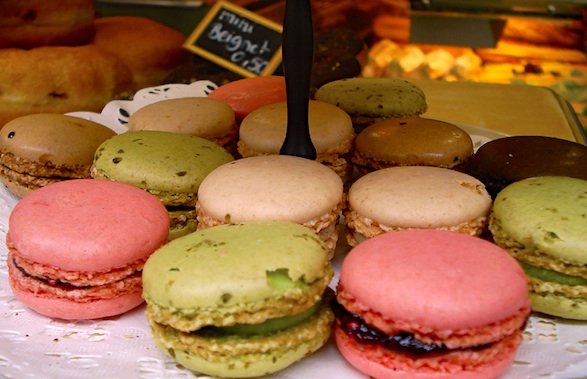 Macarons in a pâtisserie window. Photo by guimauvette.
Before the current cupcake craze hit Paris, macarons were the thing . . . and they still are, always will be. If you love sweets and are traveling to Paris, look for the round, two-layered, pastel-colored pastries slightly reminiscent of miniature hamburger buns in pastry shops on your next trip. They appear almost artificial displayed next to the luscious fruit tarts and multi-layered cream and chocolate confections in shop windows. The uninitiated might even think that they were created specifically for children, so fanciful are their pink, green and yellow hues.  These pastries are called macarons and despite their appearance, they are heavenly in both flavor and texture.
I once avoided macarons, precisely because their colors made them look phony. But after tasting just one I was immediately converted. So enamored, I did some research on the subject, which I share below.
France is indebted to Italy for introducing to this delicate pastry to France. It is widely believed that the Venetians discovered the macaron during their seafaring voyages of the Renaissance era, and that the chefs of Catherine de Medici brought the recipe to France at the time of Catherine's marriage to Henri II. The term "macaron" has the same origin as that of the word "macaroni"—both mean "fine dough."
The first macarons were simple cookies, made from almond powder, sugar and egg whites. Many French towns tell their own prized tales surrounding this dessert. In Nancy, the granddaughter of Catherine de Medici was supposedly saved from starvation by eating them. In Saint-Jean-de-Luz, the macarons of chef Adam regaled Louis XIV and Marie-Thérèse at their wedding celebration in 1660.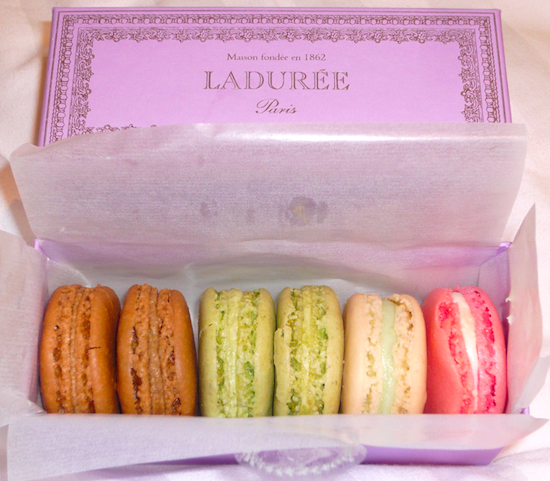 Ladurée macarons. Flavors: coffee, pistachio, orange blossom and rose. Photo by Violetta363.
It was only at the beginning of the 20th century that the macaron became a "double-decker" affair. Pierre Desfontaines, owner of the famous Ladurée pâtisserie in Paris, got the idea of placing a layer of cream between two single macarons while on a trip to Switzerland. Today macarons in the form of a cream-filled cookie are commonly found in pâtisseries throughout Paris. Traditional flavors include vanilla, chocolate, raspberry and coffee, but today these little pastries are available in astonishing flavors!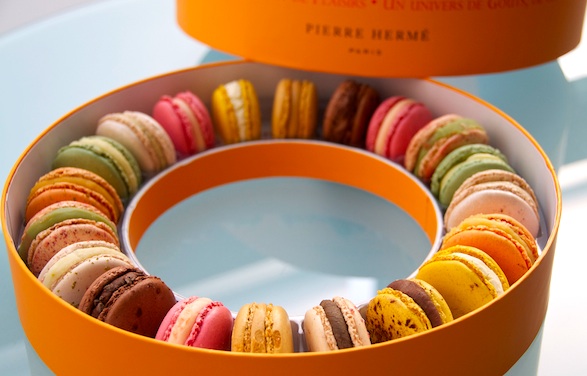 Pierre Hermé macarons assortment. Photo by Purple Cloud.
Designer pâtissier Pierre Hermé proposes only a few standards (chocolate, coffee and pistachio) in his shop on the rue Bonaparte in the 6th arrondissement.  However, his "Signature" collection consists of flavors as extraordinary as olive oil and vanilla, rose, caramel à la fleur de sel (the caramel cream is made with semi-sweet butter) and passion fruit with milk chocolate.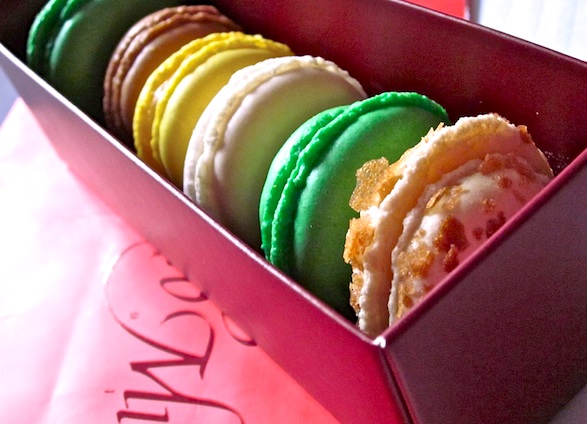 Assortment of Gérard Mulot macarons. Photo by simmertildone.
Several blocks away, Gérard Mulot tempts you with macarons perfumed with coconut, orange/cinnamon, lemon, cassis/cherry, and nougat. And the quintessential Ladurée tickles your taste buds with flavors such as chestnut, cherry/amaretto, lemon, and almond. Ladurée also has a distinctive macaron called Muscovado, which is made from unrefined sugar from the Île Maurice with a hint of licorice flavoring.
Part of what makes some of modern macarons unusual is the combination of flavors used to produce them. Their creators have also experimented with textures—instead of a creamy consistency, some fillings resemble custard, such as the one in Gérard Mulot's lemon macaron, or candy, such as the one in Ladurée's caramel pastry. The cookie that Ladurée uses for its almond macaron is reminiscent of shortbread unike the thin, light-crusted airy cookie that is typical for these gourmandises.
If you're looking for a good excuse to have a sugar high, visit these boutiques and buy a sample of each shop's marvelous pastries. Then take them home, retire to the kitchen table and taste them. I did and it was worth the effort! And for the record, my favorite was the passion fruit and milk chocolate macaron by Pierre Hermé.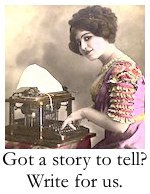 © Monique Y. Wells
PRACTICAL INFORMATION:
Links within the story guide you to Ladurée, Pierre Hermé and Gérard Mulot
Online route maps for Paris Métro, RER, bus, SNCF (Transilien)
Vélib' bike rental station maps
Arrondissement-by-arrondissement guide to Paris
Monique Y. Wells is the co-owner of Discover Paris! Personalized Itineraries for Independent Travelers. Learn more about her by clicking on her name.
PHOTO CREDITS: Photos published per Creative Commons 3.0 license with Flickr photographer credit in captions with our thanks.

Subscribe for
FREE

weekly newsletters with subscriber-only content.
BonjourParis has been a leading France travel and French lifestyle site since 1995.
Readers' Favorites: Top 100 Books, imports & more at our Amazon store
We daily update our selections, including the newest available with an Amazon.com pre-release discount of 30% or more. Find them by starting at our Pâtisseries & Boulangeries section, then work backwards page by page in sections that interest you.
Ladurée, Hermé and Mulot are covered in these books…and foolproof recipes to make your own macarons at home.
Support our site by clicking on this banner for all your Amazon.com browsing. Merci!
Leave a reply
Your email address will not be published. Required fields are marked *