Pair Cheese and Beer with the Founders of Aux Fromages de Nation
Enter Aux Fromages de Nation, and don't be surprised if co-founders Ninon Lacombe and Frédéric Porte are engaged in some light-hearted chambrage, that oh-so-French playful ribbing. Not of their clients, bien sûr, but rather of each other, whether it's about their diverging tastes in cheese (she's a fan of chèvres, he adores all things gouda) or their esoteric knowledge. To wit: On my visit, they are engaged in a light-hearted debate about the true origins of the cider they've recently started selling, which has just earned place of pride by the till. 
"They're right by Bayeux," says Lacombe, "so it's a Norman cider. But don't tell the Bretons…" 
"Isn't cider Norman anyway?" replies Porte. 
"Don't say that to anyone from Brittany!" Lacombe shoots back, feigning astonishment, but they chuckle and begin, instead, chatting about whether Brie or Camembert is the perfect pair for this appley tipple.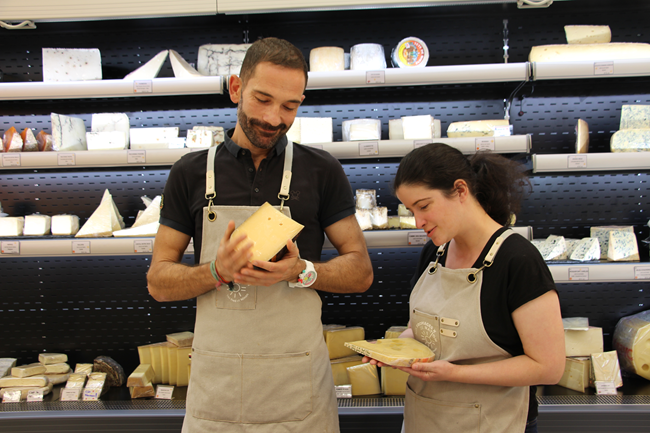 The easy camaraderie between the two founders should come as no surprise: They met on their first day of cheese school in 2020, when, by chance, they were sat side-by-side, camarades de classe turned comrades in arms in their mission to bring top-notch cheese to the eastern outskirts of Paris, a stone's throw from Père Lachaise. 
Both Lacombe and Porte came to careers in cheese later in life. Lacombe first worked a banker for seven years, but she always had a taste for the world of gastronomy. 
"Cheese is really a passion, in my family," she says. "If there wasn't any cheese in Grandma's fridge, that meant someone was sick." 
Porte, meanwhile, had been working in marketing in London for 10 years before, after twice being made redundant, he found himself selling French cheese at the city's famous Borough Market, and a new passion was born.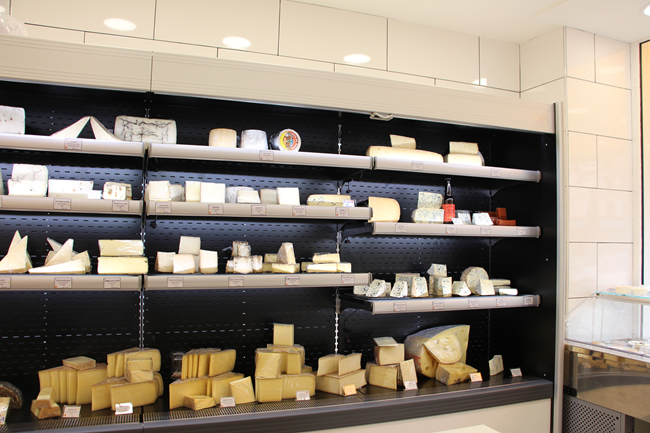 The seed of Aux Fromages de Nation was planted on that very first day of their professional reconversaion course, Lacombe recalls, when they asked one another what had inspired the career path change and found that they had both set their sights on opening a cheese shop in this neighborhood, which, the pair agree, is a bit starved for top-notch purveyors. 
"There were a few neighborhoods lacking a cheese shop," Porte says. "But we thought to ourselves that this was one where there really was space for another." 
Their shop, which opened in August, doesn't just stand out thanks to its geography. The founders steadfastly refuse to take themselves too seriously, and it shows: in the neon sign against the back wall: Amour, Gloire, et Comté, in the buttons they sport evoking Star Wars ("May the fourme be with you.") to Stanley Kubrick ("Full metal raclette.) They have named some of their creations after well-known stars: The Bri'tney is filled with hazelnut and chutney (and sports a photo of Spears on its label) while the Charonne Stone is a small goat cheese with an assertive character Ms. Stone would surely appreciate. They regularly relocate small signs indicating their personal favorite du moment: Porte is currently going gaga for autumnal orange Mimolette, while Lacombe is head-over-heels for Morbier, with its line of ash through the center.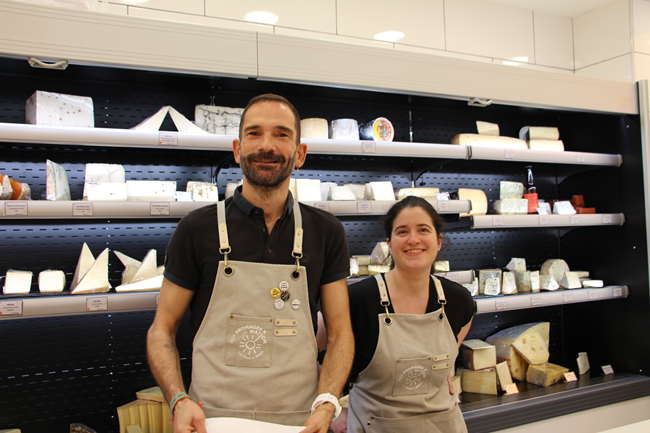 The boisterous, fun-loving ambiance was once, too, evoked by their mascot: a giant pink cow who took place of pride out front for just a week before an altercation with the technoparade. 
"We didn't quite realize the impact she'd had," says Porte. "But since she's been gone, people come in, and they ask. 'Where is she?'" 
While the cow is currently "at the vet," according to Lacombe, she should soon return. Meanwhile, the pair are in no way deterred from their mission: add some levity to the world of French cheese. 
Of course, they also take their craft seriously. Quality is key for these artisan cheese agers, who source as locally as possible: mozzarella comes from Nanina in the 11th, for example, and honey comes from Père Lachaise cemetery. Even items that come from further afield are chosen with care, such as the dry-cured sausages from Salaisons Marion in Ardèche (the preferred saucisson sec, too, of folks like award-winning Parisian charcutier Gilles Verot), or the goat cheeses Lacombe sources from her childhood friend. 
"I was trained by people who pay a lot of attention to the product, with a lot of rigor," says Lacombe, evoking without name-dropping the Meilleur Ouvrier de France cheesemonger Laurent Dubois for whom she worked before becoming her own boss. "And that's something that's still with me now. But we want it to be… in good humor."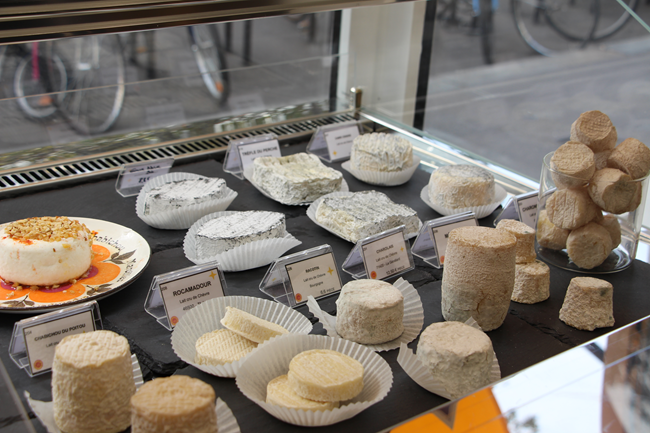 Indeed, she says, joy, warmth, and conviviality were the core values the pair had in mind when they embarked on the new project. And departing from the savoir-faire cloaked in cool civility familiar to those who frequent many other fromageries is just one way in which they're breaking with norms. Indeed, their novel approach is clear to anyone who enters and examines the massive wall of drink offerings to the left-hand side: A handful of wines is overwhelmed by dozens of bottles of craft beer from Paris and beyond. 
The pairing of cheese and beer is more natural than it may seem. After all, both are farmhouse products born of natural fermentation, and the cereal character of beer is often a far better pair for cheese than the tannic notes of wine. But it wasn't until Porte moved to London that he discovered this natural marriage by chance at a beer-cheese pairing evening organized by a friend. 
"It was kind of a revelation," he says. Soon, he was running a series of pop-ups pairing cheese from Franche-Comté, the specialty of his employer, and from his home of Auvergne with local beers. And the mindset followed him all the way back to Paris.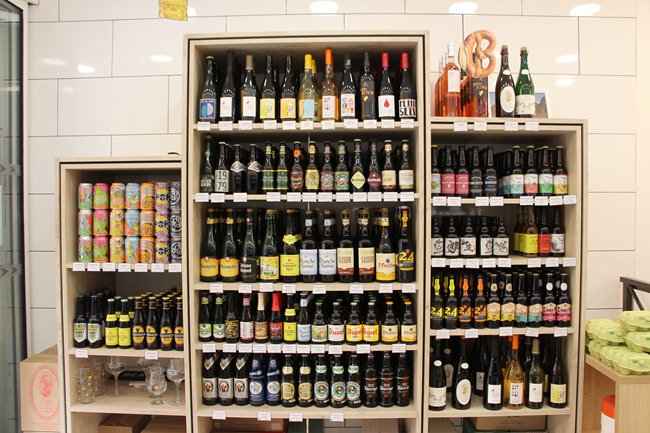 At Aux Fromages de Nation, not only are beer and cheeses sold alongside one another, but customers are also encouraged to pair them at home. To ease them into it, the pair offer regular tastings, often on Friday afternoons, where reps from local breweries pour their own bottles alongside samples carefully chosen by Porte and Lacombe. They also regularly feature a "pairing of the moment" in their display, to help curious newcomers scratch the surface of what this new approach to cheese can offer. And later this year, beer and cheese will undergo an even deeper marriage. The pair have set their sights on rewashing the sticky, stinky, washed-rind delicacy that is Maroilles in dark beer before rolling it in gingerbread crumbs for what is sure to be a sweet and savory revelation.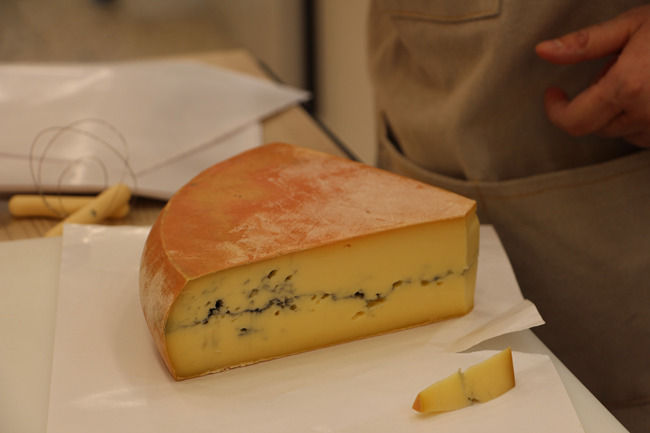 In the meantime, here are five of their favorite pairings to discover:
Fréd and Ninon's Pairings 
Wheat beers with citrus notes (like Coquatrice from Brasserie de l'Être) with slightly aged goat cheeses like Chabichou

 

Belgian ales (like Straffe Hendrik Tripel) with aged Gouda or Mimolette

 

Stouts and porters (like the Porter from Brasserie des Regards) with blue Fourme d'Ambert

 

Amber ales (like Page 24 Ambrée) with washed-rind Hervé

 

Fruity, hoppy IPAs (like Pincette from Oskare) with Comté

 
DETAILS
Aux Fromages de Nation
30 boulevard de Charonne, 20th
Tel: +33 (0)1 88 61 39 42
Open daily- check hours on the Instagram page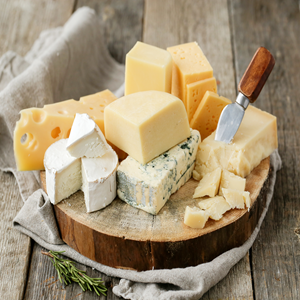 Join us for a delectable journey through the world of French cheese!
Don't miss out on our exclusive 'Tout Un Fromage: Let's Talk About French Cheese" event. Secure your spot by registering today for a delicious experience!
Lead photo credit : Aux Fromages de Nation © Emily Monaco
More in Aux Fromages de Nation, cheese, food, fromage, Paris Cheese
---
---