Les Etangs de Corot: A Bucolic Hotel Haven just outside Paris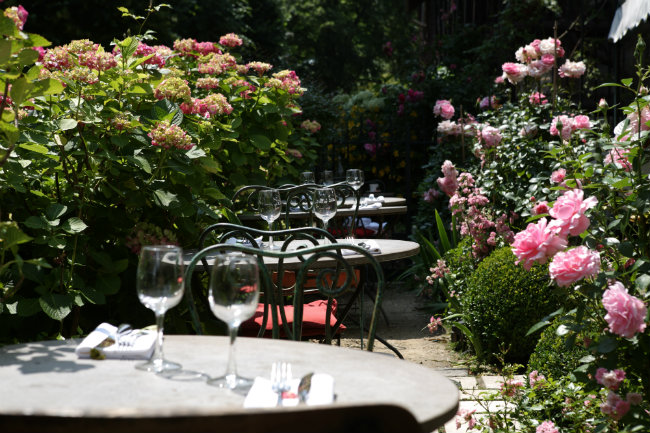 Even Paris-smitten urbanites need to escape the city sometimes. For a dose of greenery and serenity, there's an address— just 15 minutes to the southwest of Paris— that's a closely guarded secret among Parisians. Crossing the Seine you arrive at Sèvres, seat of the famous royal porcelain manufacturer, before reaching the town of Ville-d'Avray, which has a country village vibe despite its proximity to Paris. It's here where a lovely four-star hotel is hidden behind a nondescript facade.
Step inside and you'll be amazed at what's on the other side: a series of lakes that once served as a reservoir for the Chateau de Versailles. This is where the famous artist Camille Corot came to paint. Residing at No. 7 rue du Lac, just next to the hotel, Corot painted some 220 canvases between 1820 and 1874.
Les Etangs to Corot faces this tranquil scene, with many of its guest rooms boasting terraces for taking in the lake views. Arrive on a weekend and you might find Parisian couples or groups of girlfriends hiding out in this refuge, especially the Caudalie Spa. In fact, the family who launched the beloved beauty brand years ago in the Bordeaux vineyards are also behind this four-star hotel. Alice and Jérôme Tourbier also operate Les Sources de Caudalie, a luxury spa hotel with a "palace" distinction, located in the middle of the Château Smith Haut Lafitte vineyards.
Take time for a relaxing Caudalie massage, along with a session in the hammam. The spa's jacuzzi— nestled in the gardens— also really hits the spot. Caudalie fans will be pleased to see bath products, and a basket full of samples, in the guest bathrooms.
There's a family feel to this maison. The staff are warm and welcoming, and the guest rooms are individually decorated with antiques and framed nature prints reminiscent of Walton Ford. A wall of wine bottles connects two wings of the hotel, with large windows framing views of the bucolic gardens in front of the lake. It's a place of charm and grace.
Of the guest rooms, we particularly like #25 with its dark blue wallpaper, French country style, and large terrace overlooking the lake.
But despite its small size (only 43 guest rooms), there are a number of places to eat. Le Corot offers Michelin-starred cuisine in a whimsically decorated dining room overlooking the lake, while Le Café des Artistes was recently recognized by Michelin as a "Bib Gourmand" — meaning great value for money. The food here is impeccably executed: starters of crab, watercress and grapefruit or foie gras with an apple-pear compote, followed by poitrine de cochon à la moutarde de Meaux or gorgeous lime-scented scallops with Brussels sprouts.
In warmer weather, the hotel becomes the place to be see and be seen, when it opens up "Les Paillottes" (on the French seashore the term refers to the beach pop-ups that arrive on the sand in season). Open-air thatched-roof pavilions and a terrace play host to a buzzy brunch. It's possible to take advantage of a special offer and pair brunch with a spa session.
An added advantage of the hotel's location is the proximity to Versailles; you can actually walk on nature trails that thread through the surrounding woods to reach la ville.
Les Etangs de Corot, 55 rue de Versailles, 92410 Ville-d'Avray, Tel : +33 (0)1 41 15 37 00, website: https://www.etangs-corot.com
Lead photo credit : The terrace at Le Café des Artistes, Les Etangs de Corot
---
---
Comments