American Craft Beer Feted in France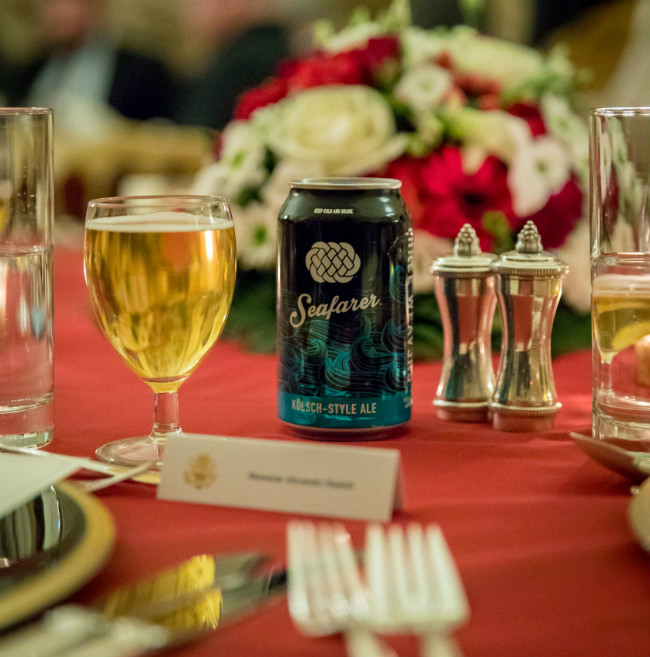 Beer lovers have a reason to celebrate: Paris has welcomed a number of artisanal craft breweries in recent years. Outland, Les Brasseurs de Grand Paris, Deck & Donohue, Brasserie de la Goutte d'Or, La Parisienne… Even bygone brands like 19th century heavyweight Gallia are making a comeback in the French capital. This booming brewery scene goes hand in hand with an increasing appreciation among French consumers for artisanal brews, and young entrepreneurs are translating what they've learned in international beer meccas (like the United States) to the suds produced in La Belle France.
What's more, French distributors have upped their game by importing microbrews from abroad. The selection is vast and varied at boutiques like La Cave à Bulles on Rue Quincampoix, Bières Cultes, and Biérocratie in the Butte-aux-Cailles district. And the annual Paris Beer Week— held in June, now in its 5th edition— brings a number of brew-related events, tastings, and seminars to the City of Light.
A reflection of this beer-soaked zeitgeist was a lavish recent dinner hosted at the residence of the United States Ambassador to the French Republic and the Principality of Monaco, The Honorable Jamie McCourt. Just a cobblestone's throw from the Élysée Palace, the American Ambassador's residence is a regal pied-à-terre of marble floors, gilded mouldings, and crystal chandeliers. Not to mention the sprawling garden just off the Rue du Faubourg Saint-Honoré!
The beer and food pairing dinner showcased the Brewer's Association (BA), a not-for-profit trade association dedicated to small and independent American brewers, their beers and the community of brewing enthusiasts. The BA represents 4,000-plus U.S. breweries, and its "craft brewer seal" is becoming a symbol for consumers to help differentiate beers brewed by small, independent companies.
The multi-course meal— prepared by beer and food pairing expert Adam Dulye, Executive Chef at the Brewers Association, along with Edward Delling-Williams of Le Grand Bain in Paris and Dave Harrison— showcased four different beers presented by craft brewers who had traveled from the United States. These included Bill Butcher – Port City Brewing Co; Steve Grossman – Sierra Nevada Brewing Co; Garrett Marreo – Maui Brewing Co; and Lynne Weaver – Three Weavers Brewing Co. All of these fine brewers are part of the Brewers Association's Export Development Programme (BA EDP), which helps educate and inform international markets about the quality and diversity of American craft brewers and assists in the industry's effort to increase American craft beer distribution overseas.
On the menu: carpaccio of smoked salt baked celeriac with Seafarer Kolsch (Three Weavers Brewing Company); cured trout and cream paired with Tropical Torpedo (Sierra Nevada Brewing Company); braised rabbit with lentils accompanied by Port City Porter (Port City Brewing Company); and to cap off the meal, rhubarb atop white chocolate mousse paired with Pineapple Mana Wheat (Maui Brewing Company).
Délicieuse!
Lead photo credit : courtesy of the Brewers Association
Leave a reply
Your email address will not be published. Required fields are marked *