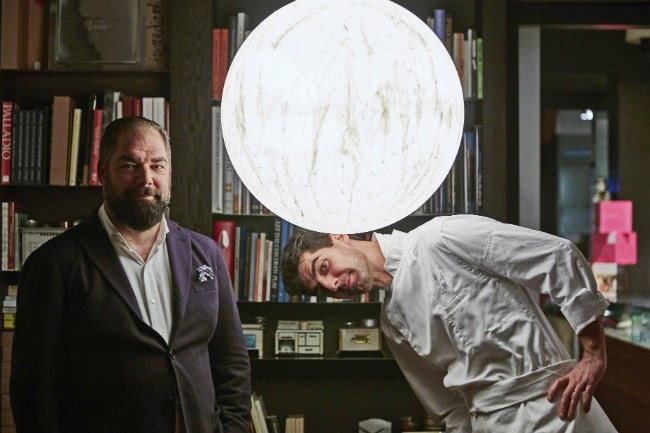 Caffè Stern
Massmiliano and Raffaele, the Alajmo Brothers– together with Philippe Starck, architect Dominique Averland and restaurateur David Lanher– have created an Italian coffee house located in the former Stern engraving workshop (1834) in the bustling Passage des Panoramas near the Bourse.
The brothers manage eight restaurants between Venice and Padua. The concept for the Stern Caffè in Paris came during a long lunch in Verona with fourth generation über coffeee roaster Gianni Frasi Verona. In their own words, their mission was "to open an Italian style café to offer guests the chance to sip coffee at the counter as in Venice or Padua."
So, pop in any time of day for a glass of Prosecco di Valdobbiadene brut (7€) or warm chocolate hazlenut panettone, truffle ice cream, and cacao sauce (12€). Admire the Starck decor in the different intimate and romantic rooms; there's an epicerie corner to buy beautifully packaged Italian olive oils, pastas, essential oils, etc – or book for the full Monty because it's worth it.
In Caffè Stern's steely open kitchen that's the handsome Italian executive chef Denis Mattiuzzi – alongside Max Alajmo for over 10 years – who previously worked at Le Calandre (Padua) then Ristorante Quadri (Venice). Front of house is managed by Piodaniele Chimetto, the Alajmo's cousin, and the eclectic wine card by Mirko Favalli includes red Sacrisassi Rosso 2013 La Due Terre (70€) and white Trebbiano d'Abruzzo "Capestrano" 2010 Valle Reale (150€).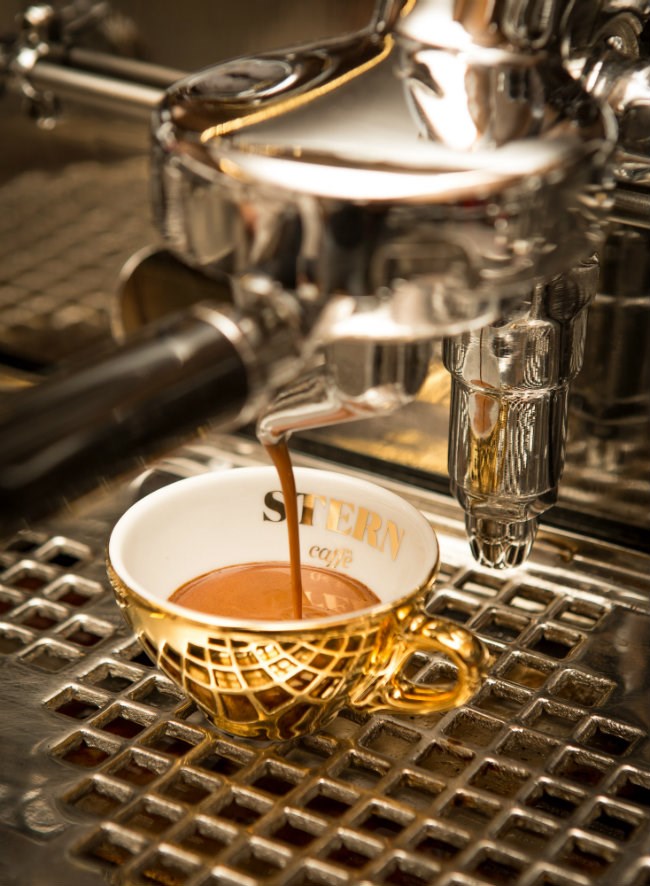 There's a 6-course tasting menu (130€) and four-course Petit Stern (95€). Plat du jour, pastas and risotto of the day cost 22€. Begin with a Bellini (6€) and a selection of three Venetian cicchetti (10€) or Caffè Quadri anchovies (19€). As a starter, the potato cappucino "alla bolognese" is excellent. Spaghetti alla carbonara with extra virgin olive oil and burrata ravioli with seafood broth and tomatoes – pure heaven. Don't ignore poached egg/spinach and white truffle pumpkin fonduta (44€) or seared lobster/potato mozzarella purée/red scorpionfish soup. Finish with a chunk of aged Gorgonzola / Aljamo pear mostarda (14€) and liquid zabajone beignet with cream and coffee drops (14€). Beg for a side of Stern truffle ice cream!
And by the way – Stern Engravers can now be found at 131 rue du Faubourg Saint-Honoré: https://sterngraveur.com
Caffè Stern: Galerie des Variétés, 47 Passage des Panoramas, 2nd. Metro: Grands Boulevards. Tel: 01 75 43 63 10
Roger La Grenouille
A bit of history: The year is 1930, an old cobbler's emporium is turned into a restaurant by Roger Spinhirny. It soon becomes "ze place to be" with the likes of the Queen Mother, Pope John XXIII, Picasso, Serge & Jane, Sylvester Stallone and French President Vincent Auriol reserving their favorite tables.
Not to be confused with that other institution La Grenouille (in Manhattan), this French version near the Pont Neuf is now owned by Opera singer and former Costes head waiter, François Pagot – his Roger La Grenouille is seventy years young!
If François– who may break into song with his contratenor voice– were to describe himself as a dish, he'd be "Greenwich" – his signature burger served with a homemade bun, frog's legs, frites, and sauce tartare (22€) which he pairs with his favorite Languedoc Pic-Saint-Lou L'Orphée Mas Foulaquier 2014 (40€). Dessert would be Roger the G's version of Paris-Brest.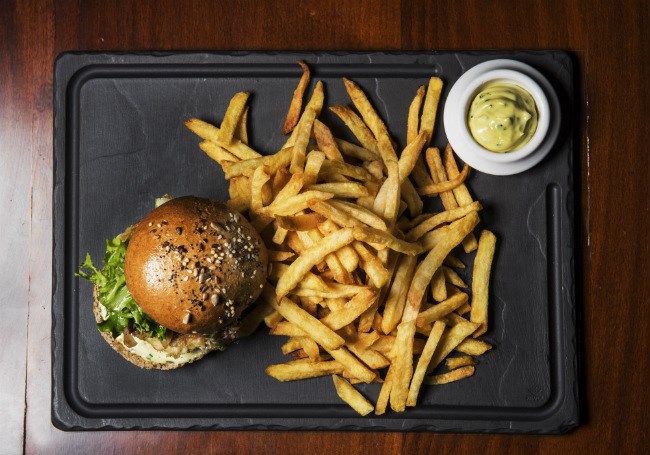 The cuisine is French traditional, the specialities frog related although there's plenty of choice, fish, meat even vegetarian for the faint hearted. Are you ready for a frog moment? (The Menu du Jour costs 19€ for three dishes).
There's the classics like Frog's leg Meunière, with parsley butter, frog's leg ravioli, and diable sauce; a Vegetable tart with mushrooms and Scallop carpaccio. Pop in for a dish of charcuterie (12€) and a chunky chef's terrine (10€).
Chef Marc Lourme's innovations include Fried frog's legs with Bearnaise/Aoili sauce. He suggests pairing it with white Burgundy Saint-Veran Domaine Thibert 2015 (46€). Finish with the Paris-Brest, chestnut millefeuille or a refreshing Nage de clémentines.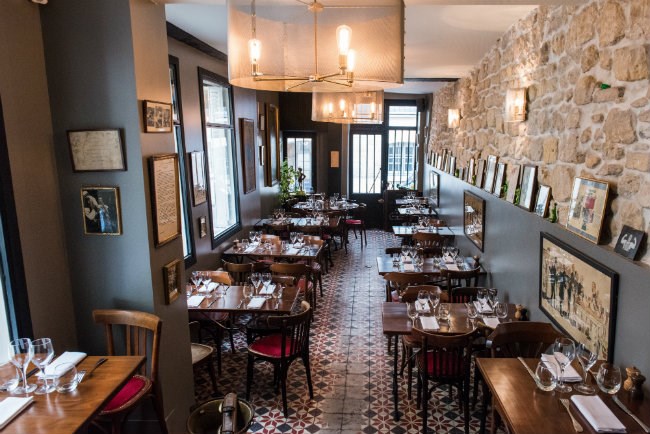 Book for the most fun New Year's Eve in town (80-100€ + wine). But the incredible atmosphere that Pagot and his team have created through the courtyard is priceless.
Roger la Grenouille: 28 rue des Grands Augustins, 6th. Metro: Saint-Michel, Tel: 01 56 24 24 34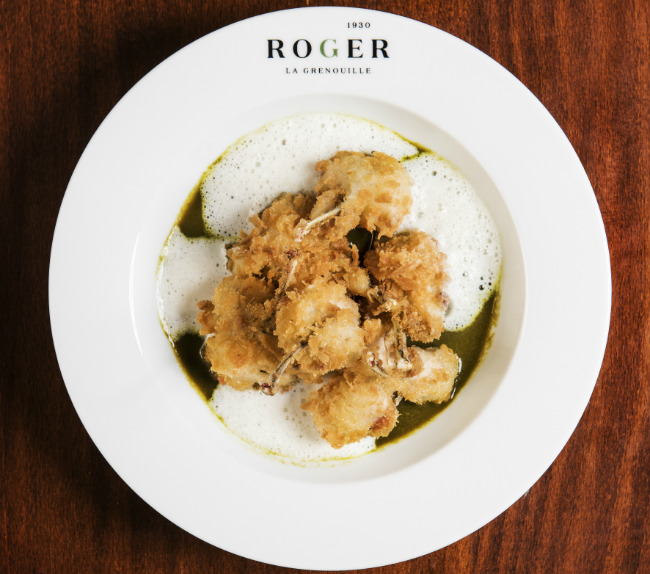 Kult at Le Saint Hotel
Le Saint, as in the "Saint-Germain-des-Prés" district, is a newly transformed hotel, with its own chic bistrot, decorated in the style of a family home by owner Bertrand Plasmans. Comprising five floors, Le Saint has 54 bedrooms, including one suite with a terrace and 10 junior suites (from 350€), all thoughtfully furnished with candles and fragrances by perfume designer Barnabé Fillion.
The Madeleine Castaing inspired neo-bistro has a very talented young chef – Nantes born Julien Lacaille – just 22 years old. He has already graduated from École Ferrandi and honed his skills with the great Dominique Bouchet.
"I'm inspired by my grandmother," he explains. "Grandma wanted to be a chef but her parents did not approve, so she became a couturier," he told BP one day last week. "I was always at her elbow, learning, tasting, cooking with her and today she is very proud and happy."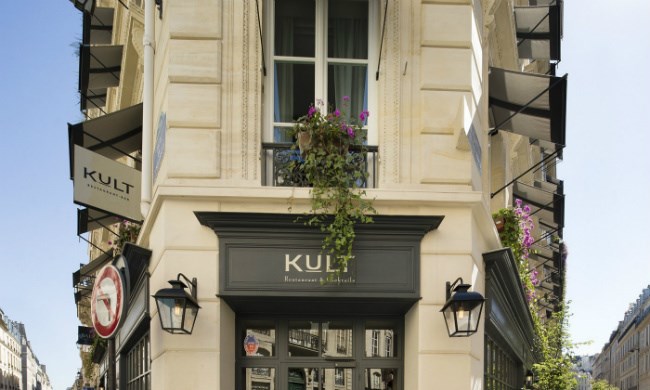 Last Sunday Grandma was tucked into the banquette – overlooking rue d'Université – at Kult – discovering her grandson's classic dishes with visionary, modern themes. (Lunch & dinner cost 39€ or you can order A La Carte).
We loved Julien's tuna tartare; the foie gras terrine with mango and pepper chutney; plus main courses of chicken with raw and cooked fennel and citronella; risotto of cockles and gambas with spinach and cognac; and the veal – cooked at a low temperature – with aubergines and tiny potatoes.
Desserts are spectacular twists on, say, Paris Brest and Julien's signature Dune Blanche. Match with red Domaine de Rabusas Chusclan 2013 (26€) or white Chablis Fleur de Ginko 2014 (36€).
Kult at Le Saint Hotel: 3, rue du Pré aux Clerc, 7th. Tel: 01 42 61 01 51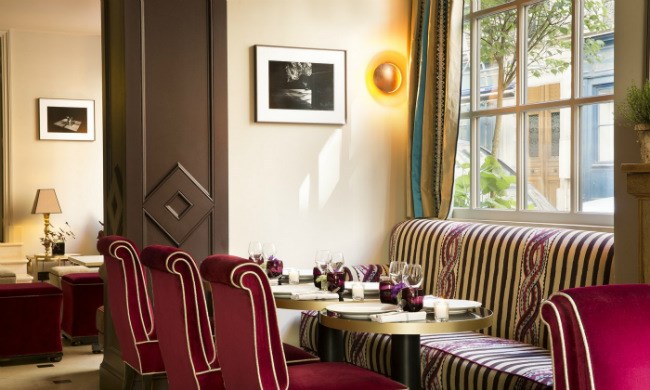 LouLou
Located within the Musée des Arts Décoratifs, the former Saut du Loup has been completely transformed by architect Joseph Dirand, who was inspired by Turin photographer/designer Carlo Mollino's elegant apartment – Casa Mollino. Located on the ground floor, this is a lovely address overlooking the Tuileries Gardens and the Eiffel Tower. Note the Eero Saarinen Tulip chairs and Philippe Anthonioz lighting. It's buzzing with people, open 7/7.
Mediterranean style modern healthy cuisine is prepared by chef Benoit Dargère – formerly at Le Clos Saint-Basile (Mougins), Monsieur Bleu and Relais d'Auteuil (Paris). The average spend is about 55€ + wine. Book for New Year's Eve with Perrier-Joüet champagne, live music – multi-course menu – 200€ per person. LouLou rocks!
LouLou: 107 rue de Rivoli, 1st. Metro: Palais Royale Musée du Louvre. Tel: 01 42 60 41 96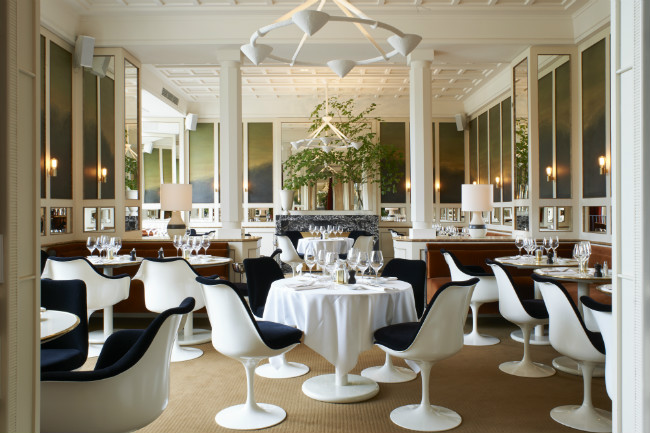 Eugène Eugène
Minutes from the Fondation Louis Vuitton in the Bois de Boulogne, just across the Pont de Neuilly, Eugène Eugène is a bright new brasserie that looks like an oversized contemporary wood and glass greenhouse. The restaurant has a bar, two bucolic terraces (open in winter), and fragrant organic herb gardens. This was the result of an impressive project by Helena Paraboschi– who has created restaurants worldwide.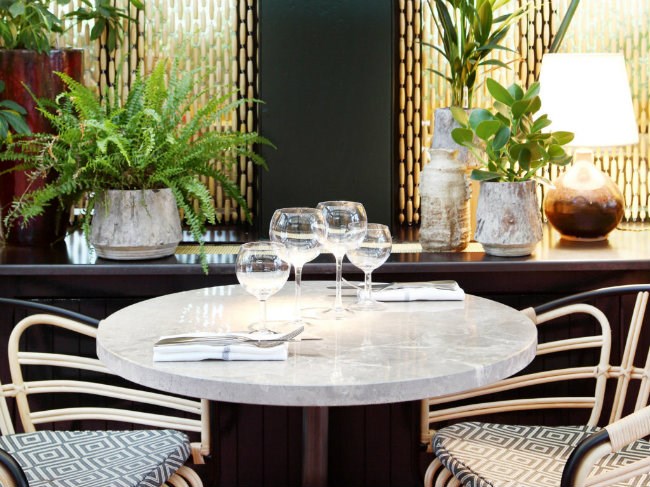 In the heart of Puteaux, opposite the covered market, it was designed and built from scratch by Studio KO. From the kitchen, chef Jeremy Mathieu and his team send out Salade Eugène Eugène with warm gluten-free bread from Noglu; Crabe Royal with avocado – Eggs and mushrooms; Mains of oven baked Corsican dorade and ratatouille; Coquillettes ham and Beaufort cheese.
Order as much roast beef as you want served with the purée maison. (Weekday Lunch €25 – A La Carte about €48 – Sunday Brunch 39€). Cheese is from Marie-Anne-Cantin and desserts include Mango Tart Tatin and Grandma's chocolate mousse. Open 7/7 with valet parking.
Eugène Eugène: 38-40 rue Eugene Eichenberger. Metro: La Defense. Tel: 01 41 38 40 00