See Now: Icons of Modern Art, the Shchukin Collection at Fondation Louis Vuitton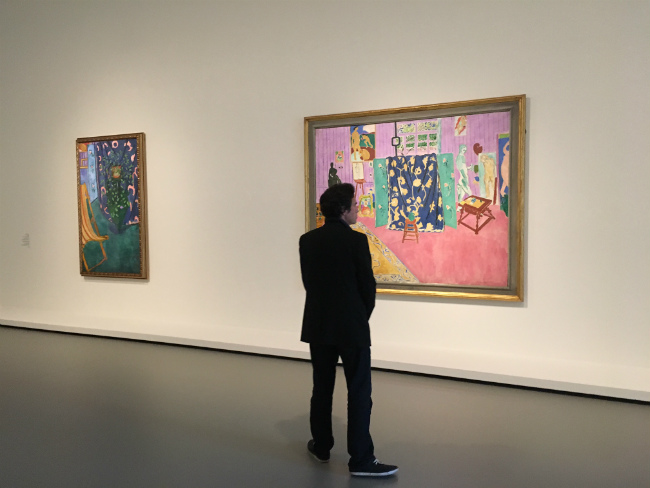 Please allow me a minute to wax poetic. I just had the opportunity to see "Icons of Modern Art: The Shchukin Collection" at the Fondation Louis Vuitton, which left me speechless. If you are planning to be in Paris anytime between now and February 20, 2017, I highly recommend that you book tickets online to see this extraordinary exhibition.
There's never a bad time to go to the Fondation Louis Vuitton. No matter how many times I visit, I'm always struck with awe when looking at Frank Gehry's masterpiece next to the Jardin d'acclimatation (Napoleon III's charming "amusement park" is itself a lovely hang-out for adults and children alike). There are travelers who book trips to Bilbao just to see the Guggenheim museum designed by Frank Gehry. And here we are, in a world culture capital, with literally hundreds of renowned museums at our doorstep, with this incredible architectural monument which stages thought-provoking exhibitions.
The latest expo features 127 major oeuvres by Impressionist, Post-Impressionist and Modern masters from the collection of Sergei Shchukin, one of the greatest art patrons of the early 20th century. A leading Moscow textile industrialist, Shchukin was a passionate visionary who became part of the Parisian circles, supporting the radical artists who were forging new movements in history. Shchukin's collection, which he assembled in his Moscow mansion and opened as a gallery to the public, inspired the Russian avant-garde artists like Malevich, Rodchenko, Larionov, and Tatlin.
For political and ideological reasons, this collection was marginalized for a half century, and as explained by Curator Anne Baldasari, "remains little known to the general public in the West even today." (After the Bolshevik Revolution, Shchukin went into exile in Paris in 1922, but withdrew from his previous art dealer and critic friends.) The collection was broken up in 1948, and has "never been brought together as a singular and coherent artistic entity."
To quote Bernard Arnault, President of LVMH and the Fondation Louis Vuitton: "The quality of the works makes this a unique exhibition, one that belongs, without mincing words, to Art History."
I lingered in the first room, struck by the incredible paintings before me, without realizing that the exhibition continued on every floor of the museum. Monet, Cézanne, Gauguin, Rousseau, Derain, Matisse, Picasso, Degas, Renoir, Toulouse-Lautrec, Van Gogh. Wow. I stood riveted before a Matisse painting of the Jardin du Luxembourg— one of my favorite Paris places, painted in my memory with that pearly light particular to Paris– which triggered a new perspective, filled with color. The exhibition also displays works from the Russian avant-garde, illustrating the Shchukin collection's profound artistic influence.
For me– in light of current political events, and the inauguration of the new Russian orthodox cathedral overlooking the Seine in Paris– this exhibition illustrates the transcendent power of art and culture over the divisions of politics.
Tip: The exhibition starts on the museum's basement level; don't miss the short film which tells the story of Sergei Shchukin and his art collection. It's really well done. Actors play the biographical roles, and a troupe of modern dancers evoke the dancers in the monumental ("monstrous") work that Schukin commissioned from Matisse to adorn the Trubetskoy Palace's staircase.
Fondation Louis Vuitton, 8 avenue du Mahatma Gandhi, Bois de Boulogne, 75116. Metro: Les Sablons station (line 1). There is also a Fondation shuttle departing every 15 minutes from the place Charles-de-Gaulle- Etoile. Tel: +33 (0)1-40-69-96-00. Closed on Tuesdays. Ticket price is 16 euros; the reduced price is 10 and 5 euros.
Lead photo credit : Admiring masterpieces from the "Shchukin Collection" at the Fondation Louis Vuitton. Photo: MW Nicklin
Leave a reply
Your email address will not be published. Required fields are marked *