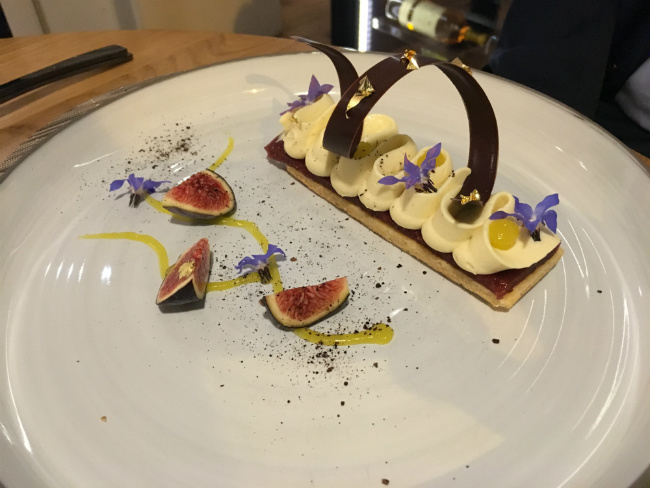 BP take: The rue Daguerre in the 14th arrondissement has always been known as a market street, brimming with neighborhood cafés and food shops on a semi-pedestrianized thoroughfare. In the last year or so, it's also become a gourmet destination with a trio of great eateries: Augustin, La Cantine du Troquet (an outpost of Christian Etchebest's popular bistro), and, more recently, Anthocyane. The latter—which is named for the natural pigment/flavonoid found in plants, and which gives wine its color—is simply excellent.
We recently dined at Anthocyane to celebrate a special occasion, and found the experience to be flawless—from the attentive staff to the perfectly prepared filet de bar, topped with mussels and served with an artichoke purée, drizzled with a saffron sauce. (The hand-written menu listed four mains, which are priced between 28-32 euros.) There was a parade of amuse-bouches, despite the fact that we did not choose the tasting menu (four courses, 62 euros). Desserts by pastry chef Alexandre Thoury are not to be missed.
At the conclusion of this happy meal, we were surprised to learn that Anthocyane doesn't yet have a Michelin star. It most definitely should.
Note: This is a small, elegant space conducive to romantic rendez-vous but not so much big, gregarious groups.
63, rue Daguerre, 75014. Tel: +33 (0)1-43-27-86-02. Closed Sunday and Monday.
Lead photo credit : A fig dessert at Anthocyane in Paris.
More in Paris restaurants, where to eat in Paris
---
---