BUZZ: Laurent, Le Warwick Terrace, Hotel Verneuil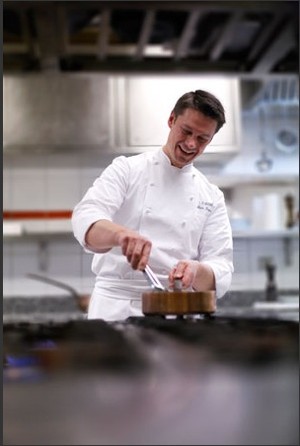 At Laurent, the bright candy pink building near the Rond-Pont des Champs Elysées, Cannes born Alain Pegouret's menus are inspired by the riviera. The handsome pavilion was once used by Louis XIV for a bit of rumpy-pumpy. Chef Pegouret claims that his wife and mistress are his products and his kitchen!
Choose from neo-classic dishes, start with: Homard entier en salade, préparé à table/Araignée de mer dans ses sucs en gelée, crème de fenouil/ the new star of this season, unique in Paris, according to Pegouret/Bouillabaisse froide, pommes de terre et fenouil au basilic/ Carpaccio de daurade marinée en vinaigrette citronnée, condiments/Soupe glacée de salades maraîchères, légumes d'un minestrone, quenelle de burrata/Haricots verts assaisonnés d'un gaspacho et rafraîchis par un sorbet tomate, chips de jambon/Foie gras de canard grillé, posé sur une "cracotte", abricots rôtis et amandes fraîches au Banyuls/Fine tarte feuilletée aux tomates anciennes, servie tiède.
Fish dishes include: Supions saisis à la plancha, sauce à l'encre et croustilles de fleurs de courgettes/Tronçon de turbot nacré à l'huile d'olive, bardes et légumes verts dans une fleurette iodée/Saint-Pierre glacé par un beurre de coquillages, tomate "cornue" à peine cuite et fèves aux herbes. With 30,000 world wines in the cellar, you'll need help from sommelier John Lair.
Carnivores will lick their lips for Pièce de boeuf rissolée et servie en aiguillettes, pommes soufflées "Laurent", jus aux herbes/Pigeon à peine fumé et rôti, pissaladière de jeunes légumes, sauce piquante/Selle et carré d'agneau de Lozère grillotés, "risina" à la tapenade, émincés de courgetteset tomates/Noix de ris de veau dorée au sautoir, girolles poêlées et "grenobloise"/Friands de pied de porc croustillants, purée de pommes de terre/"Vitello tonnato", romaine à l'huile vierge/chariot of fromages and finish with Souffle chaud abricot-verveine or Chocolat-menthe d'inspiration "After-Eight".
There's no doubt that Laurent's terrace with signature red umbrellas, fountain by Hittart, is ze place to be.
Le Laurent
41, avenue Gabriel 8th
T : 01 42 25 00 39
Metro: Champs-Elysées, Clemenceau,
Shut Saturday lunch/Sunday
Menu du Pavillon 88€ Menu du Saison 170€
Or A La Carte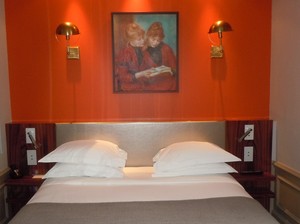 If the street looks familiar it may be because of Serge Gainsbourg, France's national treasure who lived and died at No. 5bis rue de Verneuil. The left-bank graffiti covered villa is now owned by his daughter Charlotte, there are plans to transform the house into a museum, rumour has it Jean Nouvel will lend a hand.
Meanwhile, opposite, is the newly transformed 17th century Hotel de Verneuil, the owner, in his charming way, as charismatic as old Serge. "I have no history of hotels, I'm a businessman and collector", explains Nicolas Nonon. "This is where people can feel at home, even if they are far from home", he says offering me an armchair in the serene library.
The Verneuil's 26 rooms are decorated with contemporary style and elegance, read, exposed beams, lovely bathrooms.
There's no restaurant, the concierge will make reservations where you might not be able to, say, La Societé, L'Atelier de Robuchon, Gaya Rive Gauche par Pierre Gagnaire, Ralph's etc.
Sumptuous breakfasts are served below stairs, in what was probably the wine celler, eggs, cereals and croissants and pastries by Dominique Saibron, teas by Damman, artisan coffees.
Located just off Saint Germain des Pres, Le Verneuil is peaceful and relaxing, you're almost in the country, although a few minutes walk from Les Deux Magots, Cafe Flore and all ze action.
Hotel Verneuil,
8 rue de Verneuil, 7
T: 01 42 60 82 14
Metro: rue de Bac,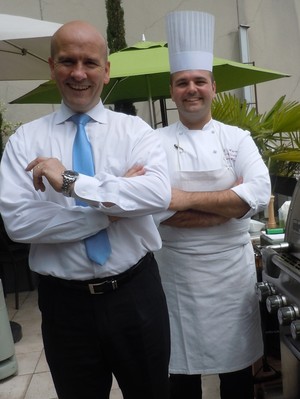 High above the Champs Elysées (8th floor) Le W penthouse/brasserie is an oasis after a heavy shopping session. Chef Dorian Wicart (ex-Tour d'Argent) performs well on la plancha preparing lobster, sea bass with a drizzle of condiments. His dishes are simple, carpaccio, tarte fine de maquereau, côtes d'agneau ratatouille au sel fumé, steak tartare with all the trimmings. Ask Yves, the director, for Table 20 or 26 in the fragrant jasmine filled garden and ask the delightful Wicart about cookery lessons on his plancha. Order Chablis Saint-Martin Laroche 2010 (8€-50€). Or the robust red Frank Phélan Gardinier Saint Estèphe 2007 (10€-65€). Dishes are light and lovely, service excellent and desserts lip-smackingly luscious.
Le W at Hotel Warwick,
Shut Sat-Sun
Formula 2 courses 29€ – 3 courses – 35€ + wine
A la carte average spend: 3 courses 57€
Best tables from 20-26

Subscribe for
FREE

weekly newsletters.
BonjourParis has been a leading France travel and French lifestyle site since 1995.
Readers' Favorites: Top 100 Books, imports & more at our Amazon store
We update our daily selections, including the newest available with an Amazon.com pre-release discount of 30% or more. Find them by starting here at the back of the Travel section, then work backwards page by page in sections that interest you.
Current favorites, including bestselling Roger&Gallet unisex fragrance Extra Vieielle Jean-Marie Farina….please click on an image for details.
Click on this banner to link to Amazon.com & your purchases support our site….merci!
Leave a reply
Your email address will not be published. Required fields are marked *