Petrossian, the family-run caviar house, founded in Paris in the 1920's by Melkoum and Mouchegh Petrossian. "A woman chef, who looks like Naomi Campbell, at the head of a top restaurant, it's delicious," wrote Jérome Berger in the weekly Paris journal, A Nous Paris. He dubs Rougui the "black pearl of Petrossian". Petrossian's restaurant, above the legendary caviar boutique, always had a fine culinary reputation, now they've lucked out with Rougui. "It all began when I was 13," explains le chef. "One night my mother left me to prepare the dinner, I did a great job and I've been cooking ever since! "It was either fashion college or hotel school," she says of her decision to get behind the ovens. Hotel School at Villepinte took preference followed by work experience in various restaurants, as well as a bit of waitressing. Subsequently, Sebastian Faré, with whom she had worked at Les Persiennes, invited her to join him at Petrossian. "I fell instantly under the spell of Petrossian and its' history," she admits. So, when Faré left to become a culinary-consultant, President & CEO, Armen Petrossian gave Rougui the number one job. "The restaurant needed to take on a younger more informal look," he says. "And Rougui takes us in that direction, she has a natural way with fish, not an easy product to prepare well," observes Monsieur Petrossian, who tasted his first caviar when he was three months old. The restaurant decor's bright, tables set well apart, antique samovars showcased, and a sensational lunch menu starting with Saumon Fumé Royal, choice of caviars (with a supplement). Mains include Noisettes of Lamb, slow cooked for 7 hours with a tajine de fruits and 3 desserts, say, Macaron, chocolat blanc et passion. There's an extensive wine list and, of course darling, you'll add caviar. If you don't you can taste and buy downstairs, guided by Madame Cecile Petrossian. It's fun in the boutique, always buzzing with BCBG's, driver's waiting patiently outside to schlep the 12-packs of Yablok (pure pomegranate juice, exclusive to Petrossian, does wonders for the arteries), the magnums of Dom Perignon, and of course the best smoked fish/salmon/deli food and caviar in town. "Petrossian Caviar was never a caviar like the others," insists Armen Petrossian. His father and his uncle first introduced Paris to the magic of caviar in the 1920's assisted by none other than Cesar Ritz. "It has neither the same taste, nor the same history as our competitors. The sturgeon eggs undergo a long and delicate process, rigorously controlled, using secret methods passed from generation to generation. It's like wine, after selection, maturation and refining, the eggs are treated to restore their flavour and characteristics. And remember to smell it, people forget to use their nosesthese days," he sniffs. From her kitchen, Rougui admits to a weakness for Ossetra caviar and suggests tasting Sevruga, Beluga, L'Ossetra Royal and L'Ossetra Impérial, for starters, with a flute of champagne. Rougui's dishes include an original and delicious Pavé d'Esturgeon Poélé with tartare of algues and purée of charlotte potatoes. Add some Caviar Transmontanus from California, with a small supplement bien sur. Other Rougui revelations are Ravioli de langoustines anisées à la coco. Crevettes sauvage d'Iran au Curry and Tatin aux Mangues. "There's a touch of spice, but not too much. I get my spices from chez Izrael in the 4th, and use quinoa, which is very healthy and goes well with Saint Jacques." "It's a warm team feeling in the kitchen, and no I don't scream and shout, I get things done while staying calm. We are a mixed bunch," she smiles. "There's me, a Muslim, French cuisiniers from Burgundy, Bordeaux, Brittany and then there's the guys from Mali, Haiti, everywhere! It's a kitchen without any discrimination, and that's how I like it." Le '144' and
Boutique Petrossian
, 18 Boulevard de la Tour Maubourg, 7thMetro: InvalidesT: 01 44 11 32 32Shut Sunday-MondayValet Parking Lunch – 35€Dinner A La Carte Average Spend 70€Menu Decouverte Caviar – 250€Menu Noir et Blanc 90€ + A La CarteMenu Hommage à la Gastronomie Russe 70€+ excellent snack menu served in the boutique.
SUBSCRIBE
ALREADY SUBSCRIBED?
BECOME A BONJOUR PARIS MEMBER

Gain full access to our collection of over 5,000 articles and bring the City of Light into your life. Just 60 USD per year.

Find out why you should become a member here.

Sign in

Fill in your credentials below.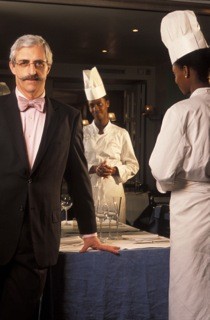 Petrossian, the family-run caviar house, founded in Paris in the 1920's by Melkoum and Mouchegh Petrossian.
"A woman chef, who looks like Naomi Campbell, at the head of a top restaurant, it's delicious," wrote Jérome Berger in the weekly Paris journal, A Nous Paris. He dubs Rougui the "black pearl of Petrossian".
Petrossian's restaurant, above the legendary caviar boutique, always had a fine culinary reputation, now they've lucked out with Rougui. "It all began when I was 13," explains le chef. "One night my mother left me to prepare the dinner, I did a great job and I've been cooking ever since!
"It was either fashion college or hotel school," she says of her decision to get behind the ovens. Hotel School at Villepinte took preference followed by work experience in various restaurants, as well as a bit of waitressing.
Subsequently, Sebastian Faré, with whom she had worked at Les Persiennes, invited her to join him at Petrossian. "I fell instantly under the spell of Petrossian and its' history," she admits. So, when Faré left to become a culinary-consultant, President & CEO, Armen Petrossian gave Rougui the number one job.
"The restaurant needed to take on a younger more informal look," he says. "And Rougui takes us in that direction, she has a natural way with fish, not an easy product to prepare well," observes Monsieur Petrossian, who tasted his first caviar when he was three months old.
The restaurant decor's bright, tables set well apart, antique samovars showcased, and a sensational lunch menu starting with Saumon Fumé Royal, choice of caviars (with a supplement). Mains include Noisettes of Lamb, slow cooked for 7 hours with a tajine de fruits and 3 desserts, say, Macaron, chocolat blanc et passion.
There's an extensive wine list and, of course darling, you'll add caviar. If you don't you can taste and buy downstairs, guided by Madame Cecile Petrossian. It's fun in the boutique, always buzzing with BCBG's, driver's waiting patiently outside to schlep the 12-packs of Yablok (pure pomegranate juice, exclusive to Petrossian, does wonders for the arteries), the magnums of Dom Perignon, and of course the best smoked fish/salmon/deli food and caviar in town.
"Petrossian Caviar was never a caviar like the others," insists Armen Petrossian. His father and his uncle first introduced Paris to the magic of caviar in the 1920's assisted by none other than Cesar Ritz. "It has neither the same taste, nor the same history as our competitors. The sturgeon eggs undergo a long and delicate process, rigorously controlled, using secret methods passed from generation to generation. It's like wine, after selection, maturation and refining, the eggs are treated to restore their flavour and characteristics. And remember to smell it, people forget to use their noses
these days," he sniffs.
From her kitchen, Rougui admits to a weakness for Ossetra caviar and suggests tasting Sevruga, Beluga, L'Ossetra Royal and L'Ossetra Impérial, for starters, with a flute of champagne.
Rougui's dishes include an original and delicious Pavé d'Esturgeon Poélé with tartare of algues and purée of charlotte potatoes. Add some Caviar Transmontanus from California, with a small supplement bien sur. Other Rougui revelations are Ravioli de langoustines anisées à la coco. Crevettes sauvage d'Iran au Curry and Tatin aux Mangues. "There's a touch of spice, but not too much. I get my spices from chez Izrael in the 4th, and use quinoa, which is very healthy and goes well with Saint Jacques."
"It's a warm team feeling in the kitchen, and no I don't scream and shout, I get things done while staying calm. We are a mixed bunch," she smiles. "There's me, a Muslim, French cuisiniers from Burgundy, Bordeaux, Brittany and then there's the guys from Mali, Haiti, everywhere! It's a kitchen without any discrimination, and that's how I like it."
Le '144' and Boutique Petrossian,
18 Boulevard de la Tour Maubourg, 7th
Metro: Invalides
T: 01 44 11 32 32
Shut Sunday-Monday
Valet Parking
Lunch – 35€
Dinner A La Carte Average Spend 70€
Menu Decouverte Caviar – 250€
Menu Noir et Blanc 90€ + A La Carte
Menu Hommage à la Gastronomie Russe 70€
+ excellent snack menu served in the boutique.
More in French chefs, Paris restaurants
---
---