BUZZ: Chelsea Flower Show, Le 110 De Taillevent & Rose De Mai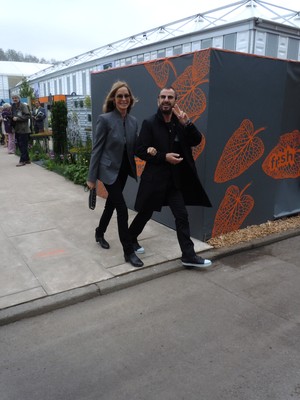 Chelsea Flower Show kicks off the British summer season preceding Glyndebourne, Royal Ascot, Wimbledon, Henley, the Edinburgh Festival, Glorious Goodwood, the Proms and, this year, the Olympics and the Diamond Jubilee. For the last 99 years the show has been located in the grounds of the Royal Hospital, home to the red-coated Chelsea Pensioners, "where garden magic begins".  Aficionadoes come to see the latest designs, garner tips from the top. It takes 800 people 33 days to build the show from bare grass to the finished event.
The show's sponsored by M&G investments who commissioned garden designer Andy Sturgeon to design the M&G Investments Garden, which took a gold medal.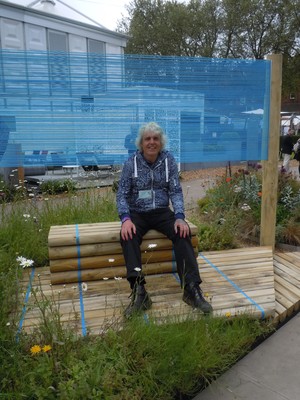 For top garden designers it's all about winning gold. Wacky Alan Gardner (his real name, he swears) with manicured shocking pink nails and blue rinsed hair, the Grayson Perry of the horticultural world, took Bronze for "Out of the Blue" his Zen-like bio-diverse structure featuring bright blue polypropylene string. "I was disappointed for about 2 seconds", he said. "But I'll be back next year for the gold!"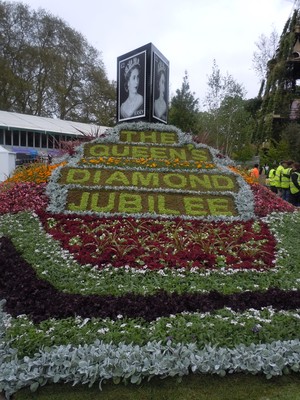 There was so much to see. Highlights of this years show included "Fresh" a new area with cutting-edge gardens and tradestands brimming with new, innovative products. And, "Diamond Jubilee", exhibiting photographs of royal visits to Chelsea over the years, a bright bedding display featured a Jersey Accession Issue postage stamp, floral of course, and a stunning floral diplay depicted the Royal emblem (see photo).
Her Maj, as patron of RHS, Royal Horticultural Society, and the royals visit annually, they're all keen gardeners. This year HM was able to admire three floral corgis sitting on the bedding garden planted by the parish of St Helier, Jersey. The dogs were made by Anna Brook at iapetus gallery.
The Duchess of Cornwall visited Walworth Garden Farm in London recently. It's an urban farm where young unemployed are encouraged to work and taught a trade/skill. For Chelsea, Walworth and the students created "Rooftop Workplace for Tomorrow", with Patricia Fox of Aralia Garden Design and won silver. At the end of the show materials from the garden were sent to Walworth.
Thomas Hoblyn's Arthritis Research garden was inspired by Italian Renaissance gardens and the most thoughtful was "Quiet Time:DMZ Forbidden Garden" by Jihae Hwang created to commemorate the 60th anniversary of the Korean conflict.
Slebs spotted included: Ringo and Barbara, Roger Daltrey, super-chef Raymond Blanc, Sir Cliff Richard, Paul Smith, Jasper Conran, John Cleese, Dame Maggie Smith, Sir Michael Caine, Dame Ellen MacArthur and Sir Frank Williams etc. In the 1950s, the Duke of Windsor, formerly King Edward VIII, was so taken with a chic rockery that he had the whole exhibit relocated to his private estate; even helping to transplant it himself!
Olivier Baussen, founder of "L'Occitane" the organic olive oil and plant based products, showed "Immortelle Garden" which recreated the Corsican maquis (wild Mediterranean scrubland) the design featured an outdoor seating terrace, a small lagoon and sandy beach footpath; all brought to life in the heart of Chelsea.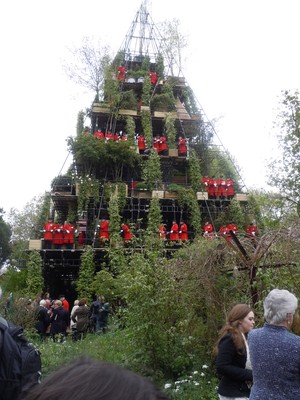 "L'Occitane, with designer Peter Dowle, chose this exquisite island to inspire our garden because it's the home of many of the plants used in our skincare products", explained Monsieur Baussen, who collected shiny gold, as did Laurent-Perrier for their Bi-centenary garden by Arne Maynard and Diarmuid Gavin for The Westland Magical Garden, an awesome seven- story pyramid with a funfair shute running down the side (see photo) and a Fiat 500 car balanced on top. Darling, you had to be there!
The Great Pavilion showed an exciting range of floral exhibits including a life-size topiary version of Frank Williams' Formula One car, a Monet-inspired exhibit from The National Association of Flower Arrangement Societies and displays by the Beazley British Olympic Fencing Team.
157,000 visitors come to the show each year, the number capped since 1988. During the past ten years, more than 600 new plants have launched at Chelsea. The Great Pavilion boasts hundreds of different species of plants and flowers, thousands of different varieties, and tens of thousands of individual blooms.
The RHS concept is that gardening improves the quality of life, everyone should have access to great garden experiences. As a charity they help bring gardening into people's lives, support gardeners of all levels and abilities; whether they are expert horticulturists or children planting seeds for the first time.
RHS membership is for anyone with an interest in gardening.
Next year Chelsea celebrates its' centenary. See you there!
When? 21-25 May 2013
But we're in France: So consider a visit to Les Journées des Plantes and Saint-Jean de Beauregard.
The RHS Chelsea Flower Show may be over, it may be June! But, why not order the Rose de Mai candle created by perfumer Roja Dove based on Laurent-Perrier's Bi-Centenary Garden at the show?
News from Paris: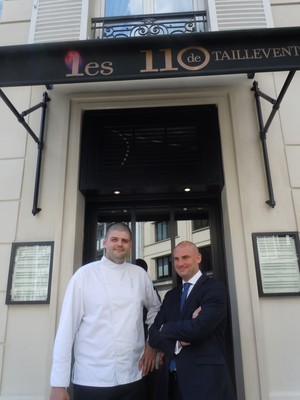 Remember L'Angle de Faubourg the "pret-a-porter" bistro launched by Taillevent? It just relaunched as Les 110 de Taillevent, an authentic wine brasserie where four cépages are suggested with each dish, with four different price ratios.
Wearing the whites chef Emile Cotte (ex- Pre-Catalan, Meating etc.) and Olivier Le Guyader (Dubai, London, Paris, New York, Mexico) directs. Watch him orchestrate the new Pierre Yves Rochon decorated salle, pure magic, a real pro.
So, welcome to "Les110 de Taillevent" a 60+ seater, tres chic with room for 10 at the bar, just steps from Caves Taillevent wine boutique extraordinaire, from where the wines are selected by Cave director Pierre Bérot.
"We're open 7/7 with valet parking", explains delightful chef Cotte. "And, the 110 are the 110 choices of fine wines available by the glass. "We've created a menu of wine/glass pairings that match the dishes, of course you don't have to stick by them, but we think it's fun", he explains.
Say you choose Sandre en ceviché, gingembre, pamplemousse et moutarde violette. Billecart-Simon Brut Vintage at 23€ or 11€50 depending on the size of the glass, is an excellent match. And, with the Merlan Frit "Colbert" sauce tomate, pomme purée, Bellet "Les Clos" 2010 Le Clos Saint Vincent at 20€ or 10€ for 14cl or 7cl.
Same idea for cheese and dessert, created by Kumiko (ex-Robuchon). Means you'll taste fantastic vintages and say, "well cherie, I was inspired to write my latest book/design my new yacht/climb Everest while tasting a superb Cheval Blanc 2004 chez Les 110".
195 rue du Faubourg-Saint Honoré 8th,
Metro: Charles de Gaulle Etoile,
T: 01 40 74 20 20
Lunch formula 39€ + wine
Average Spend A La Carte lunch or dinner 70€+wine
Open 7/7 Valet Parking.

Subscribe for
FREE

weekly newsletters.
BonjourParis has been a leading France travel and French lifestyle site since 1995.
Readers' Favorites: Top 100 Books, imports & more at our Amazon store
We update our daily selections, including the newest available with an Amazon.com pre-release discount of 30% or more. Find them by starting here at the back of the Travel section, then work backwards page by page in sections that interest you.
Current favorites, including bestselling Roger&Gallet unisex fragrance Extra Vieielle Jean-Marie Farina….please click on an image for details.
Click on this banner to link to Amazon.com & your purchases support our site….merci!
Leave a reply
Your email address will not be published. Required fields are marked *