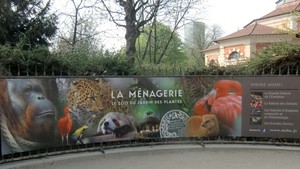 For almost four centuries, generations of horticulturists, walkers, joggers, children and garden lovers have trodden the paths of the
Jardin des Plantes
. The gardens began under King Louis XIII in the year 1626 and were initially devoted to medicinal plants. It was then called
Jardin du Roi
. Fourteen years later, the gardens were opened to the public under its current name. Today, the gardens and buildings of the Jardin des Plantes are listed as historical monuments and host over 450 species of hardy perennial plants in addition to trees, walking paths, sculptures, museums, research facilities and a lovely children's zoo. The garden comprises one hectare which is about 10,000 meters square. It is enclosed and protected by hedges thus offering isolation from the noise and congestion of Paris.
One of the crowning glories of the gardens are the greenhouses. They had been closed for several years while undergoing renovation but fortunately reopened in 2010.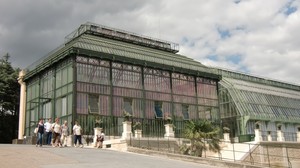 The first greenhouse was constructed in 1836 by
Rohault de Fleury
. It was made entirely from glass and metal and it was the largest greenhouse in the world. It now stands as the template from which all other greenhouses are modeled. The bubble of the greenhouse measures 20 meters (66 feet) long, 18 meters (59 feet) wide and 15 meters (49 feet) in height. The average temperature is 22 degrees centigrade. Biodiversity is presented here and features plants from Mexico, America, South Africa and the Madagascar deserts as well as other arid and semi-arid regions.
The second greenhouse was built in 1937, and it is called Winter Garden. It is 50 meters or 160 feet long and it is kept at 22 degrees centigrade with over 80% humidity resulting in an artificially produced, clammy tropical environment much like south Florida in the summer. The dome for this structure is 15 meters or 50 feet in height. Considering the difficulty of keeping the environment constant for these cold hating plants, it speaks well of the structure that during the coldest recorded winter of 1945 and 1953, the mature plants survived.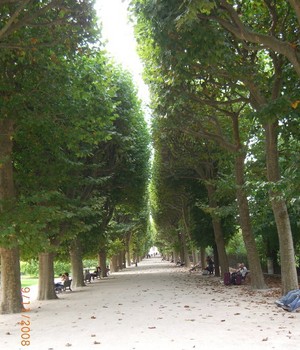 As you walk the grounds, the trees that are prized most are not for their beauty or rarity but for their history. Many of the garden's trees were brought and introduced by traveling nature lovers. One example is the
ginkgo biloba
that was brought from China. Another example is the
Burr oak
that came from North America. The oldest historical tree in the garden is a black locust from the eastern United States that was planted in 1636.
Antoine de Jussieu was considered a brilliant botanist who assisted in the garden and provided medical care to the poor. He is reported to have brought two cedars from Lebanon in his top hat because the pots holding the plants had broken.
The Rose Garden was added in 1990 and includes hundreds of species of roses and rose trees. One variety to search for is called the Rosa gallica or Rosa mundi and its distinguishing feature is that each rose is multicolored. This rose is a marvel and well worth the effort to find.
The Royal Menagerie was moved here in 1792. It was the first and therefore the oldest civil zoological garden in the world. It takes up about one third of the Jardin des Plantes. The founder of the menagerie was Jacques-Henri Bernardin de Saint-Pierre, who was reported to have been committed to keeping wild animals in their natural environment and placing them under scientific supervision. In the interest of education, Bernardin de Saint-Pierre insisted that the public be allowed access to view the animals.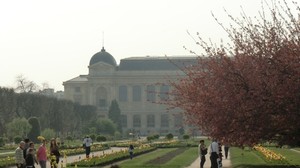 In addition to a plethora of plants and vegetation, we find several museums. In regards to the
Galeries de Paléontologie et d'Anatomie Comparée
, Paul Claudel wrote "nothing less than the most beautiful museum in Paris… Each time I visit France I return to visit this sublime gallery with a feeling of religious veneration, which on each occasion makes me want to remove not only my hat, but also my shoes."  It was Albert Guadry, chair of paleontology and an evolutionist, who undertook the task of constructing this building and integrating the sciences of comparative anatomy and paleontology. The architect for the project was
Frederic Dutert
. The building was opened in 1898 and features stone, amazing metalwork and decorative sculptures. When you enter the museum you are taken on a journey back in time by some 600 million years. This is a building that is a piece of art where you can explore the
Grande Galerie de l'Evolution
offering 3,000 specimens in the nave and another 7,000 in the Galerie.
If you love jewels you will adore the Galerie de Minéralogie et de Géologie. It was built in the neo-classical style and is home to over 2,000 gems, crystals, precious minerals and works of art. The collection includes the Saint Louis emerald that decorated the central lily of the Holy Crown of France that was given to the Saint-Denis Abbey for the crown of the kings of France by Louis IX.
Science, research and education have been a constant and an ever-growing aspect of the Jardin des Plantes. According to their website they publish research journals and six collections of monographs on botany, earth sciences, zoology, biodiversity management, human sciences and the history of science. Each year there is a new theme that is presented in the main garden that serves to educate the visitor on one of these topics.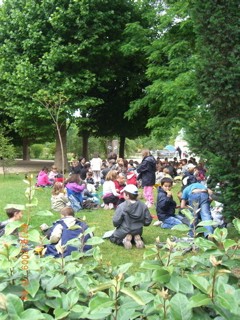 Le Jardin des Plantes is truly a special place to reflect on the future of the planet and our responsibilities as inhabitants. It is a perfect spot to go to people watch, read, bask in the sun and most importantly to enjoy the plants and flowers. Life in Paris can be very tranquil if you know just where to go.
Getting There:
Address – Paris 5th arrondissement, rue Cuvier, rue Buffon, rue Geoffroy-Saint-Hilaire, Place Valhubert
Bus – Lignes 24, 57, 61, 63, 67, 89 et 91
Metro – M5, M10, M7
Wheelchair access – call 01 40 79 56 01
Restaurant – La Baleine, 47, rue Cuvier, 75005, telephone number is 01 40 79 72
There is no cost to enter the general gardens.
Loui Franke is author of Parisian Postcards: Snapshots of Life in Paris.

Subscribe for
FREE

weekly newsletters.
BonjourParis has been a leading France travel and French lifestyle site since 1995.
Readers' Favorites: Top 100 Books, imports & more at our Amazon store
We update our daily selections, including the newest available with an Amazon.com pre-release discount of 30% or more. Find them by starting here at the back of the Travel section, then work backwards page by page in sections that interest you.
Current favorites, including bestselling Roger&Gallet unisex fragrance Extra Vieielle Jean-Marie Farina….please click on an image for details.
Click on this banner to link to Amazon.com & your purchases support our site….merci!
Leave a reply
Your email address will not be published. Required fields are marked *