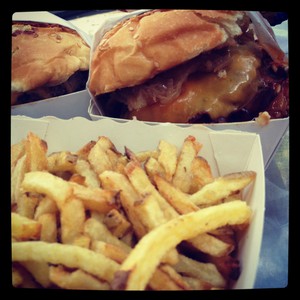 Waiting in line outside for finger food purchased from a truck retrofitted with a grill and a deep fryer, and then proceeding to eat it standing up. Everything about this experience runs counter to French food culture, which celebrates a leisurely affair of multiple courses and glasses of wine whilst sitting around the table in the good company of friends and family. At first glance, the popularity of Paris' first (and only, as far as the writer is aware) food trucks suggests that maybe society is ready for a bit of a gastronomic revolution. But a closer look at the owners and the burgers they are serving up suggest a more nuanced narrative.
Jordan Feilders' Cantine California and Le Camion qui Fume, the brainchild of chef Kristin Frederick, both opened earlier this year to popular acclaim. This means that it sells out each day with dedicated customers willing to wait an hour just to get their cooked-to-order meal. (Although a New York Times feature and reviews from popular expat blogs probably didn't hurt either).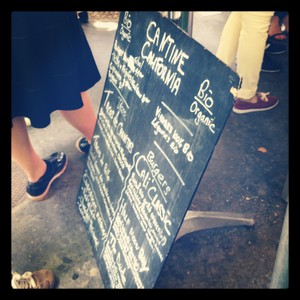 Feilders is of American and Canadian descent but grew up in France, and left his office job in Los Angeles to start his new business venture on the streets of Paris. Cantine California's menu reflects his transnational heritage, infusing locally sourced meats with south-of-the-border flavors, as in the succulent Tacos de Carnitas, and names that evoke the Golden State, like the Half Moon Bay Burger (which, as a former Bay Area resident, I couldn't resist).
Frederick, a California native, decided to open a gourmet food truck even though her culinary education at the prestigious Ecole Ferrandi could have landed her a job at a Michel-starred restaurant. In crafting Le Camion qui Fume's menu, which exclusively serves burgers and sides, she attempted to recreate the tastes of her childhood. The dainty palettes of the French tend to shy away from bold flavors, which made perfecting the spice mixes for the burger patties a challenge; her Twitter feed chronicles having to tone it down a notch after test tastings.
These are not, by any means, the only places to get decent burgers in Paris, but the owners' backgrounds lend a certain authenticity and American flair that is difficult to find elsewhere. For an expat a classic burger with a side of fries signifies a taste of home, conjuring up memories of the fourth of July and barbecues on hot summer days. For a Parisian, it's an emblem of all that is cool and chic in America – the elevation of street food to haute cuisine, the guerilla-style mobile vending and, of course, the flavors so different from traditional French fare.
In other words what Feilders and Frederick have done is suffuse American food with a French sensibility. After all, if there is such a thing as American food, the burger would be the be all and end all. At many States-side joints they are practically a dime a dozen, which naturally means that the quality is lacking. Both owners went above and beyond in their quest for creating the perfect burger, starting by engineering the ideal bun after visits to multiple bakeries, and independently realizing that grinding additional fat into the beef achieves the quintessential juiciness.
Yet these innovators are not alone in changing the taste of the Parisian culinary scene. Some of the trendiest restaurants across the city feature Americans in charge of the kitchen, from Marc Grossman of vegetarian eatery Bob's Kitchen to Spring's Daniel Rose. Some, like Feilders and Frederick, meld Franco-American flavors, while others stick to reinventing traditional French cuisine which, according to authoritative food blogger David Lebovitz, is finally experiencing a renaissance after years of being in a slump.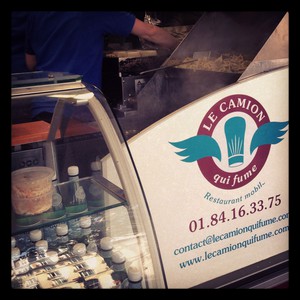 Either way, the two food trucks have made quite an impression, not only on the public but also the administration. After the booming initial success of Le Camion qui Fume, Frederick was forced to shut down for a few weeks as the city revised its legislation regarding mobile food vending. It remains to be seen whether gourmet food trucks will become a full-blown fad as they are in American metropolitan areas, but for now Parisians, expats and tourists have two they can count on to get their street food fix.
Cantine California serves up tacos and four burger varieties for lunch and dinner, along with cupcakes and milkshakes to satisfy your sweet tooth. Brunch is available from 10h to 12h30 with your choice of blueberry pancakes, French toast or breakfast burritos. A meal runs about 10-11€.
Camion qui Fume offers seven types of burgers, and a burger and fries combo will set you back 10€.
Follow Le Camion qui Fume at @lecamionquifume
Follow Cantine California at @cantinecali

Subscribe for
FREE

weekly newsletters.
BonjourParis has been a leading France travel and French lifestyle site since 1995.
Readers' Favorites: Top 100 Books, imports & more at our Amazon store
We update our daily selections, including the newest available with an Amazon.com pre-release discount of 30% or more. Find them by starting here at the back of the Travel section, then work backwards page by page in sections that interest you.
Current favorites, including bestselling Roger&Gallet unisex fragrance Extra Vieielle Jean-Marie Farina….please click on an image for details.
Click on this banner to link to Amazon.com & your purchases support our site….merci!