Ciel de Paris, L'Hotel Montmartre Mon Amour, Kayser Takes NYC, Les Nocturnes Du Musee Rodin & Tous Au Restaurant Buzz
Blink! In 38 seconds you're up to the 56th floor of the Montparnasse Tower. Blink! As you reach the restaurant and Paris is at your feet. It's all well and good to lunch/dine at Ducasse's Le Jules Verne, but you don't get the view of the Eiffel Tower do you dear? Unless you're of the same opinion as Guy de Maupassant, who loathed it, the Eiffel Tower not Ducasse's resto, and ate there daily so as to avoid looking at it!
Assuming you're not a cranky old scribbler and get turned on by the Eiffel Tower, then Ciel de Paris is a divine destination resto for you when in town.
Recently given a facelift by architect Noé Duchaufour-Lawrence (Sketch, London, Senderens, Paris etc.) it's industrial style, not a look you'd want chez vous, but perfectly in keeping with the edifice that is the Montparnasse Tower.
Wearing the whites are the much travelled and talented Christophe Marchais (Louis XV, Spoon, London, Bellagio, Las Vegas etc.) and patissier Baptiste Méthivier, who's name sounds like a delicious dessert!
Go for the signature Lobster soup, it's sublime, you can have as many servings as you want (see photo). Deffo worth the trip to taste this smooth, creamy, delicious bisque. The Ladies who do will adore the "Végetal" fresh mixed seasonal legumes, lightly steamed with truffle dressing. Ashton'll plunge his fork into the tender beef Tournedos, be intrigued by the texture of the house signature, vrai-faux risotto made from charlotte potatoes. He'll go big on Quatrehomme cheeses and she'll delicately pick at the Saint Honoré, which no doubt Ashton'll polish off.
Lovely, caring wine card. Meaning ? Well, plenty of descriptions of what Alexandre Dumas called "the intellectual partie d'un repas". Ashton'll no doubt go for La Tàche 1996 at 2684€ but we made do with a Côtes de Rhone Village Chateau Laborie 2008 (44€). Blink! As you swish back down to earth: it happens, life goes on, you can't be 56 floors high every
day, you wouldn't appreciate it would you?
Le Ciel de Paris,
Tour Montparnasse, 15th
Metro: Monparnasse-Bienvenue
T: 01 40 64 77 64
Breakfast, Salon de Thé, Bar à Millefeuilles
Lunch 29-38€
Dinner with champage included 114€
Menu at 65€
A La Carte average spend 3 courses: 62€ + wine
Get a Room!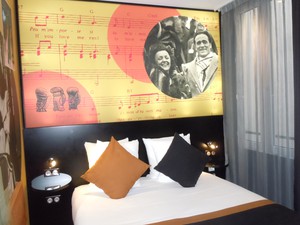 Did you know Victor Hugo downed his pen when Juliette Drouet, the love of his life died?  Or that Edith Piaf lost Marcel Cerdan, her boxer lover, in a plane-crash in 1949? Or, that Romain Gary, falling madly in love, propositioned Jean Seberg's husband to hand over his wife, at a dinner in LA?
Nor did I until I popped in to the just launched Hôtel Montmartre Mon Amour.
You want sexy Paris, here it is, pulsating with sensual innuendo, liason, atmosphere, torment and passion, as only the French know how, all packaged and painted with "le rouge passion", a colour created "en exclusivité" for the hotel.
Located across from Parc Louise Michel, Montmartre Mon Amour is also a few steps from Sacre-Coeur. Each of the 24 rooms are the setting for, and hommage to, major-league French lovers, as above, as well as: Guillaume Apollinaire and Louise de Coligny-Chàtillon. Baudelaire and Jeanne Duval, Gauguin and Tehura etc.
Olivier Carvin, President of Groupe Maranatha worked on this romantic project with talented and original "atmospheriste" Sandrine Alouf.  "My objective is to immerse hotel guests into a different state from which they can embark on a journey that tells a story", says Sandrine.
No formal restaurant, sumptuous buffet breakfasts and comprehensive room service, bien sur darling.
Schh….we'll keep your secret. Go now!
Hôtel Montmartre Mon Amour,
7 rue Paul Albert, 18th
Metro: Anvers
T: 01 46 06 03 03
Free Wi-Fi
Rooms from 100€
Trips "in the footsteps of the authors" can be arranged.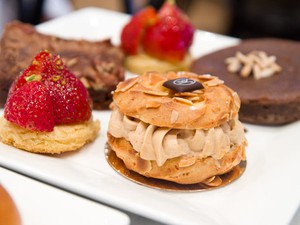 If you're reading this in NYC and miss Paris leg it to 1294 Third Avenue, between 74th and 75th Streets, where Eric Kayser just launched an all day everyday bakery and café.  Yes, really! Everything's made in-house, through the glass window watch crispy golden baguettes, fresh croissants, mini-chocolate, vanilla, pistachio financiers come to life. Fat coffee eclairs, and NYC specials, signature items such as the Epi East Side Baguette. It's a total hand-kneaded, without chemicals or additives, natural liquid levain, way of life.
Les Nocturnes Rencontres Theatrales du Musée Rodin are a cultural and original way to spend the first Wednesday of each month until June 2013. Genial! And dont forget to book at Café de Varenne in the gardens or take a picnic.
79 rue de Varenne, 7
Metro: Varenne
T: 01 44 18 61 10
Don't forget!
You already know that the third edition runs from 17-24th September and Alain Ducasse's concept evolves. This year, as well as the participating restaurants, throughout the hexagon, a food truck/bus is crossing Paris serving lunches and dinners by top chefs (Frederic Vardon: Guillaume Sourrieu: David Rathgebar: Adrien Trouillad etc.) Book at participating restaurants and your squeeze eats free. The mission statement: "Votre invité est notre invité". Dont miss out on the excitement.
Go visit their Facebook page.

Subscribe for
FREE

weekly newsletters.
BonjourParis has been a leading France travel and French lifestyle site since 1995.
Readers' Favorites: Top 100 Books, imports & more at our Amazon store
We update our daily selections, including the newest available with an Amazon.com pre-release discount of 30% or more. Find them by starting here at the back of the Travel section, then work backwards page by page in sections that interest you.
Current favorites, including bestselling Roger&Gallet unisex fragrance Extra Vieielle Jean-Marie Farina….please click on an image for details.
Click on this banner to link to Amazon.com & your purchases support our site….merci!
Leave a reply
Your email address will not be published. Required fields are marked *