An Easter Egg Hunt at La Samaritaine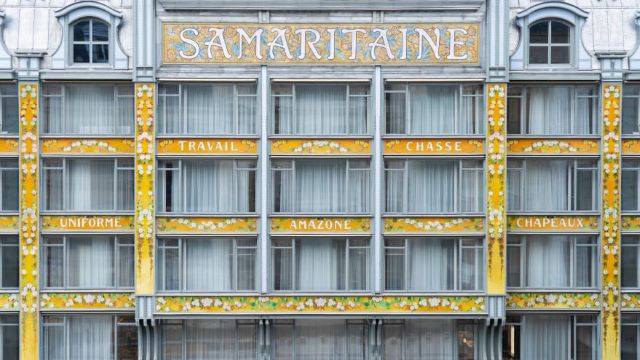 Paris chocolatiers and pâtissiers spend months dreaming up special creations for Easter. The traditional treats include chocolate fish, chicken, and bells— often hollow inside, filled with friandises, and tied with a ribbon. But beyond this classic assortment, French artisans get crazy creative with original confections. You could make a veritable tour de Paris taking in all the shop windows… Or why not ogle a cornucopia of beautiful treats all under one roof? At Samaritaine, the legendary department store that was newly inaugurated last year after a huge renovation, you'll find inventive treats at each of the multiple eateries. So as you stroll around, admiring the grand staircase and lovely historical details, you can take yourself on your very own Easter egg hunt… Here's a list of the Easter treats at this one-stop shopping destination.
Dînette and l'Exclusive par Dalloyau (Bâtiment Pont Neuf, lower level, and first floor)
To celebrate Easter and the Samaritaine's "Atelier Mode" seasonal theme, Dalloyau is offering an exclusive egg in the colors of iconic denim jeans: the essential fashion piece. Made of dark chocolate (62%), the egg is designed with topstitched pockets and rivets.
Prix : 55€ – 200g
Available from 31 March 31 to Avril 19, 2022 at Dînette restaurant, the Pâtisserie l'Exclusive, and on the Dalloyau website.
La boulangerie Ernest by Eric Kayser (Bâtiment Rivoli, ground floor)
The Ernest bakery offers an all-chocolate puff pastry brioche, designed and baked in the Samaritaine bakery. Made with natural sourdough and chocolate from the Chocolatier du Pecq, filled with artisanal spread.
Price: 3,50€.
Parisienne by Petit Plisson (Bâtiment Rivoli, lower level)
This year's star at Parisienne by Petit Plisson: a brioche rabbit with chocolate ears, homemade for young and old alike. Also find chocolate Easter animals made with Valrhona chocolate: ducks, chicks, hens, rabbits.
Starting from 2€.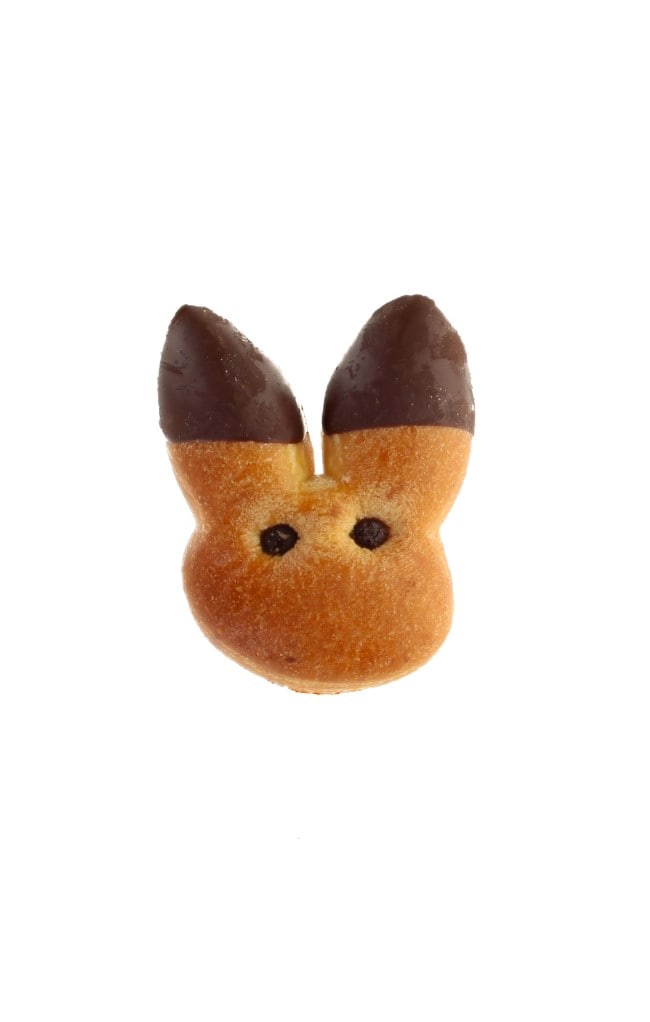 La Boutique de Loulou (Bâtiment Pont Neuf, ground level) :
Confiture Parisienne
For Easter, Confiture Parisienne has created an exclusive and unique recipe that's perfect to spread on crepes, brioche, even breakfast bread. It consists of milk chocolate and roasted almonds, crushed and then mixed with chocolate. Add to that a hint of flower and a center of gooey caramel in the very heart of the pot, and you've got a divine treat ready for sharing.
Ingredients: roasted almond, tender salted butter caramel, milk chocolate, icing sugar, dark chocolate, sunflower oil, fleur de sel.
Mon petit lapin, 100g : 8,50€.
Mon gros lapin, 250g : 16,90€.
Le Chocolat des Français
This Easter is all about a "concert" of delicacies. Le chocolat des Français is taking to the stage with pop metal eggs. Garnished with organic and gourmet chocolate, this is THE spring playlist to enjoy in repeat mode! Find the great classics.
Made near Mulhouse, exclusively from organic ingredients.
Price : 16,50 € – 150g
La Samaritaine
9, rue de la Monnaie, 1st
Tel: 01-88-88-60-00
Open from Monday-Sunday from 10 am to 8 pm.
Lead photo credit : La Samaritaine Facade © We Are Contents
More in boulangeries, Easter Egg Hunt, La Samaritaine, Pâtissiers
---
---