Celebrate the Holiday Season with the Illuminations on the Champs-Elysées 2022
On November 20th, acclaimed actor Tahar Rahim joined Paris Mayor Anne Hidalgo and two children from the Petits Princes association to celebrate one of the most anticipated events of the year: switching on the Champs-Élysées lights. 
A two-time César award-winner famed for his role in the 2009 crime film, A Prophet, Rahim powered the light switch – officially launching the 2022 illuminations – in front of a merry crowd. He succeeded the likes of Carla Luciani and Karl Lagerfeld who had the honor in previous years. The illuminations kickstarted at 6 pm, surrounding thousands of spectators who flooded the 2km stretch of the pedestrianized avenue with golden brilliance. The event was followed by a marching band in reds and blues playing timeless Christmas classics. 
This year, adjustments were made to conserve energy amidst the crisis faced by many European cities. Not only did the color of the lights change from the scarlet hues of the past four years, but so did their duration. In keeping with the theme of sobrillance (a portmanteau of sobriété and brillance), the Comité des Champs-Élysées seeks to conserve energy while also maintaining the magic of the festive season. Designed by Blachère Illumination, who were also entrusted with the task in 2021, the lights will switch off at 11:45 p.m. rather than 2 a.m., and they will run for six weeks instead of seven. As a result, the energy consumption will decrease by a whopping 44% compared to 2021.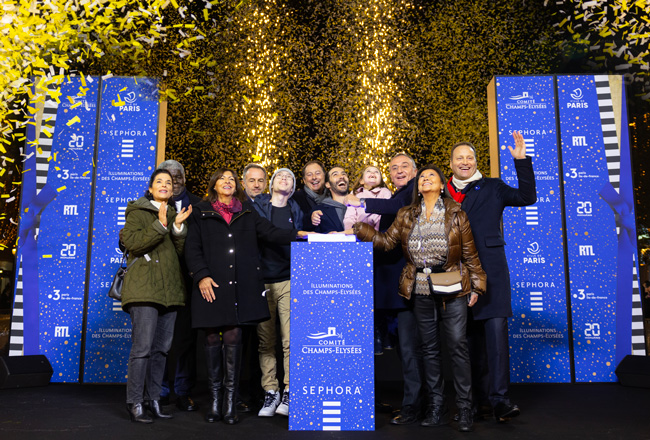 Alongside this measure, other eco-friendly initiatives are already in place this winter for the energy sobriety plan announced by Paris City Hall in September. The Eiffel tower is now switched off from 11:45 p.m. instead of 1 a.m., and public buildings are taking a similar measure, ensuring a blackout between 10 p.m. and 7 a.m. 
In dedication to the sobriety plan, this year is also the first time that the illuminations are followed with a switch-off ceremony. Public figures such as Katia Lefeuvre and Louane, who inaugurated the event in 2022, gathered at 11:45 p.m to press the same switch as Rahim, concluding the 2022 celebration. 
Did you witness the launch of the festive season in Paris this year? Will you be strolling the Champs-Élysées to admire the twinkling lights? Share your photos with us on Instagram @bonjourparis_guide. 
Lead photo credit : Avenue of Champs-Elysees Illumination. Press photo.
More in Anne Hidalgo, Champs-Elysee, Christmas Illumination, Christmas in Paris 2022, Tahar Rahim
---
---