A Delicious Stay at Fauchon L'Hotel in Paris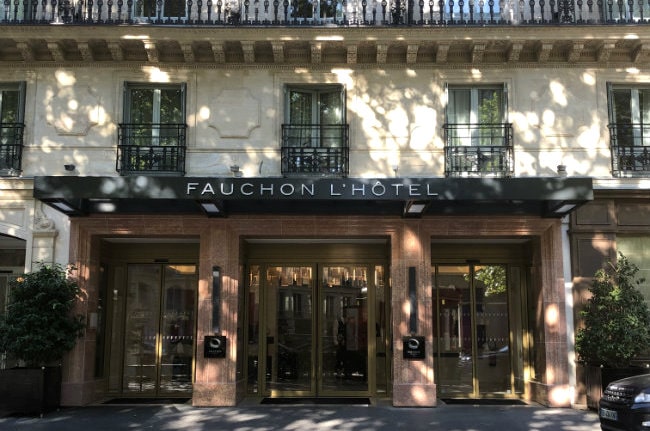 Holding a glass of champagne and nibbling on a madeleine, I looked out across Boulevard Malesherbes to the Morris column which young Marcel Proust in his In Search of Lost Time consulted every morning for news of his favorite actress. The fashionable Fauchon L'Hotel, a new kid on the block of Paris's luxury hotels, sits at the corner of Place de la Madeleine and Boulevard Malesherbes, a truly Proustian corner of Paris, and would have suited him to the ground. But while many of the trendy Parisian hotels can be a little ostentatious and intimidating, the small – only 54 rooms and suites -Fauchon L'Hotel bucks the trend and rides the understated elegance wave.
The hotel's tagline is 'La rose est le couleur de l'homme qui ose', pink is the color of a man who dares, and pink is the accent color throughout the property. From the ties of the welcoming concierge to the notepads and pens in the rooms, and the gigantic mini bar, dubbed gourmet bar, found in the superior and deluxe rooms, and the deluxe and junior suites. Ah, yes, the gourmet bar…
That madeleine I was nibbling and the champagne, of course pink, all came from that gourmet bar. And while a minibar with goodies is nothing new in hotel rooms, at Fauchon they are a little different. Obviously Fauchon already has the edge when it comes to delicatessen and all sorts of delectable goodies, with the first delicatessen store opening on Place de la Madeleine back in 1886, and in the hotel they pop some of those in the gourmet bar for their guests to enjoy. For free, and replenished every day. So, with the champagne you could nibble on crackers with some foie gras, tapenade, or rillettes Saint-Jacques; or maybe some nougat, salty caramels bonbons, or Earl Grey biscuits, or maybe just some of the macarons tempting you from the coffee table.
Fauchon L'Hotel is all about indulgence, and living life to the full. That not only includes champagne and delectable nibbles, but also a Carita Spa offering pampering treatments, and a gym, should you start feeling guilty. But, seriously, who needs a gym when you have Paris's fashionable Rue du Faubourg Saint-Honoré on the doorstep? Just walk and shop the calories off.
Being a small hotel, it is all about the small, personal touches. Nougat and sweets stand on every surface, the staff knows you and is ready to show you around, and then there are some seriously luxurious indulgences you can opt – and pay – for, as well: How about Shoes in my Suite, or Bags in My Suite? In each case the top designers from said Faubourg will come to your suite bringing with them tempting merchandise. Think Louboutin, Hermès bags, Dior, Chanel. So, if you are serious about having a fashionable stay and indulging, go right ahead.
Me, I left any further indulgences until breakfast when I started off with the best intentions with a lovely green detox juice and a fluffy egg-white omelette, only then to blow it all on the warm croissants and Fauchon nutty chocolate spread. Oh, and a glass of champagne. The Fauchon experience is all about treating yourself, right?
Fauchon L'Hôtel Paris, 4 Boulevard Malesherbes, 75008
Tel: +33 (0)1 87 86 28 00
Rates start around 600 euros a night.
Lead photo credit : Fauchon L'Hotel. Photo: Ulrike Lemmin-Woolfrey
---
---
Comments