Le Passé: Secrets and Lies in a Paris Suburb
It's always fascinating when a director makes films in a new country, not merely using it as an exotic setting but transposing his sensibility to the different context. Recently, gifted Iranian filmmakers have been making films abroad. Abbas Kiarastami shot Like Someone In Love in Japan, using native actors. Now Asghar Farhadi, who had a success (and Oscar) with A Separation, has made Le Passé (The Past) in France. The story is about Ahmad, an Iranian who lived in France and was married to Marie (who had children by a previous relationship). Ahmad went back to Iran after their break-up and a bout of depression. He now returns to France to finalize the divorce. Marie only asked for the finalization after four years, while Ahmad could have had a lawyer handle it for him. So who's the real catalyst of their reunion? This sort of mystery runs throughout Le Passé, hairline cracks of ambiguity that bind the narrative together even while splitting it apart. The director expertly sets up the divorced couple's return to their old patterns of tension and intimacy. They seem to fit perfectly: Marie is active in a temperamental way, Ahmad is kindly and helpful, but more passive, perhaps passive-aggressive. But is Marie really active? She lets Ahmad deal with Fouad, her partner's difficult young son, alone, and asks him to speak with her daughter Lucie, who's opposed to her current relationship. Ahmad is a sympathetic character—loving, stubborn, proud. But he's also opaque. We don't know why he left Iran in the first place, what he's doing there now, what he does for a living. More importantly we never discover how he feels about things, though there are hints. But hints only go so far—we'd also like some revelation. Revelations come later, but from the secondary characters, not Ahmad and Marie. And they concern plot (which is entertaining enough) rather than character and relationships. The third node of what becomes an emotional, if not physical, triangle is Samir (played by Tahar Rahim, whose breakthrough role was in The Prophet). He seems young for his role as a laundry operator with a young son (and whose wife is in a coma after a suicide attempt). Samir comes off as one-dimensional at first, a prickly youth of North African descent. But thanks to Rahim, an actor with a tough, soulful charisma reminiscent of actors like Dean and Clift, Samir's character grows on us. In addition there are all those children. Fouad (Elyes Aguis) lives with Samir and Marie, as does Marie's younger daughter Léa (Jeanne Jestin). The semi-estranged Lucie (Pauline Burlet) only comes from time to time. Fouad seems on his way to becoming estranged, too—only Léa seems normal (and consequently doesn't get much screen time). Farhadi casts a cold eye on how adult dysfunction impacts the young, contrasting this with the caring attitude of Ahmad, who has no biological link with the children. The story takes place in a working-class Parisian suburb, and Farhadi portrays its grittiness vividly, but from the outside. He doesn't show how the town functions socially, and most of his characters don't belong there. Likewise, the director has a gift for depicting character, but it's no accident that the characters have foreign origins (like the actors playing them). The warmest sequences show Ahmad with an older Iranian immigrant who runs a restaurant. The director leaves snatches of Persian dialogue un-subtitled, which is frustrating for the viewer but lends a mysterious intimacy, as if they're speaking a private language. Farhadi succeeds in teasing marvellous performances with his calm but firm-handed technique. Berenice Bejo, who had a great success in The Artist, looks even better here. In fact she looks too good—she's supposed to be someone who's been through a lot, yet she's sublimely attractive. Her talent is such that she plays her character as a singularly manipulative person but holds our interest and sympathy. Aside from Bejo's award-worthy portrayal, Ali Mosaffa as Ahmad is deeply human, which is extraordinary given that the character remains so obscure. The director is also an excellent director of children—Elyes Aguis and Pauline Berlet seem every bit as authentic as their elders, while Jeanne Jestin provides gentle support. Le Passé is a meditation on coming to grips with the past, even while failing to recapture it. But it feels as though the director had his own failure of nerve in pinning down the characters' evolution. Midway through the film swings to the melodramatics of buried secrets and lies. We feel, as we enjoy the soap operatic twists, that we're losing the story's substance. Asghar Farhadi is nearly as assured as Almodovar or Loach at pulling strings, uncovering secrets, and moving towards heart-rending dramatic confrontations. He ends with a clever cliff-hanger that lets him (and the audience) eat his cake and still have it. This curious aesthetic bulimia will undoubtedly help the director garner glowing reviews, prizes and more attractive directing opportunities. Welcome to the West, Mr. Farhadi. Production: Memento Films Production Distribution: ? photos © Carole Bethuel
SUBSCRIBE
ALREADY SUBSCRIBED?
BECOME A BONJOUR PARIS MEMBER

Gain full access to our collection of over 5,000 articles and bring the City of Light into your life. Just 60 USD per year.

Find out why you should become a member here.

Sign in

Fill in your credentials below.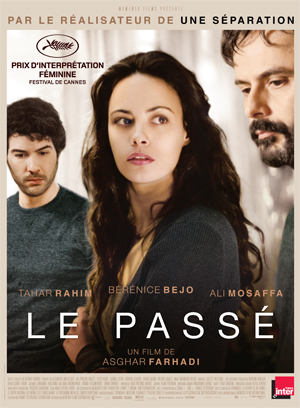 It's always fascinating when a director makes films in a new country, not merely using it as an exotic setting but transposing his sensibility to the different context. Recently, gifted Iranian filmmakers have been making films abroad. Abbas Kiarastami shot Like Someone In Love in Japan, using native actors. Now Asghar Farhadi, who had a success (and Oscar) with A Separation, has made Le Passé (The Past) in France.
The story is about Ahmad, an Iranian who lived in France and was married to Marie (who had children by a previous relationship). Ahmad went back to Iran after their break-up and a bout of depression. He now returns to France to finalize the divorce. Marie only asked for the finalization after four years, while Ahmad could have had a lawyer handle it for him. So who's the real catalyst of their reunion? This sort of mystery runs throughout Le Passé, hairline cracks of ambiguity that bind the narrative together even while splitting it apart.
The director expertly sets up the divorced couple's return to their old patterns of tension and intimacy. They seem to fit perfectly: Marie is active in a temperamental way, Ahmad is kindly and helpful, but more passive, perhaps passive-aggressive. But is Marie really active? She lets Ahmad deal with Fouad, her partner's difficult young son, alone, and asks him to speak with her daughter Lucie, who's opposed to her current relationship.
Ahmad is a sympathetic character—loving, stubborn, proud. But he's also opaque. We don't know why he left Iran in the first place, what he's doing there now, what he does for a living. More importantly we never discover how he feels about things, though there are hints. But hints only go so far—we'd also like some revelation. Revelations come later, but from the secondary characters, not Ahmad and Marie. And they concern plot (which is entertaining enough) rather than character and relationships.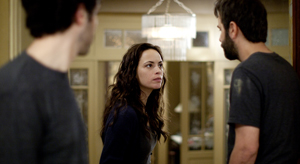 The third node of what becomes an emotional, if not physical, triangle is Samir (played by Tahar Rahim, whose breakthrough role was in The Prophet). He seems young for his role as a laundry operator with a young son (and whose wife is in a coma after a suicide attempt). Samir comes off as one-dimensional at first, a prickly youth of North African descent. But thanks to Rahim, an actor with a tough, soulful charisma reminiscent of actors like Dean and Clift, Samir's character grows on us.
In addition there are all those children. Fouad (Elyes Aguis) lives with Samir and Marie, as does Marie's younger daughter Léa (Jeanne Jestin). The semi-estranged Lucie (Pauline Burlet) only comes from time to time. Fouad seems on his way to becoming estranged, too—only Léa seems normal (and consequently doesn't get much screen time). Farhadi casts a cold eye on how adult dysfunction impacts the young, contrasting this with the caring attitude of Ahmad, who has no biological link with the children.
The story takes place in a working-class Parisian suburb, and Farhadi portrays its grittiness vividly, but from the outside. He doesn't show how the town functions socially, and most of his characters don't belong there. Likewise, the director has a gift for depicting character, but it's no accident that the characters have foreign origins (like the actors playing them). The warmest sequences show Ahmad with an older Iranian immigrant who runs a restaurant. The director leaves snatches of Persian dialogue un-subtitled, which is frustrating for the viewer but lends a mysterious intimacy, as if they're speaking a private language.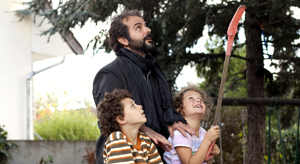 Farhadi succeeds in teasing marvellous performances with his calm but firm-handed technique. Berenice Bejo, who had a great success in The Artist, looks even better here. In fact she looks too good—she's supposed to be someone who's been through a lot, yet she's sublimely attractive. Her talent is such that she plays her character as a singularly manipulative person but holds our interest and sympathy. Aside from Bejo's award-worthy portrayal, Ali Mosaffa as Ahmad is deeply human, which is extraordinary given that the character remains so obscure. The director is also an excellent director of children—Elyes Aguis and Pauline Berlet seem every bit as authentic as their elders, while Jeanne Jestin provides gentle support.
Le Passé is a meditation on coming to grips with the past, even while failing to recapture it. But it feels as though the director had his own failure of nerve in pinning down the characters' evolution. Midway through the film swings to the melodramatics of buried secrets and lies. We feel, as we enjoy the soap operatic twists, that we're losing the story's substance. Asghar Farhadi is nearly as assured as Almodovar or Loach at pulling strings, uncovering secrets, and moving towards heart-rending dramatic confrontations. He ends with a clever cliff-hanger that lets him (and the audience) eat his cake and still have it. This curious aesthetic bulimia will undoubtedly help the director garner glowing reviews, prizes and more attractive directing opportunities. Welcome to the West, Mr. Farhadi.
Production: Memento Films Production
Distribution: ?
photos © Carole Bethuel
More in film review, French film, Le Passé
---
---