Dans la Maison: Thriller and Headscratcher
François Ozon has built a reputation as one of France's preeminent directors, with such films as Sous le Sable, Huit Femmes,and Swimming Pool. His latest film, Dans la Maison, has won a couple of prizes, but will puzzle much of the public. It's billed as a thriller, and starts off as an engrossing psychological thriller, then moves into metaphysical mystery and finally into who-knows-what territory. The movie isn't a facile evening's entertainment, but technically it's very well-made, and pleasing to the eye and to the ear. Dans la Maison opens with a flashy credits sequence, making us expect something on the order of an Almodovar film, but afterwards the director keeps things moving at a leisurely, assured pace. Ozon has worked with many major actors, and Dans la Maison is another achievement as a director of actors. The star, Fabrice Luchini, hasn't been so good in recent memory. He plays Germain, a French teacher at a provincial school. Germain is a frustrated writer and teacher unhappy with the mediocrity of both his students and the school's administration. He loves classic French literature, and loathes the modern art featured in his wife's gallery. Luchini is masterly in a sober key, playing a man in the winter of his discontent. What changes everything: While correcting mostly bad student essays, he comes across a paper by one of his students, Claude Garcia (Ernst Umhauer). The quality of the writing is impressive, but the essay is an indiscreet portrait of the strangely hyper-normal family of a classmate. While Germain, along his wife Jeanne (Kristin Scott Thomas), are disturbed by this indiscretion, he's also fascinated by the boy's audacity. He begins giving private lessons to him and urges him to continue writing about the family, while chiding him when he is being unfair or deficient. At this point the film becomes a classic story about vicarious identification with a younger person turning into obsession. At first the movie revolves around Germain, but to his credit Luchini refrains from hamming it up, even as his character's obsession becomes more and more bizarre. He's also surrounded by a cast that plays brilliantly. Kristin Scott Thomas gives another of her trademark portrayals of a high-strung woman. Umhauer, as Claude, is a brilliant young actor who reminds us of the young Jean-Pierre Léaud with his burning eyes and hungry features. He seems like the compleat teen psychopath as he becomes friends with his classmate Rapha Arghol (Bastien Ughetto) and insinuates himself into his family by tutoring him in math. And yet he also comes across as vulnerable and human, feeling at home in the house, among the family, even developing a crush on his friend's mother. The house in question may seem normal enough to American viewers, a wood-and-brick number plunked in a leafy suburb. Those familiar with France will find it odd. Houses in provincial villages and towns don't really look like that. There may be exceptions, but it lends a surreal touch and we begin to wonder—How real is this? The family itself seems like something out of an American dysfunctional-family drama: a sports-obsessed father (well-played by Denis Ménochet) having problems at his firm (which is doing mysterious business with Chinese clients), a wife (Emmanuel Seigner) who's a frustrated wannabe decorator.  Claude's friend is happy-go-lucky on the surface, but with a few demons underneath. Ughetto plays second fiddle to Umhauer, but has a genuine presence of his own, and gives his role depth. The movie eventually takes an even more surreal turn. First in some subtle ways: Claude's voice-over of his description of his friend's family sounds strikingly like Germain at his most self-consciously literary. Although Claude has taken to sleeping over at Rapha's house and snooping around, his omnipresence seems unrealistically invasive. When Germain and Jeanne read Claude's accounts to each other and comment on them there's something irreal about it. Eventually, Germain begins to pop fantastically into scenes at the house, like those imaginary appearances we see occasionally in Woody Allen's films. Is all of this taking place in Germain's head? Or is it all a figment of Claude's delirium? Or is director Ozon simply being playful à la Woody Allen? It's never made clear, though waiting to see if it will be is part of the suspense of the film. In terms of the director's loftiest ambitions, Dans la Maison, isn't really successful. By refusing to opt for either/or lucidity, he winds up with a neither/nor muddle. But that makes the film sound drearier than it is. For one thing, it's quite funny. In his understated way, Ozon skewers the pretensions of education, the art business, writing and the family. His style is fluidly elegant no matter how chaotic his world becomes. And no matter how mystifying the film becomes, we can revel in all the fine acting, especially the strange duet between the veteran scene-chewer content to ham it down, and a talented young actor with a bright future. Production: Mandarin Cinéma (with France 2 Cinéma and Mars Films) Distribution: Wild Bunch Distribution (France), Cohen Group (USA)
SUBSCRIBE
ALREADY SUBSCRIBED?
BECOME A BONJOUR PARIS MEMBER

Gain full access to our collection of over 5,000 articles and bring the City of Light into your life. Just 60 USD per year.

Find out why you should become a member here.

Sign in

Fill in your credentials below.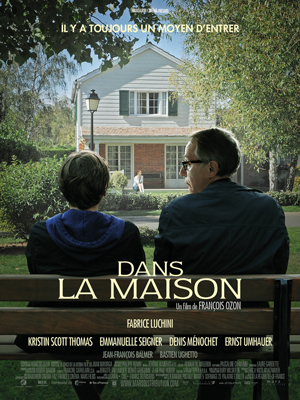 François Ozon has built a reputation as one of France's preeminent directors, with such films as Sous le Sable, Huit Femmes,and Swimming Pool. His latest film, Dans la Maison, has won a couple of prizes, but will puzzle much of the public. It's billed as a thriller, and starts off as an engrossing psychological thriller, then moves into metaphysical mystery and finally into who-knows-what territory. The movie isn't a facile evening's entertainment, but technically it's very well-made, and pleasing to the eye and to the ear. Dans la Maison opens with a flashy credits sequence, making us expect something on the order of an Almodovar film, but afterwards the director keeps things moving at a leisurely, assured pace.
Ozon has worked with many major actors, and Dans la Maison is another achievement as a director of actors. The star, Fabrice Luchini, hasn't been so good in recent memory. He plays Germain, a French teacher at a provincial school. Germain is a frustrated writer and teacher unhappy with the mediocrity of both his students and the school's administration. He loves classic French literature, and loathes the modern art featured in his wife's gallery. Luchini is masterly in a sober key, playing a man in the winter of his discontent. What changes everything: While correcting mostly bad student essays, he comes across a paper by one of his students, Claude Garcia (Ernst Umhauer). The quality of the writing is impressive, but the essay is an indiscreet portrait of the strangely hyper-normal family of a classmate. While Germain, along his wife Jeanne (Kristin Scott Thomas), are disturbed by this indiscretion, he's also fascinated by the boy's audacity. He begins giving private lessons to him and urges him to continue writing about the family, while chiding him when he is being unfair or deficient. At this point the film becomes a classic story about vicarious identification with a younger person turning into obsession.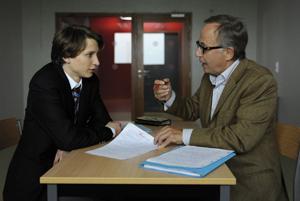 At first the movie revolves around Germain, but to his credit Luchini refrains from hamming it up, even as his character's obsession becomes more and more bizarre. He's also surrounded by a cast that plays brilliantly. Kristin Scott Thomas gives another of her trademark portrayals of a high-strung woman. Umhauer, as Claude, is a brilliant young actor who reminds us of the young Jean-Pierre Léaud with his burning eyes and hungry features. He seems like the compleat teen psychopath as he becomes friends with his classmate Rapha Arghol (Bastien Ughetto) and insinuates himself into his family by tutoring him in math. And yet he also comes across as vulnerable and human, feeling at home in the house, among the family, even developing a crush on his friend's mother.
The house in question may seem normal enough to American viewers, a wood-and-brick number plunked in a leafy suburb. Those familiar with France will find it odd. Houses in provincial villages and towns don't really look like that. There may be exceptions, but it lends a surreal touch and we begin to wonder—How real is this? The family itself seems like something out of an American dysfunctional-family drama: a sports-obsessed father (well-played by Denis Ménochet) having problems at his firm (which is doing mysterious business with Chinese clients), a wife (Emmanuel Seigner) who's a frustrated wannabe decorator.  Claude's friend is happy-go-lucky on the surface, but with a few demons underneath. Ughetto plays second fiddle to Umhauer, but has a genuine presence of his own, and gives his role depth.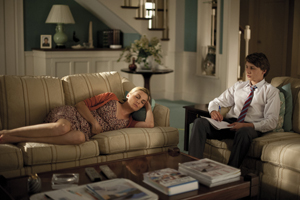 The movie eventually takes an even more surreal turn. First in some subtle ways: Claude's voice-over of his description of his friend's family sounds strikingly like Germain at his most self-consciously literary. Although Claude has taken to sleeping over at Rapha's house and snooping around, his omnipresence seems unrealistically invasive. When Germain and Jeanne read Claude's accounts to each other and comment on them there's something irreal about it. Eventually, Germain begins to pop fantastically into scenes at the house, like those imaginary appearances we see occasionally in Woody Allen's films. Is all of this taking place in Germain's head? Or is it all a figment of Claude's delirium? Or is director Ozon simply being playful à la Woody Allen? It's never made clear, though waiting to see if it will be is part of the suspense of the film.
In terms of the director's loftiest ambitions, Dans la Maison, isn't really successful. By refusing to opt for either/or lucidity, he winds up with a neither/nor muddle. But that makes the film sound drearier than it is. For one thing, it's quite funny. In his understated way, Ozon skewers the pretensions of education, the art business, writing and the family. His style is fluidly elegant no matter how chaotic his world becomes. And no matter how mystifying the film becomes, we can revel in all the fine acting, especially the strange duet between the veteran scene-chewer content to ham it down, and a talented young actor with a bright future.
Production: Mandarin Cinéma (with France 2 Cinéma and Mars Films)
Distribution: Wild Bunch Distribution (France), Cohen Group (USA)
More in Dans la Maison, film review, François Ozon, Paris film
---
---