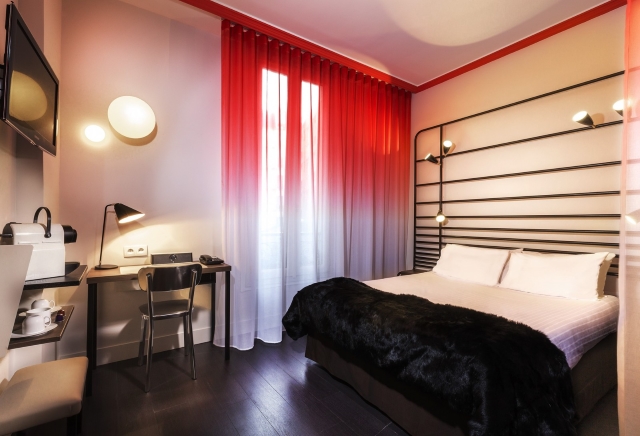 This welcoming, family-owned establishment is located in a residential corner of the 13th arrondissement, not far from the Jardin des Plantes and rue Mouffetard, the ancient market street that's a favourite shopping destination for off-duty chefs. In 2014, the Cauets recruited Flavie+Paul, the young Parisian design duo, to refresh the three-star hotel's interiors. The result is a colourful and playful ambiance as evidenced by the Morning and Evening salons; you can start your day by studying city maps at the shared work table in the light-filled reception room, and for a convivial soirée, take a seat in one of the plush lounge chairs in front of the "virtual fireplace" (a screen projection).
To save space in the traditionally small, Haussmannian rooms, Flavie+Paul eliminated big closets, and instead created an innovative open storage system in a corner. The bathroom shelving was also made-to-measure, a clever way to optimise space.
Particularly noteworthy are the creative concepts developed for the suites. For example, the Suite Gourmandise is dedicated to the food experience that's become so central to travel these days. Decorated in a Champagne colour palette, the suite comes with a box of artisanal chocolates paired with a bottle of bubbly. Guests of the Cinema Suite are provided with access to a selection of films to watch in their very own projection lounge.
Hotel La Demeure Paris, 51 Boulevard Saint Marcel, 75013 Paris. Tel: +33 1 43 37 81 25
---
---