Women of Valor: The Rochambelles on the World War II Front
One of the most satisfying literary experiences, in my mind anyway, occurs when first-rate historical research coincides with first-rate storytelling (and writing). And that is what I discovered, to my delight, when I opened the pages of
Women of Valor: The Rochambelles on the World War II Front
, by Ellen Hampton. I would not have thought I would be quite so enthralled by a history book that recounts the day-to-day progress of a women's army ambulance unit, from the time of its formation in New York City in the spring of 1943 through North Africa and England, Normandy and Alsace, to its ultimate arrival at Hitler's remote hideaway at Berchtesgaden two years later. Author Ellen Hampton But indeed I was enthralled. This is an amazing story, about the first female unit to be part of an armored division on the European western front during World War II. It was the brainchild of a wealthy, forceful — and forcefully inspired — American woman named Florence Conrad who wanted to help with the effort to liberate France. She had driven an ambulance herself during the Battle of France in 1940 and had already demonstrated her ability to cut through bureaucracy to find immediate solutions to urgent problems. Her idea was that an all-female ambulance unit would free up more men to fight in what she knew was going to be the fight of the century; and so she gathered the means to purchase 19 ambulances, rounded up (and in fact carefully selected) drivers for them, and managed to get her offer of assistance all the way up to General Leclerc, commander of the French 2nd Armored Division. German troops in Paris. (C) CC BY-SA 3.0 DE Leclerc was of course most enthusiastic about the idea of gaining 19 ambulances, but not at all enthusiastic about the idea of them being driven by women. When he balked at accepting the latter, Conrad's response was basically, "No women, no ambulances." And, in the interest of his men, and in keeping with his pragmatic style, he changed his mind. It wasn't the first time that he would change his mind about having women attached to an armored unit. By the time France had been liberated, these women, who came to be called the Rochambelles (you'll have to read the book if you want to know why), had earned his respect and even his deep gratitude. (They had collected a number of military honors as well.)
SUBSCRIBE
ALREADY SUBSCRIBED?
BECOME A BONJOUR PARIS MEMBER

Gain full access to our collection of over 5,000 articles and bring the City of Light into your life. Just 60 USD per year.

Find out why you should become a member here.

Sign in

Fill in your credentials below.
One of the most satisfying literary experiences, in my mind anyway, occurs when first-rate historical research coincides with first-rate storytelling (and writing).
I would not have thought I would be quite so enthralled by a history book that recounts the day-to-day progress of a women's army ambulance unit, from the time of its formation in New York City in the spring of 1943 through North Africa and England, Normandy and Alsace, to its ultimate arrival at Hitler's remote hideaway at Berchtesgaden two years later.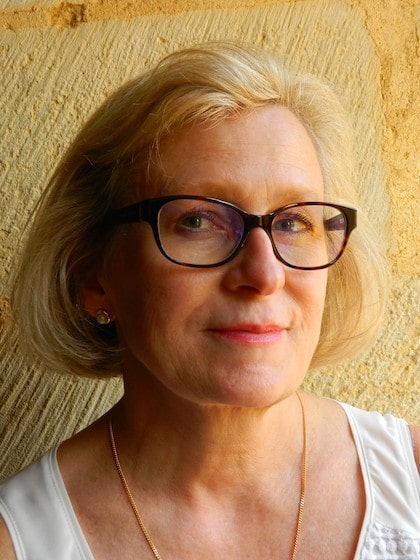 But indeed I was enthralled. This is an amazing story, about the first female unit to be part of an armored division on the European western front during World War II.
It was the brainchild of a wealthy, forceful — and forcefully inspired — American woman named Florence Conrad who wanted to help with the effort to liberate France. She had driven an ambulance herself during the Battle of France in 1940 and had already demonstrated her ability to cut through bureaucracy to find immediate solutions to urgent problems. Her idea was that an all-female ambulance unit would free up more men to fight in what she knew was going to be the fight of the century; and so she gathered the means to purchase 19 ambulances, rounded up (and in fact carefully selected) drivers for them, and managed to get her offer of assistance all the way up to General Leclerc, commander of the French 2nd Armored Division.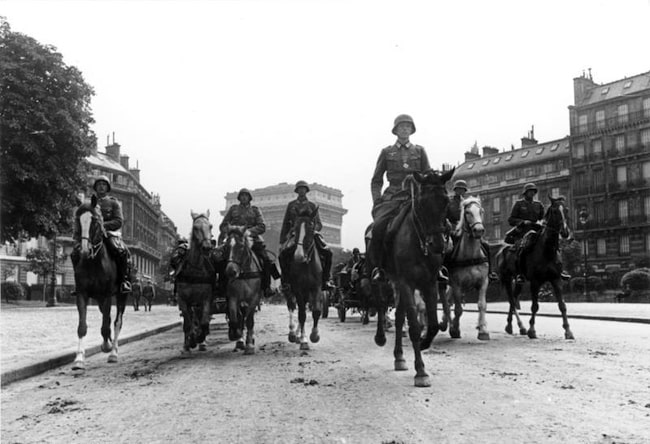 Leclerc was of course most enthusiastic about the idea of gaining 19 ambulances, but not at all enthusiastic about the idea of them being driven by women. When he balked at accepting the latter, Conrad's response was basically, "No women, no ambulances." And, in the interest of his men, and in keeping with his pragmatic style, he changed his mind.
It wasn't the first time that he would change his mind about having women attached to an armored unit. By the time France had been liberated, these women, who came to be called the Rochambelles (you'll have to read the book if you want to know why), had earned his respect and even his deep gratitude. (They had collected a number of military honors as well.)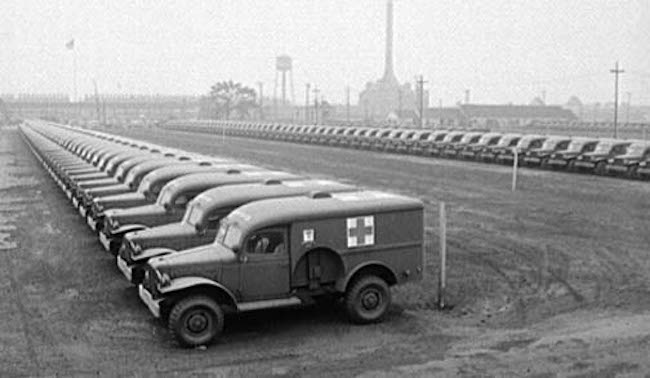 Women of Valor documents this story, which is important both in both women's history and in military history. The book is the product of the author's extensive, rigorous, painstaking — and I daresay passionate — research over a period of years. (She began work on it in the late 1990s and the first edition of the book was published in 2006.) A newly-revised version was released this year.
Never does the meticulously detailed history slow down the pace of the story: the two are elegantly intertwined, and the result is a very readable account from which readers who don't know much about World War II, and in particular the liberation of France, can learn a lot. Those who already do will be treated to a rich evocation of just what it was like to be in the French 2nd Armored division as soldiers and ambulance drivers alike made their perilous way through France, winning back her freedom step by painful step.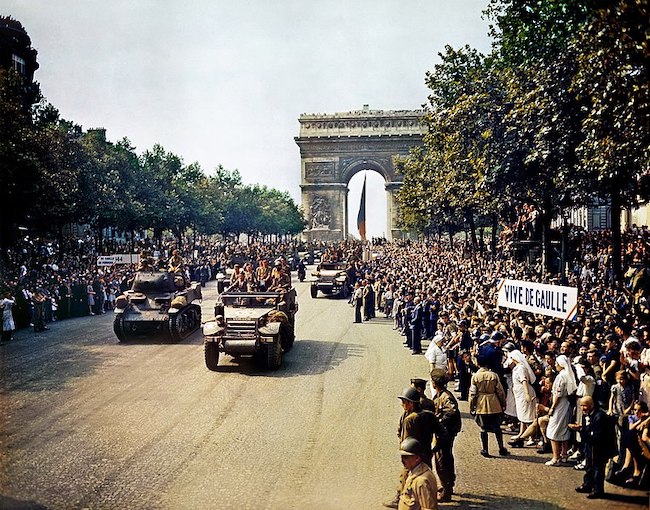 Not surprisingly, some of the anecdotes recounted in this book are gruesome, and some of them hair-raising. But there are also many moments of saving humor, simple humanity, and sheer poetry.
For example, one passage tells us about one of the drivers who had inherited from her father a passionate hatred for Germans. But not all of the men the Rochambelles cared for were necessarily French, or even from Allied troops. One night one of the women found herself taking care of a wounded German soldier through a hot summer night in Normandy. "He talked to me all night about his wife, and his little children, and at dawn he died," she said. "It broke my heart, and all the hatred, that was gone… Hate cannot stand in the face of suffering."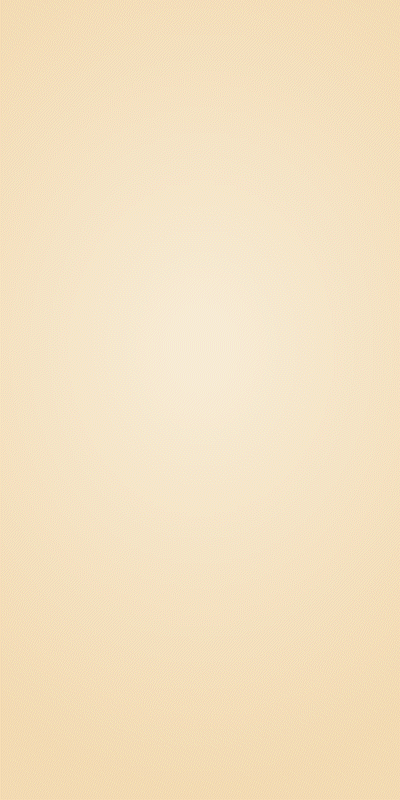 In December 1944, as the Allied offensive continued to push the Germans back toward the Rhine, the Rochambelles and some of the tank regiment soldiers they were traveling with were given temporary lodgings in the cellar of a village priest's house in Alsace, which was still being shelled by the Germans. "The tank crews briefly debated whether or not they should dip into the priest's stock of wine," Hampton tells us, and adds, "It was resolved in favor of the argument that it would be better if they drank the wine than if the bottles were smashed by a shell."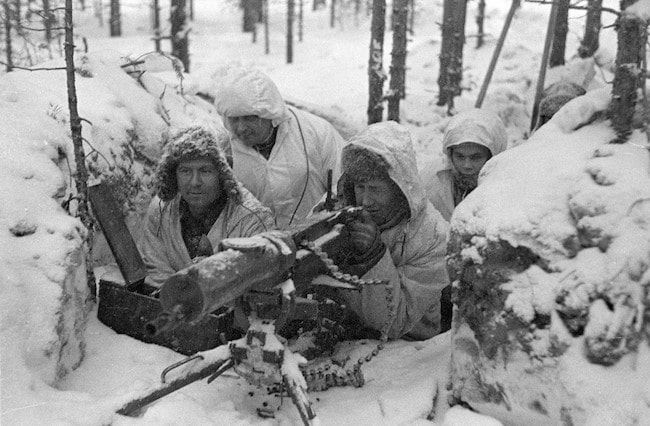 They were still there on Christmas Eve.
It was clear and cold; the temperature hovered at -14 C (6.8 F). At 5:00 p.m. the shelling stopped, a precious gift of silence against the rolling thunder that had rung in their ears for the past week. They were invited to Christmas dinner, along with several infantry officers, by the Austerlitz tank crew, whose resourceful chief cook they had met in Normandy. Another tank crew member with a talent for making pastry had worked hard collecting the ingredients for a Christmas cake. Everything was simmering along nicely when a mortar came through the roof, blew out the windows, and left the meal covered in dust and plaster. No one was injured but the goose. Naturally, the cook cleaned it up and served it.  Oie farcie aux miettes de platre avec sa sauce poussiere (Goose stuffed with plaster crumbs in dust sauce).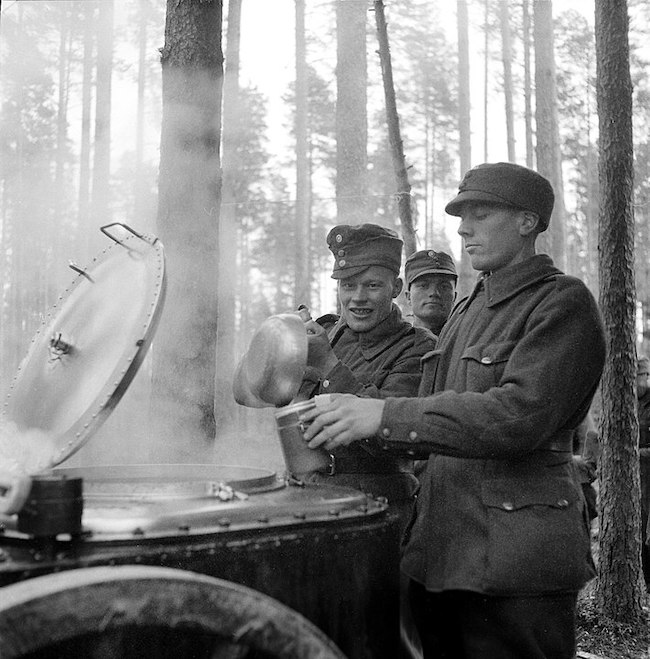 "Better than K-rations, just the same," Hampton quips. She continues:
After dinner [they] held an impromptu Christmas mass in the church cellar and found their prayers were more fervent than usual. When they emerged, the moonlight cast a reflective light on the snow that made the facades look whole again, a ghostly dream that the destruction was not real, that the devastation was an illusion. The division's guitarist came and played for them, lifting spirits as he knew how to do so well, and someone delivered a Red Cross gift package to their cellar…the nurse attached to Jacotte's company…had returned from leave in Paris with gifts for everyone. He brought Jacotte a bottle of Guerlain's l'Heure Bleu perfume, and…she was instantly transported back to a world of society balls and opera, of innocence and joy. It was a gift from heaven in that damp, dark cellar. 
The richness of detail in these passages comes from the blending of the oral history collected by the author, primary sources such as journals and letters, the author's own deft, elegant prose (and often, as evidenced above, her dry wit).
One contemporary source was letters written by one of the two women in the unit who did not survive the war. Leonora Lindsley was an American who wanted to write about the war from the French perspective. She had joined the Rochambelles in the original group from New York, ended up working at Val de Grace Hospital in Paris, and then rejoined the Rochambelles in the Loire Valley in April 1945. Her account of the 2nd Armored division's triumphant march into Germany in late April is quite interesting.
Leonora noted that the victory march into Germany so anticipated by the division soldiers was turning out to feel a little hollow. Having known the experience of defeat, it was difficult for them not to recognize the pain and loss on German faces. "The French are unhappy. They arrived a little arrogant and sure of themselves. When they crossed the border, after so many years of waiting, standards flying in the wind, they were truly radiant. But battle has not yet taken place on this side of the Rhine. They became the Conquistadores (for lack of a better term) and are not happy about it," she wrote.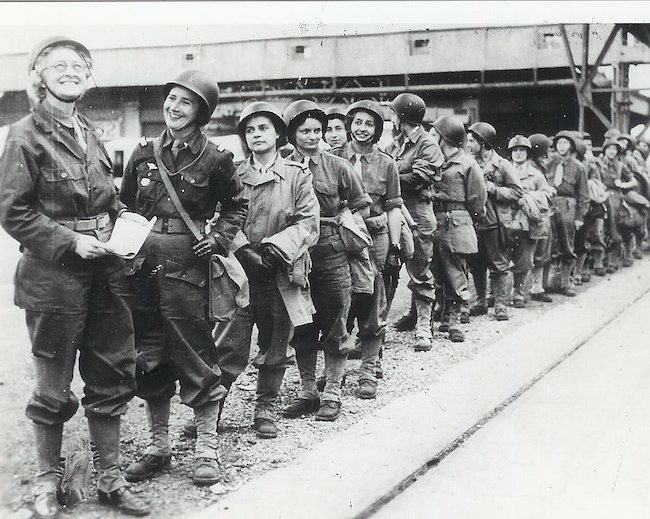 Though not terribly long (about 190 pages), and rich in detail, the book is also quite comprehensive: for example, it includes brief summaries of what each of the women did after the war, both personally and professionally. After V-E Day, some of them went back to civilian life: others went on with General Leclerc to Indochina, where the war still continued.
They were all quite extraordinary women. Some of them were fearless types; others had plenty of trepidation and fear about entering into such an uncertain and dangerous mission. Summoning up the courage, they went anyway.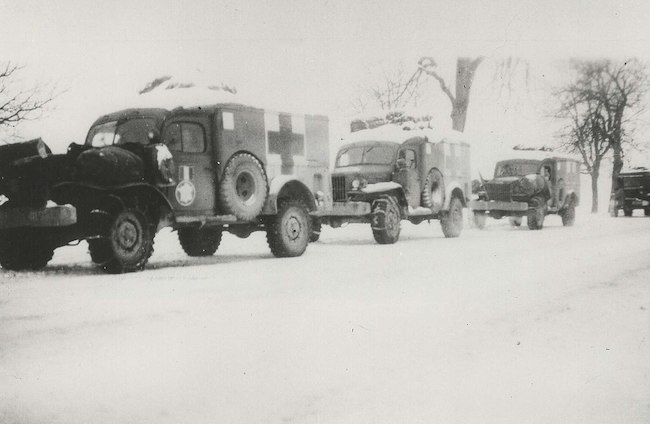 The new version of the Museum of the Liberation of Paris opened at Place Denfert-Rochereau on August 25, 2019 with a reenactment of the 2nd Armored Division's arrival in the capital, and includes the Rochambelles in its comprehensive look at the forces and characters that brought the city back to the light.
If you think you're not all that interested in a book about a women's army ambulance unit, or perhaps you just prefer not to think (or learn) about the details of war, I urge you to think again. I opened this book thinking that, and I was very wrong to do so. In addition to being a very readable story, it is an important one. Hampton summarizes why it is in her conclusion to the book. I certainly couldn't say it any better.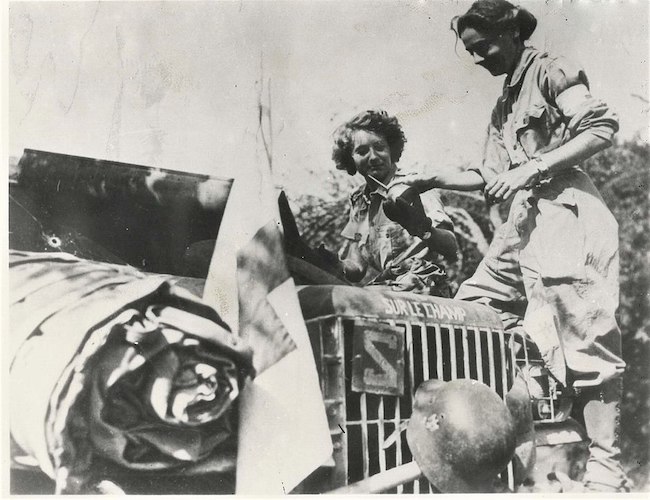 The Rochambelles opened the door to women as integrated member of an army and not simply as auxiliaries, set apart and removed from danger. They worked at the front, under the worst of conditions and through the deadliest of wars. They did so despite initial opposition and hostility, and they earned the admiration and respect of their fellow soldiers. The women also found out about themselves, about how far they could reach and how tall they could stand. The personal limits and social roles they had been born into were stretched out of all imagination. They have gone now, but they have left behind a template for courage and determination. It is ours for the inspiration.
Purchase a copy for yourself at your favorite independent bookstore, like the Red Wheelbarrow or Shakespeare & Company in Paris. The book is also available through online shops like Indiebound and Bookshop.org.
More in book review, history, Paris, women, WWII
---
---
Comments