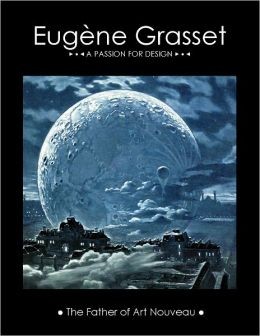 Eugène Grasset (1845 – 1917) is one of the unsung heroes of French decorative arts. Despite his significant influence on subsequent movements and the artists who followed him, outside of France this pioneer of Art Nouveau has not received the recognition he deserves. This oversight may be attributed in part to the character of the man himself, by all accounts a reserved and modest man, and in greater part because much of the literature dealing with his work and his life has been heretofore available only in French.
Then, along came Melanie Paquette Widmann, to bridge that gap. She became acquainted with Grasset while working on another Art Nouveau project, and her passion for her subject matches that of Grasset. The result is her book, Eugène Grasset: A Passion for Design. It is a collection of articles written by contemporaries of Eugène Grasset and translated by Widmann, making him accessible to Anglophone readers.
Widmann is the head of CTG Publishing, a California-based publishing house whose catalog includes titles on design and on travel (predominantly agritourism), as well as a selection of art prints.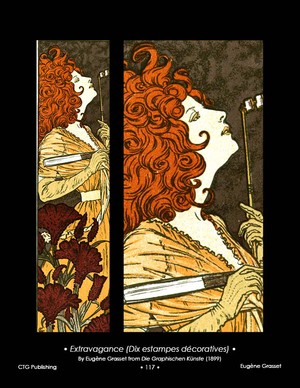 Eugène Grasset was a Swiss-born architect, designer and theoretician who spent most of his career in Paris. Architecture would remain one of his passions, and LeCorbusier, the father of modern architecture, credited his influence. On completion of his studies in architecture, Grasset traveled to Egypt. It was an experience that would exert an enduring influence on his work throughout his career, particularly in his posters. Another influence was the art of Japan. He shared the enthusiasm of his contemporaries for Japanese art, particularly its paintings and prints.
Like many Art Nouveau practitioners, Grasset worked in multiple disciplines – painting, sculpture, architecture, cabinetmaking, interior design, jewelry, graphic arts are but a few. His designs are thoughtful and reflective, and his work demonstrates a familiarity with the materials specific to each medium, as well as the ease with which he worked within the rigorous obligations of each.
The diffusion of Grasset's work contributed to the growth of American Art Nouveau as a dominant style. He was known in the United States primarily for his posters and his work for magazines of the period. He designed the cover of the 1892 Christmas issue of Harper's Magazine, and in 1894, he designed "The Sun of Austerlitz" and "The Wooly Horse" to promote the serialized life of Napoleon for The Century Magazine. "The Wooly Horse," became so popular that it was the inspiration for a stained glass window by Louis Comfort Tiffany.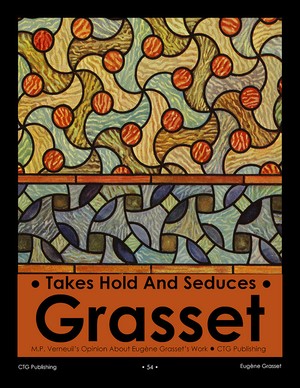 As is the case of the best decorative artists, Grasset honored the traditions of the past while taking advantage of modern developments and materials. Grasset believed the most beautiful stained glass came from the 12th century, and he drew his inspiration from medieval windows (in fact, the ancient craft had seen little change in technique since then). He excelled in the design of stained glass for both sacred and secular installations, combining the dexterity of an artisan and the soul of an artist to produce windows for the 19th century that rivaled those of the Middle Ages.
Whether you are an art historian, a designer looking for inspiration or simply someone with an interest in the Art Nouveau movement, you are sure to enjoy reading this book. Eugène Grasset: A Passion for Design is available in digital format through Amazon, Barnes and Noble and Scribd. In the event you can't resist the urge to display it on your coffee table, hard copies of the book are available for purchase by contacting CTG Publishing.
Those of you who judge a book by its cover will not be disappointed by what's inside. From beginning to end, by way of all the elements that combine to produce a coherent whole, this is quite simply a lovely book. Treat your eyes to the more than 150 images of Grasset's work, many in full color, that complement the text. The art world has lagged behind the pack in its acceptance of digital books. With the appearance of works of this quality, that will change.
Melanie Paquette Widmann's book honors its subject. I can't help but think that M. Grasset would have been pleased.
Jane del Monte lived for a number of years in Paris. She is the owner of ARTS in PARIS, which specializes in travel with a focus on arts and culture. When she is not in Paris, she writes about it.