'Taste of France' comes to NYC – Sample Maille's French Mustard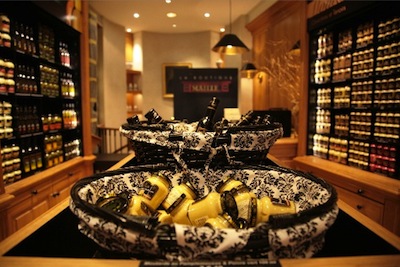 If you're in New York City, then you're in for a treat. The 
2nd Annual
Taste of France
, the world's largest event dedicated to France will be taking place on Saturday, September 28th and Sunday, September 29 at Bryant Park. Attendees will get a chance to enjoy French cuisine, lifestyle, cuisine, wine & spirits, tourism, fashion, culture, beauty, technology, and innovation. This year's celebration will also benefit Action Against Hunger.
Do you love French mustard? Then you're in for a treat.
Maille, the award-winning French brand that has set the Dijon mustard standard for 265 years, will set up a mini-boutique in the event's Market section to sample, fill to order and sell jars of its renowned Chablis Dijon Mustard 'on tap'. This will mark the first time that this French delicacy will be available for sale in the United States.
You see, the Chablis Dijon Mustard is only available in the two exclusive boutiques of La Maison Maille in France and, since July, at the Fromagerie Hamel in Montreal. It is served from an authentic French porcelain mustard pump, the very same method by which Maille founder Antoine Maille served European Royal courts. Imported under refrigeration from France, this mustard is a subtle match between Chablis, the celebrated white wine of the Burgundy region of France, and freshly prepared mustard. Celebrated for its creamy consistency and nuances of spiciness, Chablis Dijon pairs well with fish, white and red meats.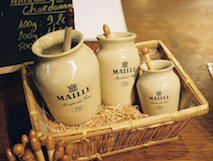 What: 3.5-ounce traditional earthenware mustard pots filled to order and closed with a charming cork stopper, creating a beautiful package to take home for yourself or a friend. Each jar will sell for $18 (2 jars for $30) at Maille's booth within the event's Market area. (Free tastings too.)
BONJOURPARIS EXCLUSIVE: For BonjourParis readers, Maille will offer a discount of two 100 ml earthenware pots of Chablis Dijon for $30 (reg $36, $18 each) or two jars of a new product from France which will be featuring "Honey Mustard with Balsamic Vinegar of Modena) for $20 (reg $24 for 2, $12 each) – the latter will launch in the US in Spring 2014.
When & Where: The event will be held Saturday (9/28) from 11 am to 11 pm and Sunday (9/29) 11 am – 7 pm. The French Market is open to the public and free to enter. Maille's booth at the Market will be open from 11 am to 7 pm on both days. Entrance is on 40th Street side of Bryant Park.
Leave a reply
Your email address will not be published. Required fields are marked *