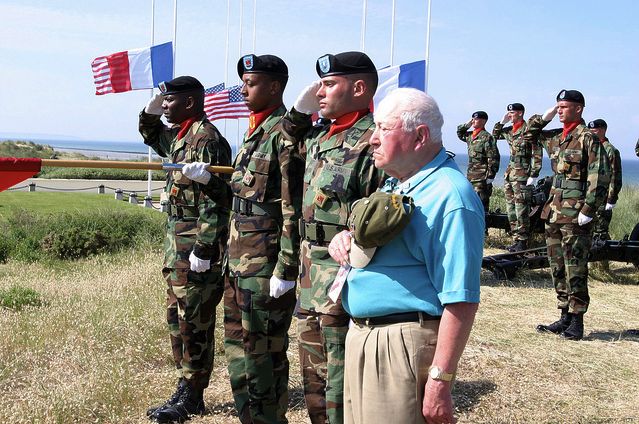 Few Normandy sites trigger emotions as great as the landing beaches where Allied forces debarked on D-Day, June 6, 1944, to liberate France from Nazi occupation during World War II.
More than a million visitors annually make the pilgrimage to the imposing D-Day memorial and American cemetery at Colleville-sur-Mer, where 9,387 U.S. soldiers eternally rest.
Although the Normandy coast is heavily dotted with war memorials of one sort or another, Colleville easily is the most impressive. A few years ago the memorial recently inaugurated a new and impressive Visitor Center which provides an emotional and thought-provoking addition to an already moving experience.
The Le cimetière américain de Colleville-sur-Mer (American Cemetery at Colleville-sur-Mer) was first established for American World War II forces in Europe, with its initial graves put in place just two days after the Allied landings.
To better understand how and why all those young Americans came to finish their lives in Normandy, the entry route to the cemetery now goes through the Visitor Center. There, the role and complexity of the D-Day landing operations is impressively illustrated in an extensive display of battle souvenirs, helmets, rifles, maps, flags, radios, uniforms and wartime film footage.
Visitors can watch films of Allied wartime Commander Dwight D. Eisenhower personally wishing his landing forces well before their embarkment for France in the wee hours of June 6. This speech is followed by footage of the vast Allied armada assembled for attack, the landings themselves, the Allied drive across France, the liberation of Paris and, finally, Germany's surrender.
Here's a two-minute video clip produced by the American Battle Monuments Commission with an overview of the Normandy American Cemetary:
Normandy American Cemetery video clip produced by the American Battle Monuments Commission.
Entry to the Center is free. In keeping with the solemn ambience of the cemetery, the Center deliberately does not have a souvenir shop or bookstore. If you want T-shirts or other memorabilia, you need to go elsewhere.
One can easily spend an hour perusing the exhibits before proceeding out to the cemetery and the Memorial's lookout post. Both are located high on the cliff above the landing sites. The lookout post stands at the start of a path adventurous visitors can take to the beaches where the Americans first came ashore.
At the lookout post there is also a useful orientation map pointing out the locations of various landing areas on the Normandy coast with their distances and directions from the Allied launch sites in Britain.
With context established, it is only a short walk to the rows of individual grave sites. They are bordered on one end by a circular chapel and on the other by a giant bronze statue dedicated to "The Spirit of American Youth."
The two walls flanking the statue bear giant military maps whose display of dates and arrows allows the visitor to trace the course and pace of the Allied advance from the landings until the day of victory.
Many of the cemetery's visitors come because members of their immediate family or their relatives are buried there, and Center staff is constantly on duty to provide details of precisely where a particular grave site is located.
PRACTICAL INFORMATION
Le cimetière américain de Colleville-sur-Mer

Directions: Colleville is roughly 170 miles west of Paris via the cities of Caen and Bayeux.
Public transit: rail service runs from Gare St. Lazare in Paris to Bayeux (about three hours and €35 euros) with multiple tour bus or taxi links available from there to the cemetery. A rented car or guided tour is recommended.
Hours: Open daily from 9 am to 5 pm
Admission: Free
Click to view a map of WWI and WWII battle sites.
Photo Credits: Crosses © abac077; Normandy Veteran Salute © US Army Europe; Visitor Center © Normandy Tourist Board; and "The Spirit of American Youth" © Gerwin Filius
Robert Korengold is a retired American living in France. Story updated in 2011 by Adam Weiner.

Subscribe for
FREE

weekly newsletters with subscriber-only content.
BonjourParis has been a leading France travel and French lifestyle site since 1995.
Readers' Favorites: Top 100 Books, imports & more at our Amazon store


Normandy & the surrounding area are rich with fascinating sites…click on an image to learn more.
Click on this banner to link to Amazon.com & your purchases support our site….merci!