France News Daily: Airbus Reveals Future Designs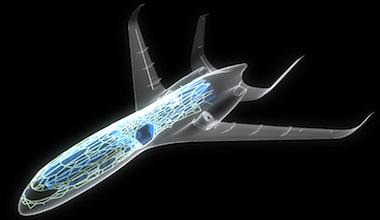 Airbus releases renderings for transparent aircraft planned for year 2050
Dali Wiederhoft
BonjourParis France News Daily
PARIS, June 14—French aircraft manufacturer Airbus today released renderings for its Airbus Concept Cabin, a transparent flying machine planned for the year 2050.
Airbus executives presented renderings for the proposed futuristic new aircraft in England just before the company shifts its attention to the 49th annual International Airshow in Paris (Le Bourget, in French) that runs June 20-26.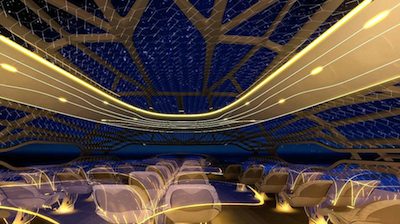 Airbus said the design was inspired by nature, but the most striking feature is the transparent cabin that gives passengers panoramic views of skies above and ahead. Seating classes will be changed to what Airbus called a more "democratic" system of seating zones with sections for relaxing, working and socializing.
The aircraft's bionic structure mimics the efficiency of bird bone that provides strength where needed. An unspecified substrate used to create the exterior cabin wall membrane will control air temperature.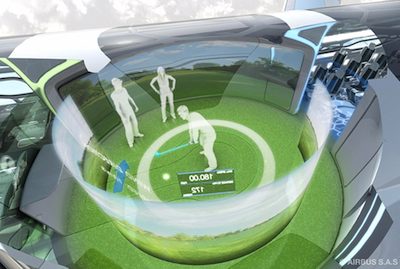 The proposed new seating zones are radically different. Airbus calls the relaxation area the "vitalising zone" that will provide vitamin and antioxidant enriched air, mood lighting, aromatherapy and acupressure treatments during the flight.
The "interactive" or socializing zone could include holographic gaming of all types, including golf. And the working or "smart tech zone" will allow passengers to continue to work or participate in interactive conferences with colleagues on the ground.
Plans for the concept plane also include green technologies that reduce fuel burn, emissions and waste. Airbus declared the cabin will be totally recyclable.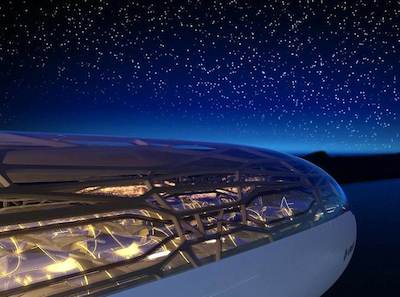 Visitors who attend the Le Bourget International Airshow in Paris can view the Airbus' Future of Flight film, a 360 planetarium presented as part of the planetarium's program at the Musee de l'Air et de l'Espace during public event dates of June 24-26.
Airbus is a French company based in Toulouse, France.
Source: www.thefuturebyairbus.com
Information for attending public events
Not yet subscribed to BonjourParis? Please register for your free subscription for France travel guides, French lifestyle stories and news from France delivered to your in-box twice weekly.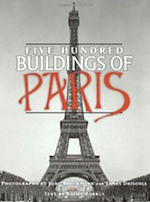 Five Hundred Buildings of Paris contains photographs and neighborhood tours of the greatest buildings and monuments in Paris. Information includes the building's name, location, year of completion or renovation and historical highlights. Order Five Hundred Buildings of Paris [Sept 2010 release] at our Amazon.com French Marketplace.
Leave a reply
Your email address will not be published. Required fields are marked *