France in June—en famille
Should you find yourself in Paris in the month of June, you'll have a multitude reasons to celebrate. Year round, the French capital is a Mecca of culture and art yet, come the month of June, the City of Light puts on an extraordinary show worthy of the world's greatest metropolis.
Paris and her surrounding areas come alive with arts, theatre, dance, and music, much of it free of charge for the pleasure of those fortunate enough to be a part of the audience.
Here is a collection of family-friendly enjoyment for the coming weeks that, rather than break the bank, will leave you culturally satisfied, and with extra cash to sip a glass of chilled rosé on a sunny terrace and indulge in a spot of people watching.
Monumenta 2011: Anish Kapoor at the Grand Palais until 23 June
France is synonymous with the red balloon and stepping inside the revolving doors of the Anish Kapoor exhibit creates the sensation of being inside a giant, hot, non-air-conditioned balloon. The light and colour are impressive but the "don't touch" policy is hard to obey, and inconsistent with the more lenient rules that allow you to caress it once you are out of the inner organ and in the grand hall. The Telegraph [UK] wrote an article describing the structure as a "living, breathing, sacred space." Under the glass top roof of the Grand Palais on a steaming Saturday, when outside temperatures hit 32 degrees centigrade, it was hard to feel the life inside, let alone a whiff of air. Still, shortness of breath aside, it is as impressive internally as it is externally and Kapoor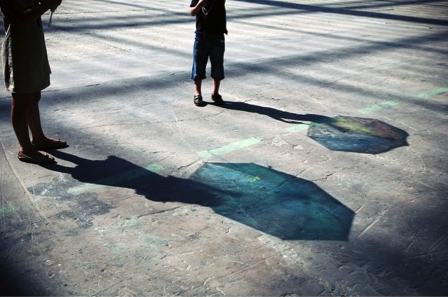 certainly makes an impact with his contribution to Monumenta.  In the eyes of an eight year old, "it looks like one GIANT peanut."
Few people seem to be aware that once inside the hall of the Grand Palais, tucked discreetly to the right of the entrance is a delightful team running a painting workshop. Children are encouraged to recreate their interpretation of the light and lines of Kapoor's giant statement piece. Supplies and staff are provided by the Grand Palais and children depart with artwork and freshly painted transparent umbrellas. The expo runs until June with the children's workshop every Wednesday and Saturday.
PRACTICAL INFORMATION
Visit Monumenta at the Grand Palais Museum
For the 6.50€ admission (via FNAC), children under 13 enter for no charge.
Mois de Molière, City of Versailles
The streets of Versailles turn into an enormous spectacle when Mois de Molière fever takes over. The festival, now in its 16th year, once again turns the city into a month-long open-air production of theatre, music and dance. The immortal playwright Molière comes to life in the streets with families filling squares and gardens to soak up France's answer to Shakespeare, as well as works by other greats including Perrault, Jean-Paul Sartre, and Victor Hugo. Worth seeking out is Les Fourberies de Scaping performed by the Académie International des Arts du Spectacle, definitely a crowd pleaser.
Whilst the majority of events are free, some carry an admission charge.
PRACTICAL INFORMATION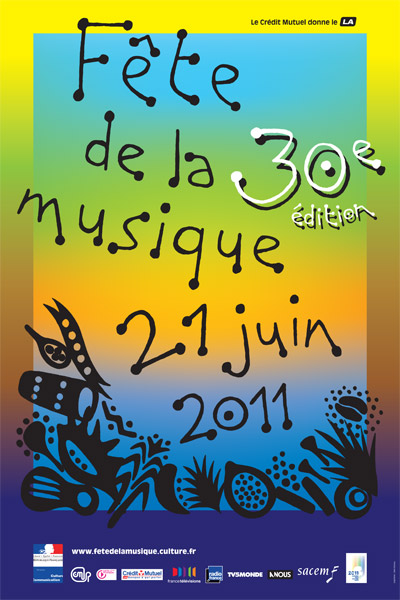 Schedule & more for Mois de Moliére
Fête de la Musique—Nationwide
Celebrated nationwide on June 21st, this year the festival falls on a Tuesday. Across the Gallic homeland, musicians take up their instruments and put themselves down in a public place to share their talent or, in some cases, lack thereof. This year the theme of the festival is Sur le rythme des musiques ultramarines.  A listing and map of concerts throughout France can be viewed at: Fête de la Musique 2011
Déjeuner sur l'herbe—Maisons-Laffitte Race course
Horse racing enthusiasts, painters, and families take over the Hippodrome at Maisons-Laffitte on July 10 for the Déjeuner sur l'herbe. Opening up the infield for a country-style picnic and painting competition, animations for children are aplenty whilst painters compete for the annual art challenge—the theme to depict horses and racing. Under 18s enter free of charge. For more info watch the France-galop website
PRACTICAL INFORMATION
Déjeuner sur l'herbe—Maisons-Laffitte
Perhaps the person who penned the line "the best things in life are free" may well have spent a summery month of June in Paris.
TIP: French love to queue, some more than others, and entrance to exhibits can often be long, arduous waits, even more so if you're travelling with children. These days most exhibits and museums in France offer the option to buy tickets online with "accès coupe-file" (read legitimate queue jumper) via FNAC or Carrefour ticket offices. Save yourself the time and tantrums by planning before you head out the door.
Carina Okula is a new writer for BonjourParis and we welcome her contributions about family travel in France. Read more about her at her website.
Photo credits:
All photos ©Carina Okula
Not yet subscribed to BonjourParis? Please register for your free subscription for France travel guides, French lifestyle stories and news from France delivered to your in-box twice weekly.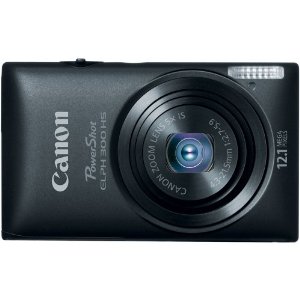 New & selling like crazy: World's thinnest digital camera, shoots photos & video:
Canon PowerShot ELPH 300 HS 12 MP CMOS Digital Camera with Full 1080p HD Video Please click on the link to read complete details about this camera perfect for travelers who need a lightweight, dependable & easy-to-use camera to capture precious travel moments.
Did you know we carry travelers' essentials like luggage, guidebooks, cameras and more plus imported gifts for Francophiles at our Amazon.com French Marketplace? Your purchases support costs of keeping BonjourParis online as a free online travel resource, so merci in advance for shopping with us.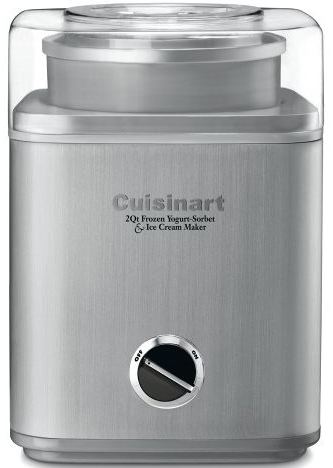 What about some fun at home with the kids this summer?
What's better than homemade, natural ice cream without preservatives? We use a Cuisinart ICE-30BC Pure Indulgence 2-Quart Automatic Frozen Yogurt, Sorbet & Ice Cream Maker in the BP test kitchen (read: editor's home) and we love it! It's inexpensive, easy to use and easy to clean. Right now the price is really good—for the cost of treating a family to a night at the ice cream parlor you could have more fun and better-tasting, healthier ice cream made at home. Pick some fresh berries & see what real ice cream tastes like!