Sweet Jazz at Theatre du Chatelet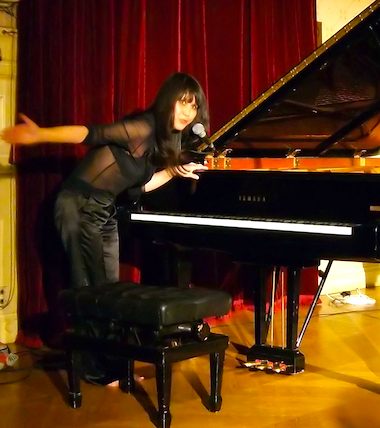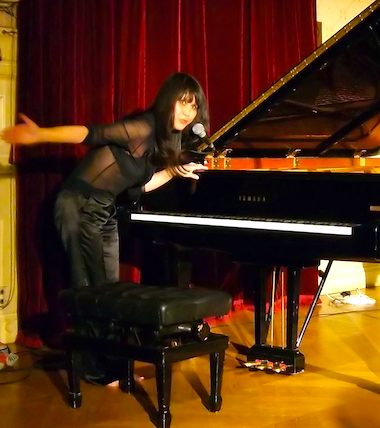 Ryoko Nuruki
Asian Bird (Integral Distribution)
The warm spring air trapped in the Théâtre du Châtelet foyer was cut by the rustling wings of a little bird. Ryoko flitted into the center of the room with the hem of her kimono flapping about her petite frame until she alit at the piano and the night took flight…
Ryoko Nuruki is an artist who deftly hops among her roles of musician, singer and composer. Native to Kagoshima, Japan, she descended temporarily in Italy and Canada before landing in Nice. After forming The Ryoko Trio with bassist Marc Peillon and El Fakir Abou (percussion), Ryoko continued her flights of fancy, often solo, which brought her to the intimate show in Paris.
The Théâtre du Châtelet concert highlighted beautifully the simple complexity of her art. Performing first in a Japanese kimono, Ryoko drifted among the different currents of traditional Japanese (even playing the "sanshin"—think three-stringed Okinawan banjo), classical and jazz music without ever settling on just one branch. After a short break, she returned barefoot and in a sheer black blouse where she danced around on her piano seat, sometimes playing standing up, but never veering from her controlled flight pattern.
Ryoko was in Paris promoting her latest CD, Asian Bird. Just as in her show, the songs on Asian Bird contain a perfect harmony of dulcet opposites: easily accessible music that is at once light and dark, fun but serious, soaring yet remaining down to earth. The album, recorded live at the Festival de Cap d'Ail in July 2010, carries the listener away on stirring wings without letting them down until the final note of the final song.
To view a video clip of this performance, click and go to YouTube.
Fay Claassen  Sing!

(Integral Distribution)
Dutch singer Fay Claassen also graced the foyer of the Théâtre du Châtelet this spring and her concert was just as soulful. That's where the comparisons end, however, for where Ryoko's music was introspective and personal, Claassen took pages from a more traditional song book.
Fay Claassen makes the most of her purely perfect voice to sing the praises of popular jazz standards. Sing!, her sixth and most recent effort, is a Big Band tribute to the great jazz female vocalists and while the songs it covers may be classics, her take on them makes them uniquely her own.
The March 30 show was an added pleasure because it was a stripped down version of the CD, as her performing band (WDR Big Band Cologne) could not attend from Germany. The "unplugged" concert was a treat and an opportunity for Claassen to showcase her fantastic voice. Her somewhat throaty patter disappeared the instant she began to sing and she went through much of the track listing of Sing!, often commenting on favorite lyrics and explaining why she chose the song for the collection. "You can never lose a thing if it belongs to you," she sang a cappella at the end of Abbey Lincoln's "Throw It Away," and it rang true, for she could never lose the crowd as we belonged to her.
To view a promotional video for Fay Claassen's CD Sing!, click to go to YouTube.
Paul Prescott has written several articles for BonjourParis, most recently a review of Monumenta 2011. More at his Paris Inspired website or write to him at Paul Prescott.
Photo credits:
CD covers courtesy of Integral Distribution
Concert photos ©Paul Prescott and ©ParisKarin aka karinlynn68
Not yet subscribed to BonjourParis? Please register for your free subscription for France travel guides, French lifestyle stories and news from France delivered to your in-box twice weekly.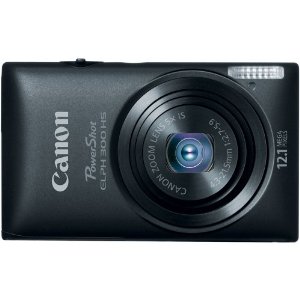 New & selling like crazy: World's thinnest digital camera, shoots photos & video
Canon PowerShot ELPH 300 HS 12 MP CMOS Digital Camera with Full 1080p HD Video (Black)…please click on the link to read complete details about this camera perfect for travelers.
Did you know we carry travelers' essentials like luggage, guidebooks, cameras and more plus imported gifts for Francophiles at our Amazon.com French Marketplace? Your purchases support costs of keeping BonjourParis online as a free online travel resource, so merci in advance for shopping with us.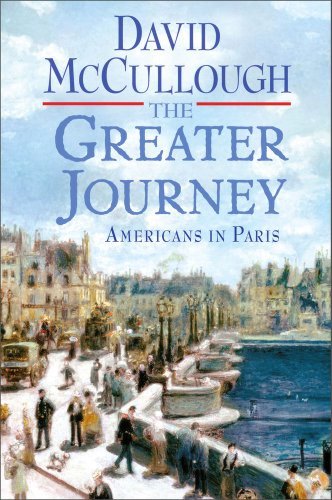 NY Times bestseller [June 2011] about Americans in Paris is a hit with BonjourParis readers
The Greater Journey by David McCullough is the enthralling, inspiring—and until now, untold—story of the adventurous American artists, writers, doctors, politicians, architects, and others of high aspiration who set off for Paris in the years between 1830 and 1900, ambitious to excel in their work. After risking the hazardous journey across the Atlantic, these Americans embarked on a greater journey in the City of Light. Most had never left home, never experienced a different culture. None had any guarantee of success. That they achieved so much for themselves and their country profoundly altered American history. Read fascinating stories about a Who's Who list of Americans in France: Elizabeth Blackwell, the first female doctor in America; Charles Sumner, who enrolled at the Sorbonne because of a burning desire to know more about everything. There he saw black students with the same ambition he had, and when he returned home, he would become the most powerful, unyielding voice for abolition in the U.S. Senate, almost at the cost of his life. James Fenimore Cooper and Samuel F. B. Morse worked unrelentingly every day in Paris, Cooper writing and Morse painting what would be his masterpiece. From something he saw in France, Morse would also bring home his momentous idea for the telegraph. Pianist Louis Moreau Gottschalk from New Orleans launched his spectacular career performing in Paris at age 15. Medical student Oliver Wendell Holmes; writers Ralph Waldo Emerson, Nathaniel Hawthorne, Mark Twain, and Henry James all grew in Paris; painters Mary Cassatt and John Singer Sargent, two of the greatest American artists ever, flourished in Paris.
To order this book (currently offered at a substantial discount) or to view carefullly chosen items for travelers and Francophiles, please shop our Amazon.com French Marketplace.
Leave a reply
Your email address will not be published. Required fields are marked *