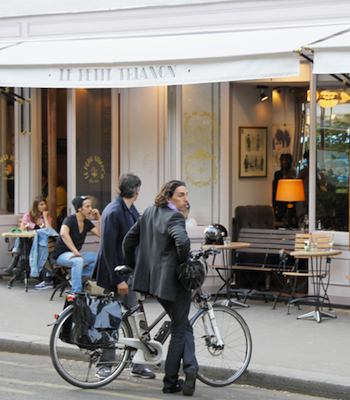 Vuitton, Dior, Gaultier, YSL and various must-have brands have recently shown collections in the amazing space that is Le Trianon Theatre, Montmartre. The multi-story building, by architects Joseph Cassien-Bernard and Gaston Cousin, dates back to 1896 when it was one of the bo-ho hot spots of Montmartre where the likes of Toulouse Lautrec, Scott Fitzgerald, Salvador Dali, Coco Chanel and Mistinguett were regulars.
Today the handsome building has been reborn after vast renovations. No expense has been spared to make it look as if there's been no expense at all, read: designer shabby chic. Kate Moss loves it.
On the ground floor Trianon Café looks set to become an "oh, darling you must go" addy. The upper floors are a vast bar with incredible original décor and the theatre where, say, DJ Shadow puts on thumping light and sound shows. Check out the program but note: Fat Freddy's Drop is sold out!
The Trianon Café concept is by Abel Nahmias, son of super-chef Olympe Versini and uber-gastronome Albert N. A successful film producer (Cinéman, Blood: The Last Vampire, etc.), the boy Abel says he always steered away from matters culinary because he was raised in restaurants, but when he saw Le Trianon, he realised the terrific potential of the location.
"Montmartre is the second most visited destination in Paris, after Notre Dame," he explains. So, with a little help from his friend Julien Labrousse of Hôtel du Nord, mum's recipes and Linda, a talented chef, trained by mum, they've been packing them in since May.
What Shall We Eat?
Just pop in for Sex on the Beach (a cocktail, darling), beer, glass of wine, Martini Moment, Tartines and Clubs made with delicious bread by award-winning baker Arnaud Delmontel or go for the full monty. Artichoke Vinaigrette, L'Oeuf Mayo, Salade Trianon (for the ladies who do), Assiette de légumes verts, sauce verte. Drink a brave little Agentinian Chardonnay, Bodega Fontelli (19€), or a Côtes du Rhône Quatre Filles 2010 (25€). Nice with a hamburger or tartare, purée. Cabillaud grillé, naked, sauce virgin olive oil, vinegar and capers served on the side, as we like it. Classic desserts include Oeuf à la Neige, Crème Brûlée citronnée, riz au lait and outsize red fruit tarts. Read: delicious address your bank manager/husband/lover will adore. Don't hesitate.
Le Petit Trianon
Tél: 01 44 92 78 08
80, boulevard Rochechouart, Paris 18th
Métro: Anvers
Open 7/7
Lunch – 13.50€
Dinner Meal Deal from 19h-21h 16€
A La Carte 25-45€
Breakfast 7.80€
Terrace at Trianon Café
New book by Nicolas Masse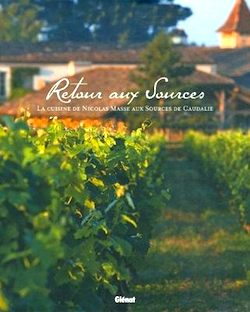 Normandy-born Nicolas Masse is a talented chef. He strutted his stuff at The Landmark, London, Villa Belrose on the Riviera and, for seven years, at the magnificent Grand Hotel Loréamar, Saint-Jean-de-Luz where he really developed his own style and, in 2007, won a Michelin star (he's worth more). In 2009 Masse took over the pianos of the Grand Vigne gourmet restaurant at Les Sources de Caudalie, located in the vineyards of Château Smith-Haut-Lafitte, Bordeaux.
Masse's mission statement is, "Tomorrow begins today." In his just-published coffee table tome, Retour aux Sources, he describes his creative path from a Cherbourg childhood until today, and it's available in English!
Magnificent illustrations are by photographer Matthieu Cellard, the recipes clearly explained and wine pairings suggested. Masse says that being immersed in the world of winemaking obviously influences his inspiration today. "I don't use wine much as an ingredient, apart from a few marinades," he admits. "I make one type of bread with dark grape juice, but that's about it. It's more the region as a whole that influences me, particularly the new produce it offers. I discovered the Blonde d'Aquitaine breed of cattle here, which I serve as a carpaccio with local caviar," he explains. Bordeaux's very unique surf 'n' turf then. Treat yourself to this book, because you're worth it. Masse will have 3 stars one day; then you can say, "I knew him when."
Retour aux Sources : La cuisine de Nicolas Masse aux Sources de Caudalie
Glénat – 39€
Le Bibent in Toulouse by Christian Constant
Christian Constant is proud of his southwestern roots in Montauban, and he long wanted to open down there. This week he did just that. Le Bibent (good food, in southwestern patois) was once the meeting place for le tout Toulouse, read Café Flore, Toulouse style. The original, created 150 years ago, was the first French café to serve bière à la pression (draft beer).
Why have you added Le Bibent to your portfolio, Christian?
This is a listed monument since 1975, shut since 2009. Each time I passed by I thought I would love to wake the Sleeping Beauty and create a magical place for the locals.
I worked with Thierry Holdak and it took nearly a year and 1.6 million euros to complete! It's very exciting for me—after 30 years in Paris, I'm returning to my roots.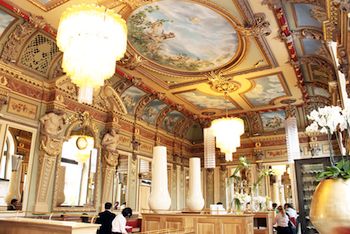 How big is the space?
80 in the brasserie, 40 on the terrace and 20 in the private basement. We're open all day, every day, and until midnight when there's a performance at the Opera House.
What's cooking and who's cooking it?
Simple local dishes, using the best possible market-fresh products. Chef Christian Marque is from Tarbes, near the Spanish border, so there will be crème de haricots tarbais glacée au caillé de brebis (10€) and Le Cassoulet de Montauban, just as Mamie Constant makes it (25€). We're also using mum's recipes for Oeufs Mimosa. And they'll be a nod and a wink to my signature Paris dishes.
What will be the average price?
About 30€ at lunch, more at night because we're dressing the tables and the service will be more formal.
Good luck CC. We'll be coming by.
5 place du Capitole, Toulouse
No Reservations
Margaret Kemp is a Cordon Bleu graduate who spent a year traveling the world, working and watching in the kitchens of top chefs from Sydney, Australia via Bangkok, Hong Kong, California, New York and France. She reports for BonjourParis on the latest European trends, restaurants and hot-spots.
Not yet subscribed to BonjourParis? Register for your free subscription so you never miss the most complete France travel guides, current French lifestyle stories, recipes and up-to-date news from France delivered to your in-box twice weekly.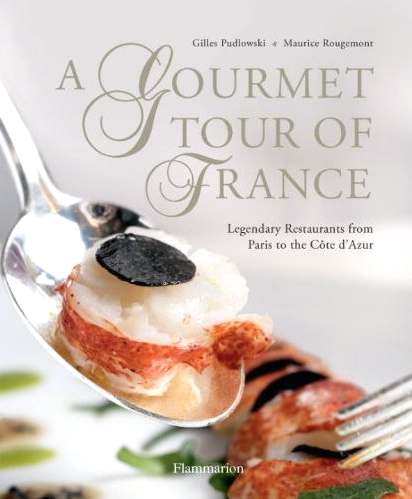 A Gourmet Tour of France: Legendary Restaurants from Paris to the Cote d'Azur [Hardcover]
A beautiful book that features the finest & most attractive restaurants in France by prominent French restaurant critic Gilles Pudlowski. Take a culinary tour of 35 gourmet restaurants in France, see the beautiful decor, read menu selections & the stories behind accomplished chefs & their kitchens. Highlights include: Michel Bras's ultramodern restaurant on a Laguiole hilltop; the Louis XV in Monaco, where chef Franck Cerutti takes full advantage of his Mediterranean setting; Hélène Darroze's twin establishment in Paris, featuring a two-Michelin-starred dining room upstairs and a relaxed bistro on the ground floor; and the famed Maison Troisgros in Roanne, which Zagat lists as the best restaurant in the world. Illustrated with Maurice Rougemont's enticing photographs, this finely-researched bible of French gastronomy offers a feast for the eyes. Featured chefs include Paul Bocuse, Alain Ducasse, and Guy Savoy, and each has divulged a few of their signature recipes to enjoy at home. A list of addresses to the restaurants completes the book for readers who want to embark on their own gourmet tour of the finest in French dining experiences. Author Gilles Pudlowski is a food and literature critic for Le Point. Each year he publishes his guides Pudlo Paris and Pudlo France.
Did you know you can order travelers' essentials like luggage, guidebooks, digital readers plus imported gifts for Francophiles at our Amazon.com French Marketplace? Your purchases support costs of keeping BonjourParis the most complete online France travel resource, so merci in advance for shopping with us.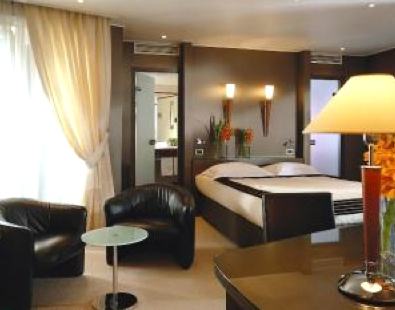 The only 4-star hotel in Montmartre . . .
The Terrass Hotel is a grand 19th-century building with an art deco style interior. Sleep surrounded by history: Sacré-Coeur basilica, painters of Montmartre, "Amelie" street, famous Moulin Rouge cabaret & more nearby. Hotel rests on a hill, which gives the fabulous terrace & some rooms sweeping views overlooking Paris & the Eiffel Tower. Piano bar inside & very comfortable suites.
Take our advice & check out today's deals from Booking.com, a Priceline company with this price guarantee: If you book a room today & find the same room priced for less, Booking.com will match the price. For more about the TERRASS HOTEL or any of the thousands of Booking.com hotels, please click HERE.