Working in a Boulangerie: Gontran Cherrier Artisan Boulanger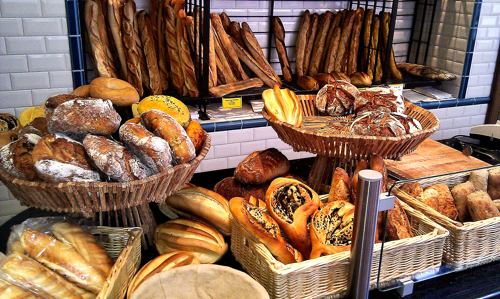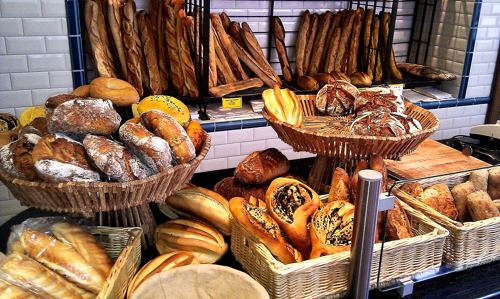 When I arrive at Gontran Cherrier Artisan Boulanger in Montmartre at 7:00 AM, the bakers have already been in the kitchen for a few hours, preparing the breads, tarts, sweets and sandwiches for the day.
The bakery, a cozy nook with white metro-tiled walls and a Miro-esque ceiling on rue Caulaincourt in Montmartre, is awash in a warm buttery aroma: there's no better place to be on a chilly Paris morning than in a boulangerie that's firing up croissants and pain au chocolat by the oven-full.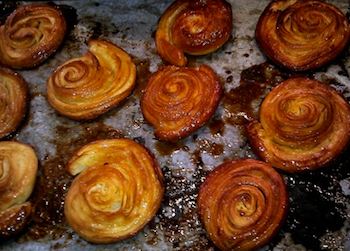 There are already a few trays of glistening viennoiseries—croissants, pain au chocolat, petite brioche au chocolat et au sucre—in the elevator that connects the store to the kitchen below. The elevator, or mont-charge, drops down to the basement right next to the massive ceiling-to-floor array of ovens so the bakers can slide bread and viennoiseries between the two.
The trays in the elevator are still molten hot, along with the pastries on them, so I haul them out with heavy gloves, then shake the pastries down, using tongs to help pry them from their buttery nests, onto wooden display trays.
The round brioche au chocolat are more difficult. The gooey pépites de chocolat on the small pastries solidify on the ends of my tongs, leaving me holding a club of hardened chocolate.
As for the kouign aman, once afloat in a sea of steaming butter and caramel in the mont-charge, these escargot-shaped pastries are now a sugary iceberg. I chip off the caramel icicles before laying them in neat rows, where they harden against each other in a sticky mass.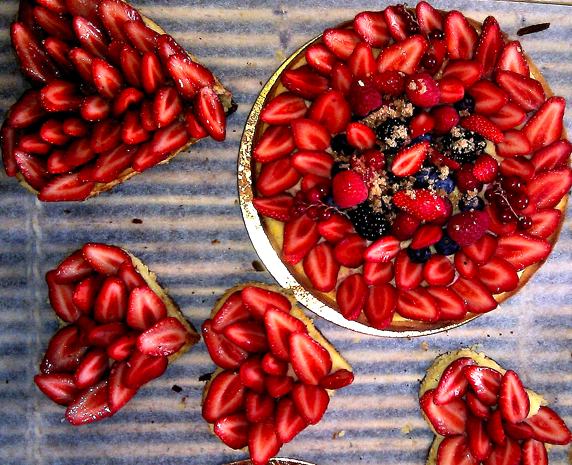 Once the viennoiseries are out on the cool marble countertops, I start to work on getting the baked breads on the shelves.
The breads are massive loaves, some weighing in at 2 kilograms, with volcanic ridges and inner molten dough that smell of cinnamon, roasting hazelnuts, apricots, figs, chestnuts, lemon, and fennel. These huge pallets and tortes smolder for hours after coming out of the oven. Cutting their crust this early in the morning means an eruption of hot aromatic steam from a gooey, moelleux, fondant interior.
These large breads cool in the paniers before putting them on the shelves: their soft leathery sides, coated in a dusting of white flour, are searing to the touch. Likewise, the breads spew scalding steam like geysers when cut early in the morning, and the ridges on the surface from the grignes can be razor-sharp.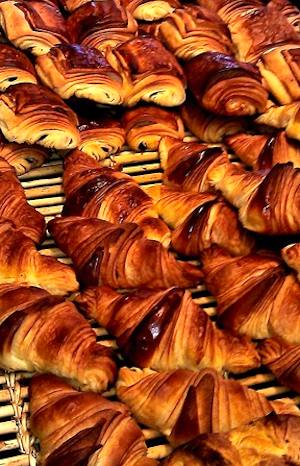 The pain is well worth the pleasure, in any case. But it does take a lot of willpower to resist grabbing a piping hot pain aux figues, fenouil, et zestes de citron and setting up a picque-nique in the corner. Plus, a take-the-money-and-run move would be fruitless (fig-less?); there will always be more fresh bread. And then there's always a tasting basket to fill, and empty.
It's a charmed life to snack on croissants and pain au chocolat that I've just pulled out of the oven—not to mention ones made by one of the best boulangers in Paris. Leaving work with a baguette de tradition recently voted the 4th best in Paris, a tarte salée, flan, tarte aux prunes or ananas, or any other sugary delight we sell, is daily ecstasy.
And though savoring is important, sharing with others is the best part.
Bon Appétit.
PRACTICAL INFORMATION
Gontran Cherrier Artisan Boulanger
Tél: 01 46 06 82 66
22, rue Caulaincourt, Paris 18th
Métro: 12, Abbesses; 13, Place de Clichy
Hours: M-Sa 7:30-8p and Su 7:30a-7:30p
Photo credits: all images are the writer's.

Thomas Wentworth Samph has left Paris, but he still tweets on twitter.

Subscribe for
FREE

weekly newsletters with subscriber-only content.
BonjourParis has been a leading France travel and French lifestyle site since 1995.
Readers' Favorites: Top 100 Books, imports & more at our Amazon store
We daily update our selections, including the newest available with an Amazon.com pre-release discount of 30% or more. Find them by starting here at the back of the Travel section, then work backwards page by page in sections that interest you.
Waste no time finding Paris pâtisseries or make your own at home with recipes from Pierre Hermé. Click on an image for details.
Support our site by clicking on this banner for all your Amazon.com browsing. Merci!
Leave a reply
Your email address will not be published. Required fields are marked *