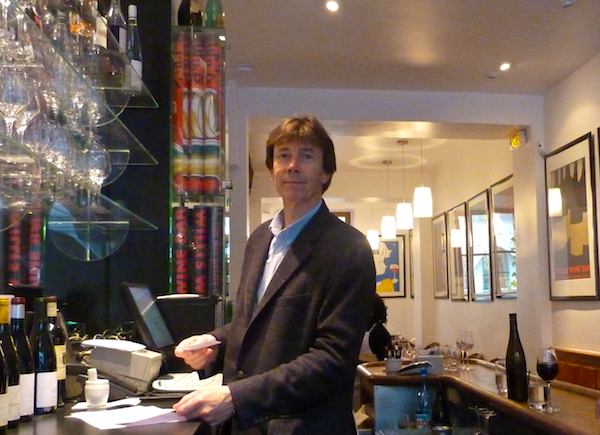 They say that imitation is the highest form of flattery. In that case, Mark Williamson's iconic Willi's Wine Bar gets the prize for most-echoed establishment on the planet.
When he opened his doors, some 30 years ago, Parisian wine bars served an assortment of basic varietal "plonk" in teeny glasses, accompanied by plates of cheese or pâtés—and that's about it. Then, along came Willi's.
Truth be told, I've been procrastinating in writing this review. Why? Frankly, Willi's is a famous "secret" I'd rather keep to myself because I'm afraid I'll never get in again.
The food is consistently great, the wines are Mark's chosen favorites "du moment" and the service is friendly, bilingual and discreetly efficient. When I'm hungry in Paris, there is really nowhere I'd rather eat.
People who know me well will say, "Oh, she loves that place" and they will be right: I do now and have since first setting foot in Willi's some 20 years ago. Back then, my parents, who lived on a péniche by the Bastille, had just returned from a three-day wedding celebration in Burgundy, where my non-French-speaking children had participated in the wedding procession. They were all aflutter and my folks needed a break. Bon Appétit (or was it Gourmet?) had just reviewed Willi's, which they described as the hottest spot in Paris to have a terrific lunch with fabulous wines by the glass at a reasonable price. We went, we were warmly welcomed and we weren't disappointed.
Though I go often now, many years passed before I was able to return for lunch and in that time Willi's grew up. The menu evolved into a discovery of seasonal flavors, with a deep wine list and wines sold by the glass that perfectly accompany the flavorful dishes of Chef François Yon (23 years at Willi's and counting).
On a recent visit with friends who were hungry and in a hurry, we opted to sit at the vintage wooden bar. We ordered the €15.90 lunch special, served only at the counter and only on weekdays; the price includes a glass of wine. We shared a starter of moist, seared scallops that weren't overpowered by the delicate, slightly tart parsley-basil sauce. The veal tagine with apricots and onions was tender, subtly seasoned and just right for a rainy day. The accompanying wine, a 2009 Château Saint-Martin was the perfect pairing. We ended our meal sharing a silky crème brûlée.
Lunch couldn't have been better, not to mention we sat at an excellent vantage point to see most of the 23 beautiful posters lining the dining room walls created for Willi's by a different artist each year. They are collected by many and you can order them online.
Given more time, we would have chosen to sit in the recently redone dining room before lingering over the three-course menu (€26 for entrée, plat, dessert or cheese) and savoring a great bottle of wine. Chef Yon always offers a vegetarian option many people seem to enjoy, but I just can't pass up the seasonal meat or fish selection served with vegetables cooked "just so."
Willi's is an easy addition to a visit to the Palais Royal or the Opéra Garnier. Don't procrastinate, GO!
PRACTICAL INFORMATION: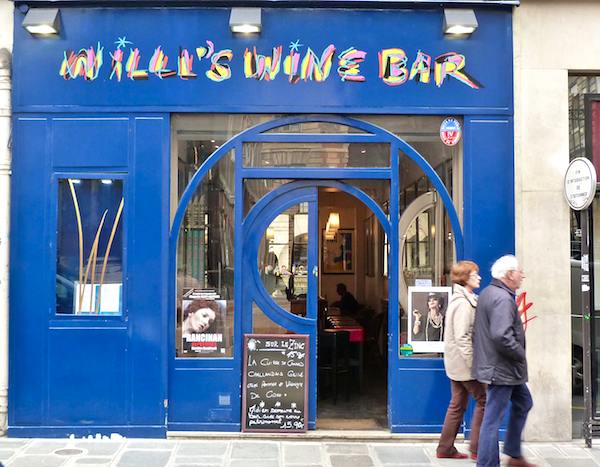 Tél: 01 42 61 05 09
13, rue des Petits Champs, Paris 1st
Métro: Pyramides, Bourse
Open: Monday through Saturday 12pm-midnight; Closed Sunday
Lunch: 12-2:30pm
Dinner: 7-11pm
Reservations online
Credit cards: Visa and MasterCard, no AmEx
Groups over 8 people are invited to go next door to Macéo [review]
Past review in Gourmet
Online route maps for Paris bus, Métro, RER & Transilien (SNCF) (French only)
PHOTO CREDITS: All photos ©Marie Z. Johnston

Marie Z. Johnston was taught well by her Parisienne maman to appreciate good food, good wine and the good people who nurture it, sell it and serve it at restaurants around the world. Click on her name to learn more about the French Market Maven and a list of other stories she's written for BonjourParis.

Subscribe for
FREE

weekly newsletters with subscriber-only content.
BonjourParis has been a leading France travel and French lifestyle site since 1995.
Readers' Favorites: Top 100 Books, imports & more at our Amazon store
Hungry? Click on an image below for details about these Paris books.
Thank you for using our link to Amazon.com…we appreciate your support of our site.