France Train Travel Tips for Beginners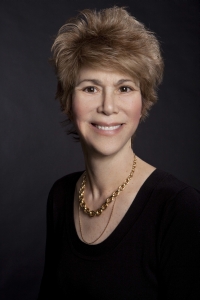 Sometimes I forget how confusing train travel can be in France, or for that matter, in any country where you don't speak the language and haven't mapped out how to get from here to there. It hit home the other day when returning to Paris from Lyon on the
SNCF
French national rail network. We had trouble finding our assigned voiture N° 1 (car #1) because it was located in the middle of the train instead of at an end. We weren't alone; other people were racing from one end of the platform to the other, hoping the train wouldn't pull out of the station without them. It's conducive to that good old adrenalin rush, but who needs it. For the sake of brevity, I'll assume you've already purchased your tickets and we'll start with arriving at typical French gare (rail station). French rail tip #1: arrive 30+ minutes before your scheduled departure The name of your station is printed on your ticket; show that to your driver so there's no confusion about which station you need to get to. Plan to arrive at the train station 30 minutes or more before your scheduled departure time—SNCF advises that the larger the station, the earlier you should arrive. Be aware that the French trains usually depart on time and they will not wait for you. Definitely allow extra time for departures from Gare de Lyon in Paris, which can be especially confusing because it has different levels with tracks that are identified by both numbers and letters. Trains going to Provence are supposed to leave from tracks identified by letters . . . but you may head to one part of the station only to find your train is leaving from the other section. Even though it can't be true, this station always feels as if it's under construction. If you allow even more extra time, head up the stairs to the bar at 
Le Train Bleu
. You can have a tea or drink and a snack in the Belle Époque bar that will cost you, but it's surely one of the world's most opulent train station restaurants. #2: check the departure board for your departure platform Check the board to confirm your assigned platform and then allow a few minutes more reach the quai (platform) from which your train departs. Navigating your way through the crowds on busy days can be problematic in some large stations, especially if you haven't allowed enough time and are toting baggage. Make certain you're on the correct side of the platform to head in your desired direction. #3: validate your ticket before boarding, just to be safe You will be expected to composter (validate) your own ticket with a time-stamp punch at a self-service ticket validation machine usually located in several places, such as at the start of the quai, on the platform, in the waiting area. Look for the yellow validator that reads: "'Compostez votre billet" or "Compostage de billet."  Modern ticket validators are usually yellow, or in some cases orange. Sometimes—but not always—a directional sign (often small) is posted up high on a pole above the machine. Punch your ticket at the first one you see. Certain tickets purchased directly from the SNCF site can be printed at home. If you have one of those, you won't need to validate it in the machine—just be prepared to show your ID to the contrôleur (control agent) along with your printed ticket. #4: find your numbered 1st or 2nd class car, then your numbered seats Your ticket notes your departure number, assigned car and seat. The ticket above is a 1st class ticket for Car 3, Seat 101. Look at the outside of the car for a number 1 or 2, then look for your specific car, then enter to find your seat. If the car has a large #2 painted on its side, that's probably because it's second-class. Be certain to look at the little glass panel next to the door to identify the number of the car. All TGV passengers purchase assigned seats. Don't be surprised if you arrive to find someone in it. It's no sin to try to find more space, and when the train isn't full, some people move into what they hope will be an unsold seat. Don't hesitate to ask the person seated in your seat to move, but smile when you do because they know they're in the wrong. #5. be prepared to show your ticket to the contrôleur (conductor) During your trip, a contrôleur walks car-to-car during service to confirm all riders have tickets. If you forgot or didn't have time to validate your ticket before boarding, find the contrôleur before s/he finds you. More than likely, you won't be fined if you explain you didn't see the machine that time-stamps the ticket. Believe it or not, some people have been known to use the ticket a second time if they can get away with it. No one I know, but it happens. There are other perils to contend with if your travel requires you to continue on to…
SUBSCRIBE
ALREADY SUBSCRIBED?
BECOME A BONJOUR PARIS MEMBER

Gain full access to our collection of over 5,000 articles and bring the City of Light into your life. Just 60 USD per year.

Find out why you should become a member here.

Sign in

Fill in your credentials below.
Sometimes I forget how confusing train travel can be in France, or for that matter, in any country where you don't speak the language and haven't mapped out how to get from here to there.
It hit home the other day when returning to Paris from Lyon on the SNCF French national rail network. We had trouble finding our assigned voiture N° 1 (car #1) because it was located in the middle of the train instead of at an end. We weren't alone; other people were racing from one end of the platform to the other, hoping the train wouldn't pull out of the station without them. It's conducive to that good old adrenalin rush, but who needs it.
For the sake of brevity, I'll assume you've already purchased your tickets and we'll start with arriving at typical French gare (rail station).
French rail tip #1: arrive 30+ minutes before your scheduled departure
The name of your station is printed on your ticket; show that to your driver so there's no confusion about which station you need to get to. Plan to arrive at the train station 30 minutes or more before your scheduled departure time—SNCF advises that the larger the station, the earlier you should arrive. Be aware that the French trains usually depart on time and they will not wait for you.
Definitely allow extra time for departures from Gare de Lyon in Paris, which can be especially confusing because it has different levels with tracks that are identified by both numbers and letters. Trains going to Provence are supposed to leave from tracks identified by letters . . . but you may head to one part of the station only to find your train is leaving from the other section. Even though it can't be true, this station always feels as if it's under construction. If you allow even more extra time, head up the stairs to the bar at Le Train Bleu. You can have a tea or drink and a snack in the Belle Époque bar that will cost you, but it's surely one of the world's most opulent train station restaurants.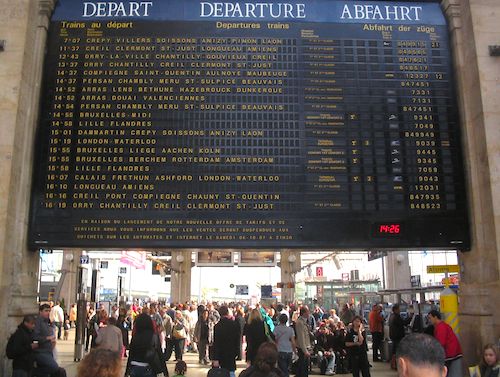 #2: check the departure board for your departure platform
Check the board to confirm your assigned platform and then allow a few minutes more reach the quai (platform) from which your train departs. Navigating your way through the crowds on busy days can be problematic in some large stations, especially if you haven't allowed enough time and are toting baggage. Make certain you're on the correct side of the platform to head in your desired direction.
#3: validate your ticket before boarding, just to be safe
You will be expected to composter (validate) your own ticket with a time-stamp punch at a self-service ticket validation machine usually located in several places, such as at the start of the quai, on the platform, in the waiting area. Look for the yellow validator that reads: "'Compostez votre billet" or "Compostage de billet."  Modern ticket validators are usually yellow, or in some cases orange. Sometimes—but not always—a directional sign (often small) is posted up high on a pole above the machine. Punch your ticket at the first one you see.
Certain tickets purchased directly from the SNCF site can be printed at home. If you have one of those, you won't need to validate it in the machine—just be prepared to show your ID to the contrôleur (control agent) along with your printed ticket.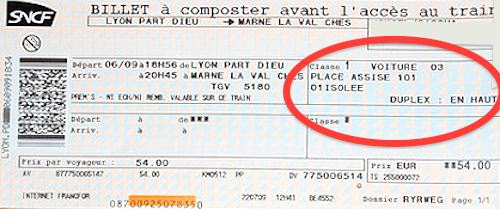 #4: find your numbered 1st or 2nd class car, then your numbered seats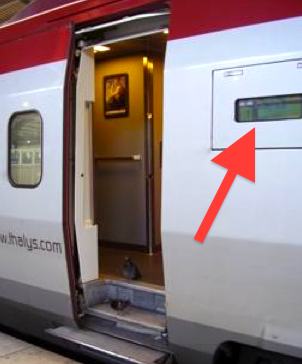 Your ticket notes your departure number, assigned car and seat. The ticket above is a 1st class ticket for Car 3, Seat 101.
Look at the outside of the car for a number 1 or 2, then look for your specific car, then enter to find your seat.
If the car has a large #2 painted on its side, that's probably because it's second-class. Be certain to look at the little glass panel next to the door to identify the number of the car.
All TGV passengers purchase assigned seats. Don't be surprised if you arrive to find someone in it. It's no sin to try to find more space, and when the train isn't full, some people move into what they hope will be an unsold seat. Don't hesitate to ask the person seated in your seat to move, but smile when you do because they know they're in the wrong.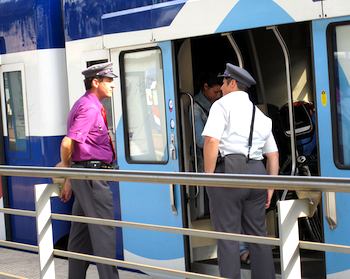 #5. be prepared to show your ticket to the contrôleur (conductor)
During your trip, a contrôleur walks car-to-car during service to confirm all riders have tickets. If you forgot or didn't have time to validate your ticket before boarding, find the contrôleur before s/he finds you. More than likely, you won't be fined if you explain you didn't see the machine that time-stamps the ticket. Believe it or not, some people have been known to use the ticket a second time if they can get away with it. No one I know, but it happens.
There are other perils to contend with if your travel requires you to continue on to your destination by the métro or the RER, the commuter trains.
For example, during my recent trip, a very savvy New Yorker, who is just fine on his home turf, might have become unraveled had he been alone. Joe was headed to a friend's Paris home with instructions to call her portable (cell phone) when he arrived in Paris. That's easier said than done. Try locating a telephone in a station when it's overflowing with people running for trains. It's possible but not simple.
After he called his friend on my cell phone and wrote down the directions to reach his friend in St Germain-en-Laye, it was only polite to help him find the RER—which required that he exit first at La Défense. Because he was traveling an extra zone, it wasn't a question of handing him a métro ticket and sending him on his way. No, he'd have to buy another ticket, which was also easier said than done.
The machine didn't accept coins nor did it accept a credit card without a smart chip. I was able to bail him out of his dilemma—but wondered whether or not he actually was able to team up with his friend. Did he take the correct exit and what if she weren't there to greet him? To be sure, he'd find someone else to call her. The French are amazingly nice to people in distress.
My mind kept churning about what he should have done and what tourists can do if there're in any country where they don't speak the language, much less know the customs. It can be overwhelming if you aren't prepared.
Thanks to the Internet, people can familiarize themselves with almost everything and certainly information about a country's transport system before leaving home. Joe could have asked his hostess for more details in advance—or she could have anticipated his challenges and offered more information about their meeting place. Both could have accessed the Paris RATP site to do advance planning. Buying a ticket would require standing in line but is totally doable.
Another thought—tourists should travel with a cell phone in case of emergencies . . . but that's another story for another time.
Photo credits: Gare du Nord Departure Board. Photo: L. Willms, Wikipedia; SNCF control agents. Photo: Orayan; and other images from SNCF.
© Paris New Media, LLC
Karen Fawcett is the publisher of BonjourParis. Please click on her name to read more about her and the hundreds of stories she has published here.

Subscribe for
FREE

weekly newsletters with subscriber-only content.
BonjourParis has been a leading France travel and French lifestyle site since 1995.
Readers' Favorites: Top 100 Books, imports & more at our Amazon store


See France by rail, it's fast, comfortable & economical for 1 or 2 travelers…click on an image for details.
Thank you for using our link to Amazon.com…we appreciate your support of our site.
---
---