Will French Local Elections Be a Sign for the 2012 Presidential Election?


Things do not look cheery for President Nicolas Sarkozy's conservative UMP party. First, polls showed a poor performance for Sarkozy in the 2012 presidential election (most recent poll here), with potential candidates such as ultra-conservative Front National (FN) candidate Marine Le Pen, other personalities and Socialist (PS) figures like François Hollande (now an official candidate) and IMF head Dominique Strauss-Kahn coming ahead.
Then the UMP had a poor showing in the 1st round of local elections les cantonales against the French left (especially PS) and far-right FN.
Last Sunday came the second and final round of the local elections, with a record abstention of over 55% and very poor results for UMP, 20% of the national vote (whereas PS received 36% and FN got 12%, a quite high percentage for a far-right party, though the French do not seem to trust FN with economic matters). You can see more on the cantonales at the Figaro special report in French here as well as on financial and economic paper Les Echos. You can also read in English on France 24.
Now that the local elections are over, potential presidential candidates are gathering support and force for campaigns starting over the next several months. As stated above, François Hollande declared his candidacy and is working hard on it. Others will likely follow soon.
The lack of popularity of Sarkozy and UMP could spell real trouble for them in 2012. The party seems disorganized and unsure of how to respond. Indeed, the Economist states in a sound analysis:
"…The UMP is tearing itself apart over how to respond. Some, including Mr Sarkozy, want to keep up hard-line talk about immigration and Islam in a bid to win back FN voters. Others think the party should restore a watertight line between Gaullist values and those of the far right…"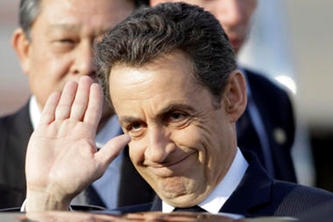 Although Sarkozy has been praised by many supporters and opponents alike for French leadership in Libya, the UMP is being criticized by a lot of people for its proposal of a national debate on laïcité (a very strong-rooted sense of secularism) and Islam's place in French society that many believe is a poorly conceived project that unfairly targets Muslims.
As the competition heats up in the following months, stay tuned to news for developments. 2012 seems like it will be quite an exciting year: besides "the end of the world", French and American presidential elections coinciding in the same year will certainly give the media plenty to follow.
Michael Barrett is a communications consultant, freelance translator and English teacher. He writes a must-read blog for expats called American Expat In France.
Photo: French President Nicolas Sarkozy gestures before boarding a car upon arrival at Haneda international airport in Tokyo, Thursday, March 31. Koji Sasahara/AP
If you're coming to France and want to remove the stress out of any and all planning, dynamo Lisa Buros-Hutchins of www.YourParisExperience.com can arrange anything and everything, including planning your honeymoon and/or making dinner reservations. Nothing is beyond her. Say Bonjour Paris referred you and put her to the test of making your stay in France perfect.
If you're in a shopping mood, Bonjour Paris's Amazon Store has a collection of books, movies, gourmet items, electronics and so much more. In other words, you can buy soup to nuts and help Bonjour Paris at the same time.
To keep up with the news:
Leave a reply
Your email address will not be published. Required fields are marked *