A Weekend Afternoon in Montreuil: Flea Market Shopping, Color and Cuisine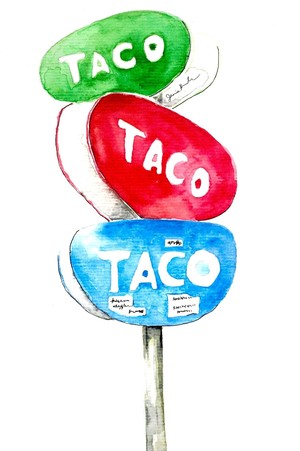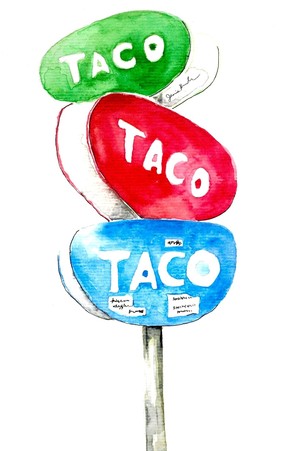 Although the peripherique cuts off Paris from the rest of Ile-de-France, there is plenty of diverse character surrounding the 20 arrondissements. The ring of communes surrounding Paris can evoke anything from a small French village to a multicultural extension of the city itself.  Whether digging for gold at the flea market or sitting down to delightful lunch with friends, Montreuil is a colorful destination for a weekend afternoon.
Hopping off the Metro on line 9 at Porte de Monteuil, walk East toward the expressway. Just where the peripherique crosses the line between Paris and elsewhere, on Saturday, Sunday, and Monday, a gateway of tents will welcome you to Montreuil. Although it does not have the same caliber of antiques and museum pieces as Marché aux Puces de Saint-Ouen, its prettier, more popular sister of a flea market, Les Puces de Montreuil is Paris' least expensive destination for vintage clothes, bric-a-brac and a few hidden treasures. The selection is better earlier on in the weekend, but the prices are generally less expensive on Mondays. But be prepared to dig! Most of the stalls host plywood tables piled high with used clothing. Loosely sorted by gender, most everything can be purchased for anywhere between 50 centimes to 10 euros. A few booths have well-sorted vintage clothes, but they come at the same high prices of any vintage boutique in the Marais. Being a vintage enthusiast myself, I found an impeccably preserved, 1960s kelly green Givenchy couture dress, for a mere 30 euros. It would make Audrey Hepburn turn over in her grave. Strolling through the rest of the flea market as it parallels the expressway, find odds-and-ends, pots and pans, fabric, and a fine selection of Bob Marley cellphone covers.
After scoring a few deals at the flea market, catch a glimpse of local color by walking down Rue de Paris. Although Montreuil has become a gentrified haven for artists and designers in recent years, it is still hosts a densely populated African community. If in need of specialty ingredients, African grocery stores line Rue de Paris.
All that digging can encourage an appetite. From Rue de Paris, take a right on Rue Robespierre.  On the Place de la Republique, find the friendly façade of the restaurant L'Amourette.  Excellently executed homemade French classics like Tête de veau "Vieille France" sauce ravigote and an obscenely porky Andouillette "AAAAA" can be enjoyed in several sunny spots.  Enormous pistachio green windows flood the two levels of dining rooms with sunlight. And do not forget to ask if there is seating available on the terrace out back. The menu of the day of entrée-plat or plat-dessert is only 14€50 at lunch time. And on Saturdays, lunch to live music.  Dessert shan't be missed! If appetite allows, find a little room for the king-sized crème brûlée or the roasted pineapple with coconut ice cream. After a properly satisfying meal at l'Amourette, I ordered a fraise melba thinking it would just be a fruity little afterthought of a dessert. I imagined something like a strawberry soup. Sure enough, it was a foot-tall strawberry and vanilla sundae covered in a cloud freshly-whipped chantilly. Feeling especially nostalgic this summer for the ancient ice cream parlors of my native Chicago, my long spoon plunged in and never turned back.
On the Southern end of the Place de la Republique is Les Nouveaux Robinson (49 Rue Raspail, 93100 Montreuil), a respected organic superstore since 1993. Although organics have become mainstays in French grocery stores the past few years, with major stores creating their own house organic brands, the selection can often be limited to the simple necessities. With over 7,000 products on hand, Les Nouveaux Robinson has a full-service butcher and a complete selection of organic prepared foods, cheeses, a flour for any persuasion, and for the truly anti-plastic fanatic, a zero-packaging corner of nuts, grains, and flour to stock up. For those who are organic inside and out, just across the street is the Les Nouveaux Robinson's organic cosmetic utopia Beauté Santé (56 bis rue Robespierre – 93100 Montreuil). Browse the vast selection of organic and ecologically responsible soaps, creams, sunscreens, and essential oils all under one roof.
If exploring Montreuil on the first Sunday of the month, stumble upon Little Kitchen at 80 rue de Paris 93100 Montreuil. With a farm-to-table mentality and an open "New York" ambiance, this little café has a delicious, mixed bag of a menu. With American standards like chicken Caesar salads, beef burritos, and cheeseburgers alongside a mushroom and cheese tartine, a Japanese shrimp salad, and mysterious daily specials, everything is inspired and freshly prepared. I was nervous ordering a BLT, a sandwich whose most exciting component is often its slathering of mayonnaise. But I was pleasantly surprised to discover juicy tomato, micro greens, and crispy bacon all on a grainy, grilled country bread. Like L'Amourette, don't skip the dessert. They are all made in-house as well. Unfortunately, their hours of operation do not yet go into the evening hours (Monday-Friday 11:00am-7:00pm). But with a little planning, the Little Kitchen hosts a brunch not to be missed the first Sunday of the month from 10:00am-3:00pm.
So whether seeking out cheap vintage, organics, or just looking for small escape from Paris over the weekend, Montreuil is a multicultural destination of exploration.
Jessie Kanelos is a recent American transplant to Paris. In addition to a background in costume for stage and film, having been thrown into the world's capital of gastronomy, she has recently crossed over to food styling.  She writes a Parisian expat food blog to document her adventures, observations, and recipes, which can be found at: thefrancofly.wordpress.com.  Jessie is also a talented illustrator whose work appears in this article.
Leave a reply
Your email address will not be published. Required fields are marked *