A Scavenger's Paradise – Vide Greniers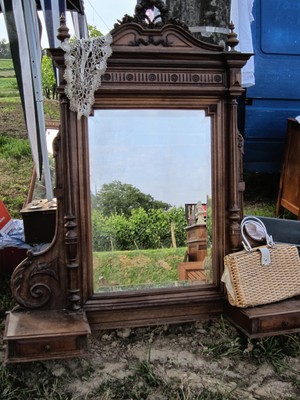 Every weekend throughout most of the year, buyers and sellers come together for "empty attic" sales called vide greniers. They are usually held in village squares, by old churches or along river banks.  Sometimes, they are held in unlikely places like vineyards and hippodromes.
One person's treasure is another's hunk of junk, making this flea market extravaganza experience completely subjective.  You can cobble together furnishings for an entire house or simply add to your collections.  Literally, everything from the kitchen sink to fine china is for sale.  Often combing hrough boxes of dirty glassware you might find an old pastis bottle, bargained for 3 euros, which when cleaned with a mixture of soapy water, vinegar and baking soda, might sell for 45 dollars in an American antique store.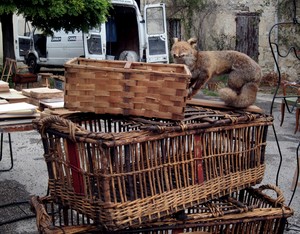 I tagged along with a Dutch friend of mine to discover the ins and outs of the vide greniers process. After she signed up for a place to sell in the village of Campagne d'Armagnac, we sorted through her attic which was full to the rafters with years of collecting. We carefully wrapped and boxed each piece, then drove them to the village square at 6 a.m. the following morning.  Each seller was given a number of a place marked in chalk on the pavement, approximately 4 feet wide by 10 feet in length.  She backed her car up and we opened the trunk, ready to unload her treasures.  From the shadows, early buyers descended upon her like scavengers in a paradise of freshly killed meat.  She sold most of her large pieces before the vide officially opened.  For the rest of the day we sat and sold.
At three in the afternoon, an hour before the vide was scheduled to close, I wandered off to see what was left of the antiques, shabby chic décor, vintage linens and silver.  Most of the sellers shared an uncomplicated passion and down to earth enthusiasm no matter how modest the price of their wares.  I purchased 10 antique deco plates and 10 matching soup bowls for 25 centimes a piece, their soft pastel blues and pinks irresistible to my eye.
You can wander the vide greniers of the Gers, department 32, to discover something wonderful or check your own department by going to the website.

Subscribe for
FREE

weekly newsletters.
BonjourParis has been a leading France travel and French lifestyle site since 1995.
Readers' Favorites: Top 100 Books, imports & more at our Amazon store
We update our daily selections, including the newest available with an Amazon.com pre-release discount of 30% or more. Find them by starting here at the back of the Travel section, then work backwards page by page in sections that interest you.
Current favorites, including bestselling Roger&Gallet unisex fragrance Extra Vieielle Jean-Marie Farina….please click on an image for details.
Click on this banner to link to Amazon.com & your purchases support our site….merci!
Leave a reply
Your email address will not be published. Required fields are marked *