Vaux le Vicomte: Dinner by Candlelight, Dessert by Fireworks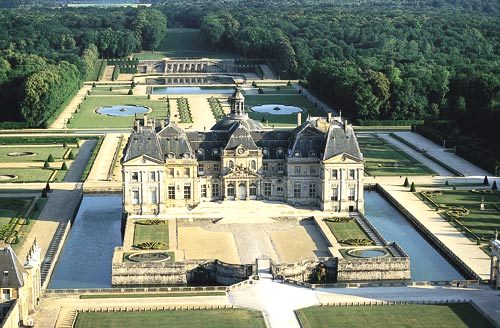 Less than an hour from Paris is Château Vaux-le-Vicomte, the largest privately owned estate in all of France. The château was built by French finance minister Nicolas Fouquet in the mid-17th century. Fouquet, a wealthy marquis and viscount known for his appreciation for fine arts, assembled the most talented professionals to design and build his baroque property: architect Louis Le Vau, decorator Charles Le Brun and landscape architect André Le Nôtre, who designed the remarkable 33 acres of French-style gardens, adorned with fountains, waterfalls and statues. The château is capped with an impressive dome that can be ascended for unparalleled views of the entire estate. This design trio created one of the most spectacular homes ever built in Europe and it remains so to this very day. Fouquet hosted only one grand fête at Vaux-le-Vicomte. On the fateful evening of August 17, 1661, Fouquet may have intended to welcome King Louis XIV and his court as his guests, but his plan backfired when the jealous Sun King caught a glimpse of Vaux-le-Vicomte. Soon afterward Fouquet was charged with theft and arrested in a complex ruse designed to oust him from office and Vaux-le-Vicomte. Vaux-le-Vicomte was then seized and held as property of the state. You can learn more about this fascinating property and Fouquet's fate by attending one of the special candlelight dinners held at Vaux-le-Vicomte Saturday nights annually from May through October. You'll unravel the medieval mysteries of the Court of the Sun King and discover what befell Fouquet, the jealous king, and the role the Musketeers played in this drama. Start with a golf cart ride around the enormous property, an exciting way to admire the very first "French-style gardens" and the inspiration for Versailles.  See the Round Pool, The Skillet Canal with its grottos flanked by figures of gods Tiber, Anqueuil and Hercules. Grab your camera to capture the reflection of the entire château in the Great Water Mirror. Don't miss the carriage museum filled with old horse-drawn vehicles. As dusk settles, 2,000 candles are lit to recreate the atmosphere of Fouquet's August 1661 fête. It's the perfect moment to savor a glass of Henriot Champagne on the terrace, sold for a very reasonable 10€. Take a seat at Les Charmilles restaurant for dinner on the terrace overlooking the thousands of candles that flicker in the garden at your feet. Chef Laurent Asset's menu has various formules ranging from 30€ for an exquisite Entrée+Plat for 45€ that includes coupe de Champagne, entrée, plat, dessert, and un verre de vin is exquisite. Choose from entrées of Terrine de Foie Gras aux deux Asperges, Salade de Saint Jacques en Coques de Pamplemousse, Les Plats ofCanon d'Agneau, Pavé d'Espadon and Penne à la Crème de Truffes Blanches with Homard Flambé. For dessert choose from entremet chocolat framboise and a selection of glaces and sorbets. There is also a menu enfant to keep the little ones happy. The wine list is well thought-out, with the most expensive option a superb Saint Emilion Château Bellevue Figeac 2008 priced at 36€. At the low end you may order a Rosé de Provence cave de Saint Tropez 2009 for 16€. The atmosphere is relaxed, and much laughter abounds in between savoring the delectable dishes. After coffee take a stroll to walk off the calories and head back to tour the interior rooms of Château itself, where candles placed throughout create an authentic 17th century experience. Audio guides are available in seven languages or you can organize your own private guide (must be booked in advance). Allow about 90 minutes so you can watch and listen to the lifelike animated displays. Visit the jail in the cellar and of course the kitchen with its great display of pans and utensils used to create many amazing feasts held over the years at Vaux-le-Vicomte. At the end of the evening, walk to the top of the Château steps for a last admiring look at the gardens lit so hauntingly by the sparkling candles. And wait until 11:00pm when the sky will explode in a riot of fireworks, just as happened on that August evening in the 17th century.     PRACTICAL INFORMATION
Château Vaux le Vicomte
77950 Maincy (55 km from Paris, near Melun) Tél: 01 6414 4192
Planning info
, hours, etc. for an anytime visit Candlelight Evenings in 2011: Every Saturday from May 7-October 8
Entry Fee
: Adult admissions only (no dinner) start at 17€ with discounts for children, seniors & others A ticket to the candlelight evening permits admission starting at 2pm Last admission 11pm Dinner at Les Charmilles: Three sittings, tables must be reserved in advance, 2011 prices noted above. Audio-guide: 2€ per unit. Golf cart rental: 15€ for 45 minutes (no advance reservations) Accessibility: possible to visit gardens & ground floor only; need someone to open an exterior gate. No lifts. Subscribe now for your own
free subscription
to BonjourParis & we'll send you Wednesday & Sunday newsletters that link to original France travel stories, news, recipes and travel photography. 50 original stories monthly from your most complete online France travel & Francophile lifestyle eZine. RSS feed available. If you can get it from Amazon.com, you can get it at our 
Amazon.com Boutique
. Same competitive pricing and speedy delivery as your purchases support costs of keeping BonjourParis your most complete online France travel resource. Merci in advance for your support—we appreciate every centime. Search hint: start at the back pages for the most recent stock. Be smart! Shop around, reserve your hotel at Booking.com…then keep shopping & if you find a better rate for the…
SUBSCRIBE
ALREADY SUBSCRIBED?
BECOME A BONJOUR PARIS MEMBER

Gain full access to our collection of over 5,000 articles and bring the City of Light into your life. Just 60 USD per year.

Find out why you should become a member here.

Sign in

Fill in your credentials below.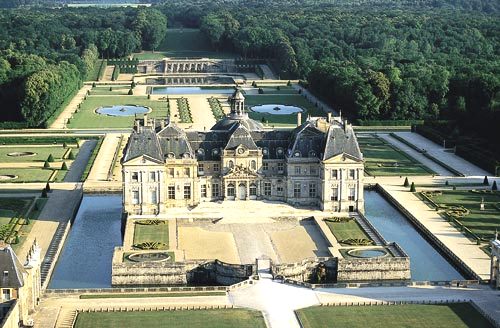 Less than an hour from Paris is Château Vaux-le-Vicomte, the largest privately owned estate in all of France. The château was built by French finance minister Nicolas Fouquet in the mid-17th century. Fouquet, a wealthy marquis and viscount known for his appreciation for fine arts, assembled the most talented professionals to design and build his baroque property: architect Louis Le Vau, decorator Charles Le Brun and landscape architect André Le Nôtre, who designed the remarkable 33 acres of French-style gardens, adorned with fountains, waterfalls and statues. The château is capped with an impressive dome that can be ascended for unparalleled views of the entire estate. This design trio created one of the most spectacular homes ever built in Europe and it remains so to this very day.
Fouquet hosted only one grand fête at Vaux-le-Vicomte. On the fateful evening of August 17, 1661, Fouquet may have intended to welcome King Louis XIV and his court as his guests, but his plan backfired when the jealous Sun King caught a glimpse of Vaux-le-Vicomte. Soon afterward Fouquet was charged with theft and arrested in a complex ruse designed to oust him from office and Vaux-le-Vicomte. Vaux-le-Vicomte was then seized and held as property of the state.
You can learn more about this fascinating property and Fouquet's fate by attending one of the special candlelight dinners held at Vaux-le-Vicomte Saturday nights annually from May through October. You'll unravel the medieval mysteries of the Court of the Sun King and discover what befell Fouquet, the jealous king, and the role the Musketeers played in this drama.
Start with a golf cart ride around the enormous property, an exciting way to admire the very first "French-style gardens" and the inspiration for Versailles.  See the Round Pool, The Skillet Canal with its grottos flanked by figures of gods Tiber, Anqueuil and Hercules. Grab your camera to capture the reflection of the entire château in the Great Water Mirror. Don't miss the carriage museum filled with old horse-drawn vehicles.

As dusk settles, 2,000 candles are lit to recreate the atmosphere of Fouquet's August 1661 fête. It's the perfect moment to savor a glass of Henriot Champagne on the terrace, sold for a very reasonable 10€.
Take a seat at Les Charmilles restaurant for dinner on the terrace overlooking the thousands of candles that flicker in the garden at your feet. Chef Laurent Asset's menu has various formules ranging from 30€ for an exquisite Entrée+Plat for 45€ that includes coupe de Champagne, entrée, plat, dessert, and un verre de vin is exquisite. Choose from entrées of Terrine de Foie Gras aux deux Asperges, Salade de Saint Jacques en Coques de Pamplemousse, Les Plats ofCanon d'Agneau, Pavé d'Espadon and Penne à la Crème de Truffes Blanches with Homard Flambé. For dessert choose from entremet chocolat framboise and a selection of glaces and sorbets. There is also a menu enfant to keep the little ones happy.
The wine list is well thought-out, with the most expensive option a superb Saint Emilion Château Bellevue Figeac 2008 priced at 36€. At the low end you may order a Rosé de Provence cave de Saint Tropez 2009 for 16€.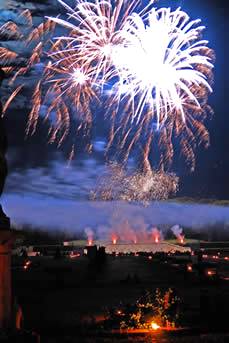 The atmosphere is relaxed, and much laughter abounds in between savoring the delectable dishes.
After coffee take a stroll to walk off the calories and head back to tour the interior rooms of Château itself, where candles placed throughout create an authentic 17th century experience.
Audio guides are available in seven languages or you can organize your own private guide (must be booked in advance). Allow about 90 minutes so you can watch and listen to the lifelike animated displays. Visit the jail in the cellar and of course the kitchen with its great display of pans and utensils used to create many amazing feasts held over the years at Vaux-le-Vicomte.
At the end of the evening, walk to the top of the Château steps for a last admiring look at the gardens lit so hauntingly by the sparkling candles. And wait until 11:00pm when the sky will explode in a riot of fireworks, just as happened on that August evening in the 17th century.
PRACTICAL INFORMATION
77950 Maincy (55 km from Paris, near Melun)
Tél: 01 6414 4192
Planning info, hours, etc. for an anytime visit
Candlelight Evenings in 2011: Every Saturday from May 7-October 8
Entry Fee: Adult admissions only (no dinner) start at 17€ with discounts for children, seniors & others
A ticket to the candlelight evening permits admission starting at 2pm
Last admission 11pm
Dinner at Les Charmilles: Three sittings, tables must be reserved in advance, 2011 prices noted above.
Audio-guide: 2€ per unit.
Golf cart rental: 15€ for 45 minutes (no advance reservations)
Accessibility: possible to visit gardens & ground floor only; need someone to open an exterior gate. No lifts.
Subscribe now for your own free subscription to BonjourParis & we'll send you Wednesday & Sunday newsletters that link to original France travel stories, news, recipes and travel photography. 50 original stories monthly from your most complete online France travel & Francophile lifestyle eZine. RSS feed available.
If you can get it from Amazon.com, you can get it at our Amazon.com Boutique. Same competitive pricing and speedy delivery as your purchases support costs of keeping BonjourParis your most complete online France travel resource. Merci in advance for your support—we appreciate every centime. Search hint: start at the back pages for the most recent stock.

Be smart! Shop around, reserve your hotel at Booking.com…then keep shopping & if you find a better rate for the same deal, contact Booking.com to request your BEST PRICE MATCH GUARANTEE. Start here at Booking.com.
Les Pléiades is a 4-star designer hotel located 5 minutes away by car in Barbizon. Large, contemporary air-conditioned suites have flat-screen TVs with cable channels, DVD players & large bathrooms with robe & slippers. Spa, fitness center, indoor & outdoor pools. Michelin-starred restaurant, brasserie & bar on property. Free private parking is provided. Les Pléiades is situated on the border of Forest Domaniale de Fontainebleau and a 9-minute drive to the city of Fontainebleau. Past guest reviews rate this hotel a score of 8.5 of 10 at Booking.com. Romantic, elegant & this hotel qualifies for the best-price match guarantee from Booking.com.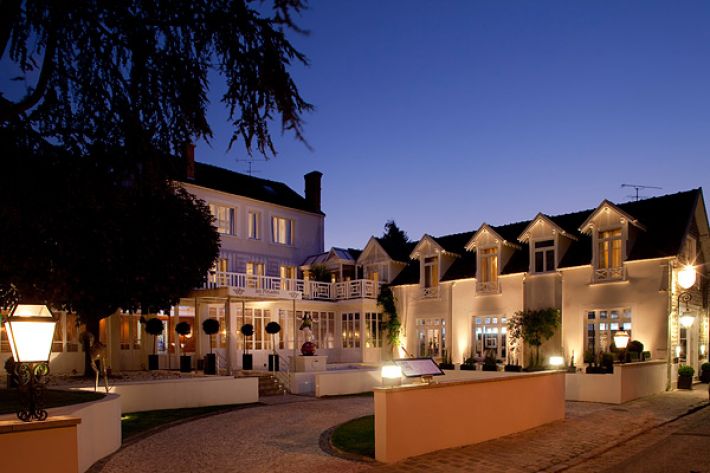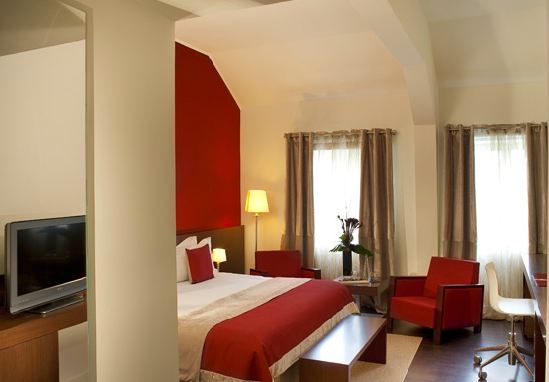 One-stop shopping for car rental & international air travel deals:
Car rentals at competitive rates, no drop fees & a 5% discount for BonjourParis.com readers who use this link to Auto Europe Car Rental
Don't overlook Auto Europe for international flights, click Auto Europe Flights
More in Andre Le Notre, chateau, day trips from Paris, France, French chateau, French history, garden, garden tours, history, le notre, Museum, Paris history, Paris museums, Vaux le Vicomte, vaux vicomte
---
---