Roger&Gallet: Makers of Quintessential French Fragrances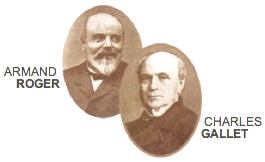 You wouldn't think that packing perfume was quite as important as packing heat when going off to war, but Napoleon apparently did, which is why, in 1806, court perfumer of Europe Jean Marie Farina created his "Eau de Cologne rolls" – round, tapered green bottles of his signature eau de cologne that could be slipped into the boots of Napoleon and his officers. Napoleon reportedly used at least 60 bottles a month. Who knew warriors could smell so good? Who knew they cared so much?
Today, Jean Marie Farina Extra-Vieille is the signature and perhaps best-known fragrance of Roger&Gallet, the company created in 1862 by Armand Roger and Charles Gallet and which purchased the catalog of the house of Jean Marie Farina. Anyone who has stayed in a Paris hotel supplied with Jean Marie Farina Extra-Vieille toiletries will forever associate the memory of Paris with the fragrance.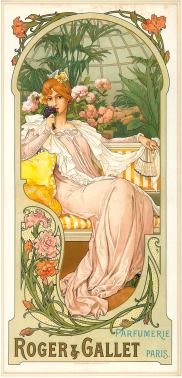 The company, which is now owned by cosmetics giant L'Oréal, started producing the round, perfumed soap it's known for in 1879. Originally wrapped in pleated paper and a wide, ornate paper ring, the paper ring is now gone, a concession to the costs of modern production. But the fragrance remains deliciously the same.
The company has changed its packaging in other ways with the times, as well. In 1930, for example, Roger&Gallet engaged the best Art Deco artists to decorate its packaging, and in 2007, the company chose award-winning French designer Martin Szekely to update the packaging to reflect both contemporary tastes and the constraints of contemporary manufacturing costs.
The art of perfume making goes back at least 4,000 years. In ancient times people used herbs and spices, including almond, coriander, myrtle, and bergamot. A Persian chemist introduced the process of extracting oils from flowers, and he first experimented with the rose.
In the 16th century, Italian refinements to perfumery were taken to France by Catherine de Medici's personal perfumer, setting France on its path to becoming one of the European centers of perfume manufacture. The cultivation of flowers for their perfume essence grew into a major industry in the south of France, which it continues to be, today.
All Roger&Gallet products are produced in France from ingredients sourced worldwide, including natural essential oils. The intensity and longevity of the aromatic compounds used determine how long a fragrance will last. The perfume concentration of Roger&Gallet fragrances, for example, ranges between 3 and 10 percent. The soaps are perfumed "down to its very heart," according to the company.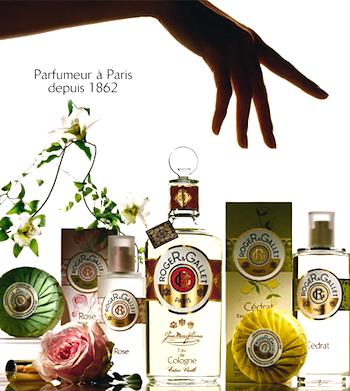 Like all perfumes, the ones used in Roger&Gallet soaps are made up of three notes: the head note, which is the scent perceived when the perfume is first applied; the heart note, which is the scent that emerges when the head note dissipates; and the base note, which is the scent that emerges when the heart note dissipates. The head note in the Jean Marie Farina Extra-Vieille fragrance, for example, is lemon and bergamot; the heart note is neroli, rosemary, and petit grain; and the base note is myrtle, cedar wood, and sandalwood.
In addition to its original Jean Marie Farina Extra-Vieille soap, Roger&Gallet offers soaps in nine additional fragrances: Bamboo, Blue Lotus, Bois d'Orange, Citron, Ginger, Green Tea, Lavande Royale, Rose, and Vanilla. Companion fragrant waters, bath and shower gels, body lotions and creams, liquid soaps, and hand creams come in each of the fragrances, as well. The company's Web site lists the notes in each of the fragrances.
Roger&Gallet products are widely available in France, including at upscale department stores like Galeries Lafayette and pharmacies. The 150-year anniversary of the company will be in 2012 and the company is planning to reissue the Eau de Cologne rolls used by Napoleon and his men and is planning to launch an e-commerce web site later this year through which customers can purchase their full line of products.
You need not go to battle to savor Roger&Gallet fragrances. They are yours for the purchase at your local vendor or home-delivered from here. Enjoy!
Photo credits: Publicity photos were used for this story, courtesy of Roger&Gallet.

Diane Stamm is a writer and Francophile who lives in Washington, D.C. Please click on her name for her complete profile and to read her other stories published here.

Subscribe for
FREE

weekly newsletters with subscriber-only content.

BonjourParis has been a leading France travel and French lifestyle site since 1995.

 
Readers' Favorites: Top 100 Books, imports & more at our Amazon store
We daily update our selections, including the newest available with an Amazon.com pre-release discount of 30% or more. Find them by starting here at the back of the Travel section, then work backwards page by page in sections that interest you.
Yes, you can get Roger&Gallet from France in our Cosmetics, Parfum & Style section…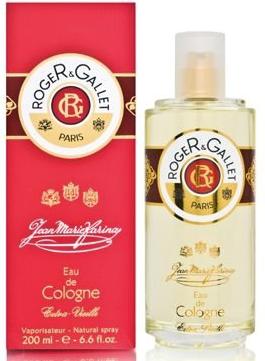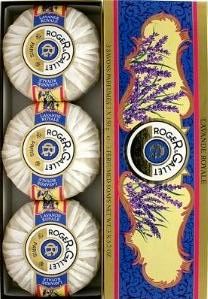 Please support our site by clicking on this banner for all your Amazon.com browsing. Merci!
Leave a reply
Your email address will not be published. Required fields are marked *